We receive free products and receive commissions through our links. See
disclosures page
.
Finding good earphones can be tricky. Unless you go with the standard pair that come with various cell phone purchases, you may not even shop for earphones very often, if ever. We've all gotten used to cords dangling, and pulling the earpieces out as we go about our activities.
So when I got the 1 Voice Wireless Fitness Headphones for review, I looked at them, with their hearing aid-style design, and honestly thought there was no way they were going to be good. Even my daughter's friend asked me if they were hearing aids. The design is definitely unusual, and on appearance alone, I was skeptical. But then I opened the box.
Surprising Comfort and Capability
The style of 1 Voice earphones is meant to challenge the concept of the corded earbud entirely. They come with a case, a few different sizes of ear buds, and a USB charging cord. While bulky in appearance, the earphones actually fit over and into my ears well. It took me a minute to get each of them into place, but I could feel when the fit was right.
I did a variety of activities while wearing these earphones. I walked, I ran, I did handstands and cartwheels. No kidding, they stayed in place the whole time. I honestly couldn't believe it. I thought there was no way earphones could do that, but they do, trust me.
Everything these earphones are capable of is tucked in that bigger back portion. The earphones can work independently from each other, stereo or mono, and can be paired with a variety of devices. The instructions for pairing them were accurate, and the devices paired exactly how the instructions describe.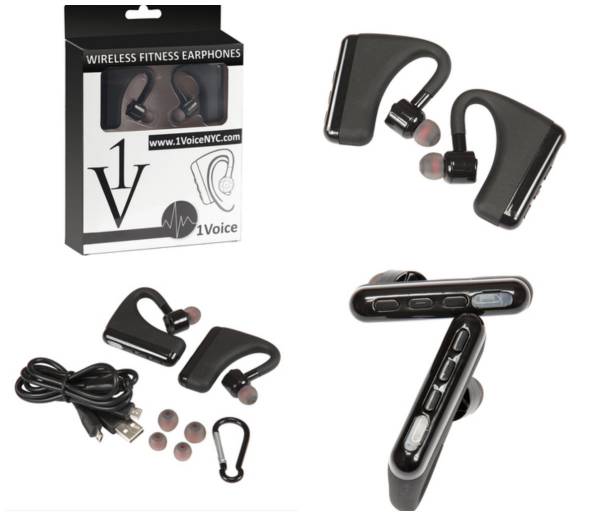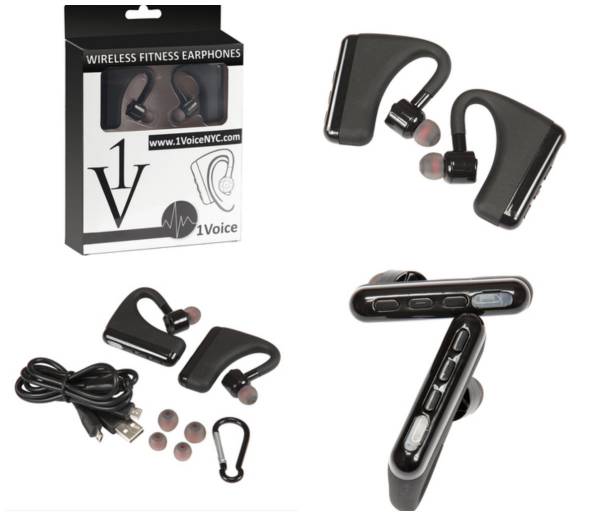 The earphones feature active noise cancellation, and you can change volume, change track, answer or reject phone calls, and redial all from the buttons on the back of each earphone.
Only the left side earbud is designed for hands-free calling.
Better Than First Glance
The more I used them, the more I liked these earphones overall. The noise cancellation was a nice feature, and because these earbuds are designed for being worn for long periods of time, they are quite comfortable. I did have to spend some time getting each of them paired and learning the button commands, but that only took me a few minutes. The product is well made and works just as it should.
I give these earphones a thumbs-up, overall. They may not have been my first choice if I was looking online for wireless earphones just because of their appearance, but now that I understand how functional they are and how well they work for the price, I do think that they are a good option. Little kids may think you're wearing hearing aids, but what do they know?
1 Voice Wireless Fitness Headphones At a Glance
Features
Wireless noise cancelling earphones

Can function independently

Easy connection to devices via Blutooth

Independent speakers

Ergonomic fit designed for an active lifestyle

Price
$129.00