Photos provided by Danette "Dizzle" Rivera.
I exited a concrete stretch of freeway that ribboned around a territory unfamiliar to me. I was in Moorpark, CA, only fifty minutes outside of Los Angeles. I snuck past stretches of stucco strip malls, a Super Target, and the like until I came to a part of town that suddenly became small. Turning up a road toward the farms for which Moorpark is known, I rolled down my window and I swear I smelled the color green. Sunlight stenciled through trees. The white fences that loosely contained land guided me for miles.
Somewhere on the one-hundred-thirty-acre property named Apricot Lane Farms was my friend-turned-farmer, Molly Chester, who, exactly one year ago, was my neighbor in the apartment immediately to the right. We were neighbors in a way you dream neighbors will be. We chatted daily at her kitchen window. We hosted Thanksgivings in the courtyard. We each held an emergency set of keys. I miss Molly a lot, but what she's gotten herself into seems more than an adventure. She's part of a gentle revolution.
Last year, Molly, a trained chef, and her husband John, the creator of two amazing documentaries Lost in Woonsocket and Rock Prophecies, pursued an opportunity through an investor to manage the large family farm, while converting it to organic. The fact that an investor recognizes an organic farm as a viable investment is a progressive and encouraging shift. "It's the new paradigm," Molly said. "Investing in local, nutrient-dense food is being recognized as a solid, financial investment."
I asked Molly if she had any previous farming experience, knowing she'd been born in Philadelphia and raised in Atlanta. "You saw my patio tomatoes! They only occasionally looked good," she laughed. John had a little more experience growing up in Maryland; still not a ton. But I knew Molly had wanted to get closer and closer to the source of her food. And now she's smack in the middle of it.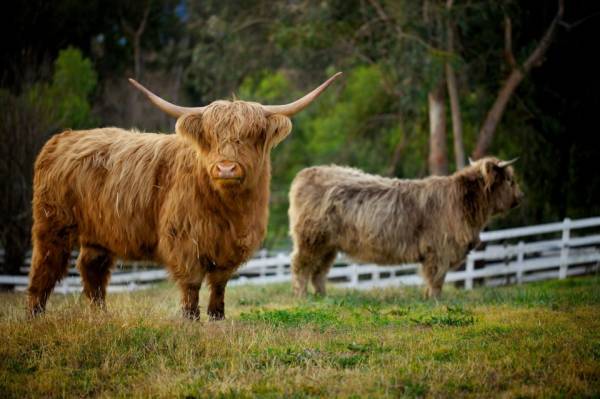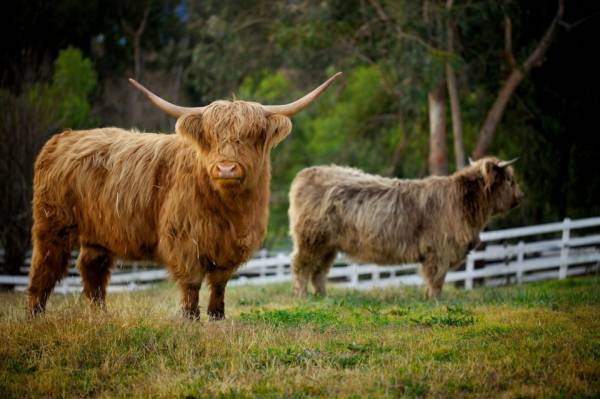 I asked Molly about the strange cows they brought in last year. They are a gorgeous, fascinating mess of caramel hair and razor-like helicopter blades for horns. I had watched a video of John delivering a calf from the feisty mama, Firefly, where John went elbow deep to help free the calf like it was his rite of passage as a farmer. He was a natural. "They're Scottish Highland cows," Molly told me. "They're the oldest known breed of cow, which kind of keeps with our heirloom theme." Scottish Highlands are also known to be docile though Firefly likes to test them.
Being the proprietors of a farm like Apricot Lane is no small undertaking. The more the Chester's learn about farming, the more they realize they're in it for the long haul. Obtaining organic certification for the existing avocado and lemon orchards takes three years from the last time trees or the soil were sprayed. And the more they considered how to do organic right, the more they were drawn to a biodynamic way of farming. Biodynamic certification takes another two years.
In a nutshell, biodynamics addresses the farm as a connected ecology that should be treated in homeopathic ways. The idea is to build up a diverse, natural ecosystem that thrives as opposed to stripping it down of its problems and expecting good results. For example, not all weeds are invasive so the good ones are left to help oxygenate the soil. Livestock was purposefully brought to Apricot Lane as part of a controlled grazing system for the many acres. Plus, the manure of the cows, sheep and chickens helps revitalize and prepare the soil and acts as compost once crops are planted. The chickens eat many detrimental bugs, but not all. Not all bugs are bad. Some biodynamic practices are considered a little "woowoo" because soil is often treated with herbs, but Molly thoughtfully explained that each decision toward biodynamics was about nurture and sustainability. Biodynamic practices seem more old world or folksy than "woowoo." The idea of gently coaxing nature in natural ways sounds like a relief compared to a hair-trigger response to treat everything with a chemical.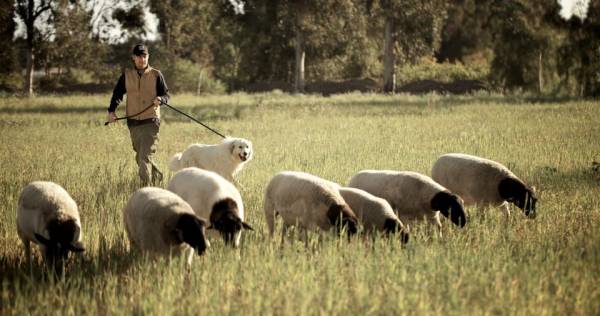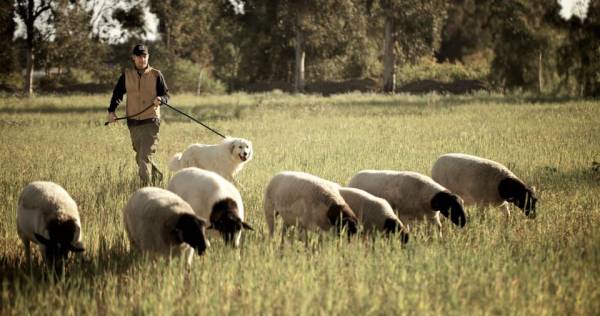 Biodynamics – and good farming in general – often sounds like a puzzle. Figuring out which pastures to plant, and water, and treat with herbs or animals in relation to soil health and weather all sounds like an ongoing turning of the Rubik's cube to find the most harmonious code. Molly and John handle it all in stride and with joy, like they've been doing this their whole lives. Last week, they replanted twenty-four acres of over twelve different types of fruit trees to sell the produce at local farmers markets and provide value-added items like jams. Next week, they'll plant thirteen more acres of avocado trees before the planting season ends. Molly says there's no way they could do all this work without a solid, trustworthy team and the invaluable help of the interns from the WWOOF program.
I scratched my head towards the end of our talk. This life is a universe away from when she and I used to walk to a local bar in heeled boots. But I get it. The lure is gravitational and the sincerity with which they approach farming has created a romantic reality, even with the crap-ton of work involved. I told her I understood why people are longing to get their hands back in the dirt. "This strikes a chord," she said. "Everyone has been so disconnected from their food for so long and this scramble to find the connection again to the earth, it's inherent, really."
I asked how other city slickers could become more connected to their local farms or maybe even start to become farmers, too. Here are a few suggestions:
Get to know your local farmer. Talking to your favorite farmer's market vendors is a step closer to your food source. Ask them questions. Thank them for the food you enjoy. Ask the farmer's market manager if there are any farm tours being offered. Apricot Lane Farms will eventually host tours. Check their Facebook page often for details.
Become a WWOOFer. This program is an amazing hands-on farming experience. Volunteers exchange work for room and board and a crash education. There are farms all over the world that are involved in this program
Lease land. If you feel farming is your calling, a good way to ease into it is to lease a small amount of land to grown your own food or a small amount to sell at a farmer's market.
Seek out an investor. If you want to tackle this on a larger scale, seek out an investor who shares the same vision that local, small farming produces food with more bang for your buck because it's more nutrient-dense and of higher quality. Small farming is a progressive and positive trend.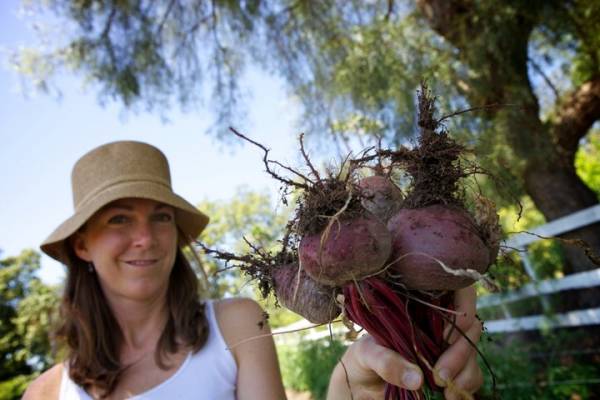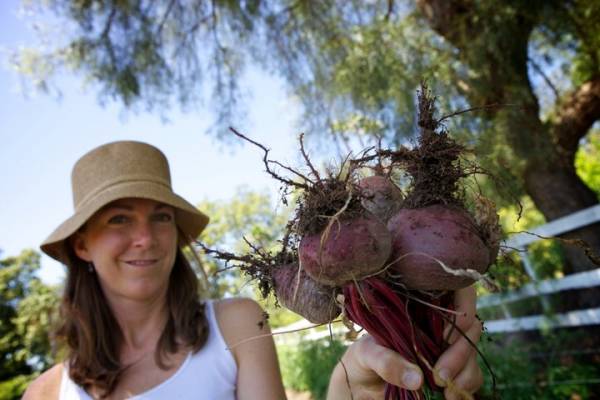 "I'm living my wildest dream right now," Molly concluded. "Every day there's a lot of work, it never finishes, but I really feel I was meant for this." John added, "Caring for this and about this, is a source of great pride. It's not easy, but it's simple. We're living our dreams."
Read the rest of the Down in the Dirt Series:
Part 2 – Community Gardens, From Beginning to Present