Photos provided by Danette "Dizzle" Rivera and Just Food.
As a kid, my mother sent me to the market often. I bought milk, hot dogs, beans, and bread. She sent me regularly because she was embarrassed to use the food stamps we were issued once a month. My single mother was classified as the "working poor." She worked full time and did what she could to make ends meet. There often wasn't enough; food stamps were her only outside help.
Looking back at the market runs I made during those years, I don't remember buying produce. I don't remember eating a lot of fresh food. I can only assume that my mother wanted to buy food that would fill me up so I wouldn't go to bed hungry. I certainly don't think my mother was, or is now, alone in this mentality. If food is scarce, fresh fruits and vegetables can feel like a luxury, and faced with the panic of one's child going without, you do what you know will keep growling stomachs quiet. My mother wasn't educated enough about nutrition to realize the impact the lack of fresh food had on us in terms of optimal health and vitality. Feeling tired just seemed normal.
This kind of thinking is perpetuated by what is accessible or even what is perceived to be accessible. As a kid I would scrape up change to eat chips and cookies at 7-11 or get a shake and French fries at McDonalds. This was the good stuff. Fast food places existed on every city block and every Saturday morning commercial reminded me so. I don't remember farmers markets or organic treats. That was a world away, not meant for us.
Accessibility and education are cornerstones of a burgeoning food justice movement. Not that the idea of food justice is new. There are many facets of food justice, the most basic being that no one should go hungry. The current rise of food justice is about low-income communities having a right to accessible fresh foods, not just belly-filling food. A whole and complete range of nutrients provided through fruits, vegetables, and whole foods shouldn't be considered a privilege. Making fresh food available to economically depressed areas and to what have been coined as "food deserts" is one of the challenges. Educating families in nutrition and healthy cooking classes is another.
Currently, one in five children in the U.S. is food insecure; they don't know from where their next meal is coming. According to the LA Food Bank the jump in unemployment since 2007 has upped the demand for food at food pantries by 73%, now serving 330,000 people a month.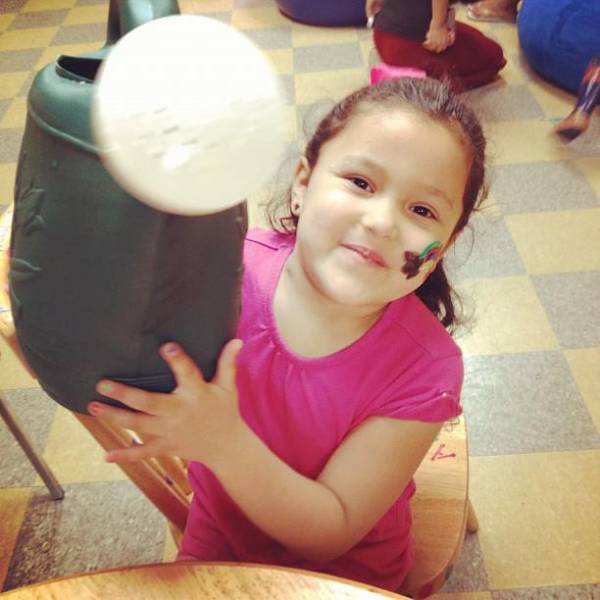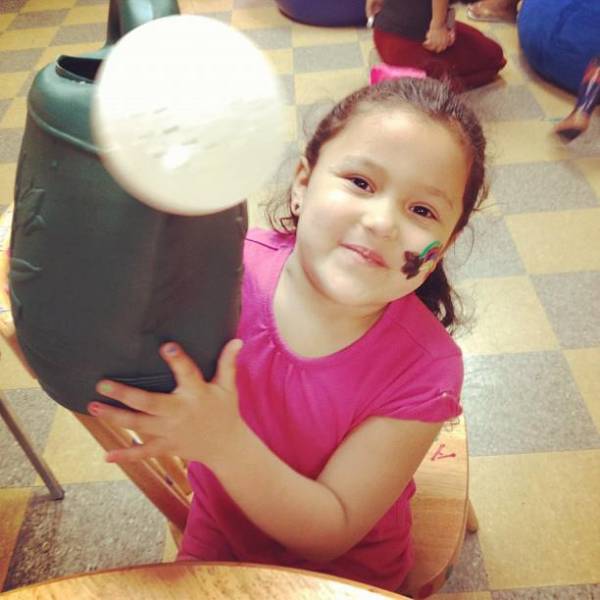 Every major website that is dedicated to ending hunger in the United States does amazing work, but almost all are sponsored by huge food corporations, makers of highly processed, sugar and preservative-laden food. All food banks and pantries ask for nonperishable food donations; food in a can, in a bag, in a box with a long shelf life. Often a child's most secure meal is the one they get at school, and the state in which our country's lunch program is in is disheartening. I cannot knock an immediate fix, but I have to believe there is a better, long-term solution to not only relieve hunger, but to build healthier communities no matter the economic levels.
Most of us reading this site are dedicated to personal and optimal health. We seek the best nutritional tactics and perfect training strategies. We crave balance and stress relief for a whole view of health. But if one in five children is hungry, affecting every county in the US, then our communities are not well. If those getting emergency food or one secure meal a day in school are only fed highly processed food, then they are quite possibly sick and obese. If I believe food is a basic right, then the hungry should have a right to the fresh food I also enjoy now, and not just any crap, in any form. My idea of whole, personal health must also include the health of my community because I was once that sick, under-nourished kid.
By the time I was middle school, I suffered from "food-induced" migraines. When they came on, I lost peripheral vision, saw spots and vomited. This lasted for an hour or more. The doctor said that, basically, I had nitrate poisoning from eating hot dogs every night. For my mother, this was a huge shock, but it was also the start of a long road to educating herself about nutrition. For me, it set the tone for how I would approach nutrition as an adult, as a parent, and a member of society.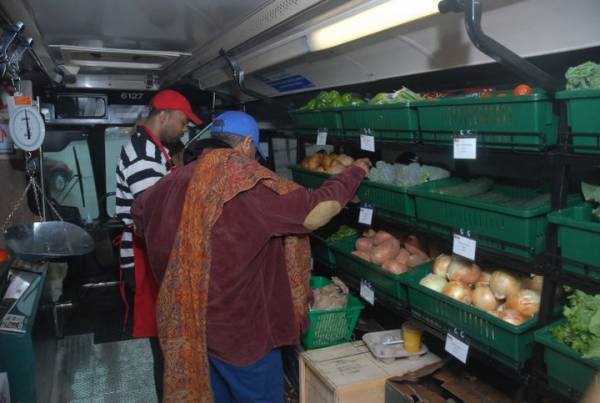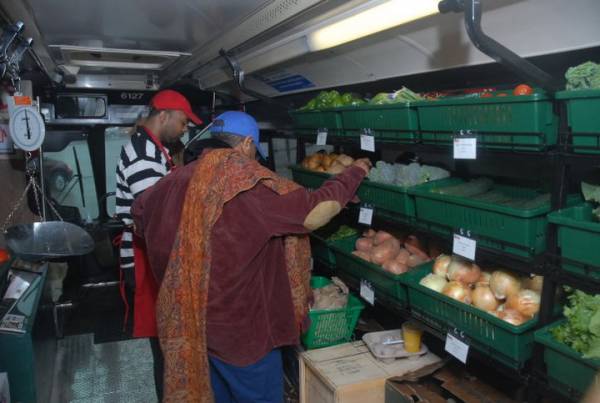 Who is making a difference? Big hunger-fighting nonprofits like Share Our Strength and Feed America are certainly part of the daily fight to feed people. They are starting to link local food sources to food pantries, though this process on a large scale is slow. There are some famous chefs taking action like Jamie Oliver with the Food Revolution to better school nutrition, and Mario Batali is creating awareness about how hard it is to eat healthily on food stamps. But the most impactful organizations leading the charge for food justice are grassroots ones. These organizations start with one person or a small group frustrated with disparities in the food system, or the lack of fresh food options, or frustrated with a government on a local and national level unable to create viable solutions or that put programs in place to eventually vote them back down.
Here are a few groups leading the way. They might inspire you to volunteer, donate, lend a hand, or start something yourself. They certainly inspire me.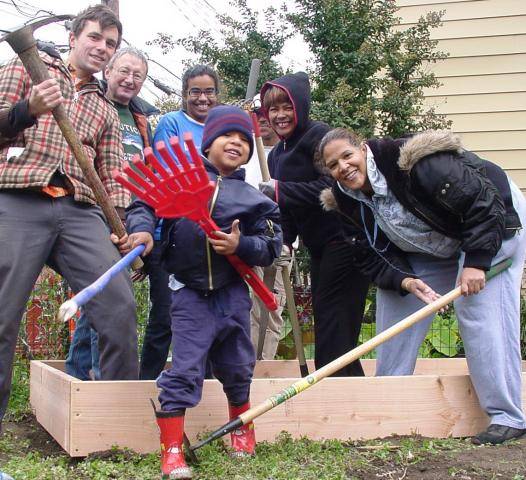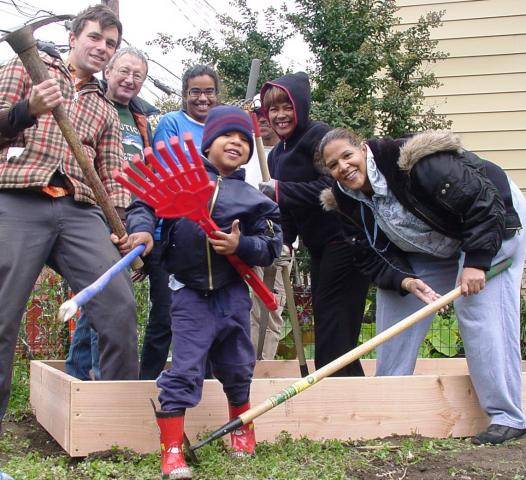 Organizations like the ones above are examples that small efforts can make a big difference, and they've inspired me to be more involved in an area that has had a personal impact. Getting fresh food to food-insecure families betters the health of a community, and we are not separate from that. A healthy community contributes to our own health as a whole.
Read the rest of the Down in the Dirt Series:
Part 2 – Community Gardens, From Beginning to Present