We receive free products and receive commissions through our links. See
disclosures page
.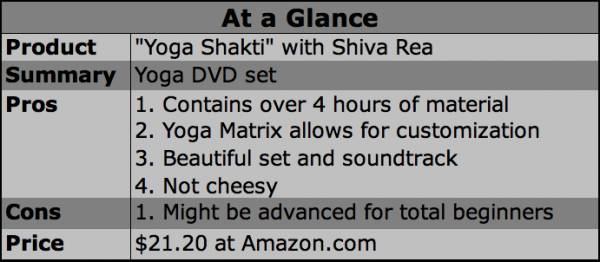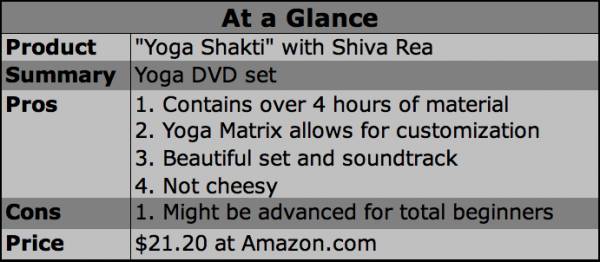 Shiva Rea's DVD set is an excellent resource for anyone who wants to begin or improve their yoga practice at home. Yoga Shakti is a two-disc DVD set that provides over four hours of yoga sequences and other information. Not only do the DVDs have a number of features that make them easy to use, but they are also well-produced and fun to explore. If you can't attend a regular yoga class but still want to improve your practice, I highly recommend Yoga Shakti. This quickly became my favorite at-home yoga resource for several reasons:
1. You can customize your own practice. The Yoga Matrix feature allows users to choose from thirty different vinyasa sequences to create your own practice. If you need help with this feature, the DVD comes with a booklet that explains each sequence and provides recommendations for combining them, as well as a "How to Use the Yoga Matrix" segment on the DVD.
2. You also have the option to follow along with a pre-set practice. There are four practices to choose from: Basic (30 minutes), Solar Flow I (90 minutes), Solar Flow II (90 minutes), and the Lunar Flow (45 minutes). I love to do the Lunar Flow every night before bed. It's nice to have these practices already put together for those days when you just want to follow along. However, you also have the option to skip specific sequences within each practice if you are short on time or for other reasons.
3. It's beautiful to watch and listen to. The DVD was shot in the Maldives' Cocoa Island and Kerala, India, and you are guided throughout by Shiva Rea's calming voice and helpful directions. The soundtrack features a variety of artists and meditative music. As you follow along you know a lot of love went into the production. The set also includes archived footage of Shiva Rea's adventures in India and interviews with yoga teachers. You even have the option of only hearing background music if you have a good foundation in the sequences. This is not a cheesy yoga DVD.
4. There are a variety of exercises for different levels of experience. If you've taken yoga classes before or have previous experience, you will appreciate the DVDs as much as a total beginner. If you've never done yoga before, be sure you heed Shiva Rea's advice to "start where you are." In the booklet she advises newcomers to start with the Basic and Lunar sequences before moving on to the more challenging segments.
5. You can grow in your practice. The DVDs provide progressios to improve on some basic yoga postures, including handstands and backbends, beginning with basic exercises and progressing to more advanced skills. I also like that it includes several different ways to end your practice, including shavasana, pranayama, and meditation. If you're new to vinyasa yoga, don't miss the tutorial on vinyasa flow yoga techniques.
I've been using these DVDs for months now and still feel I haven't exhausted their potential. Yoga Shakti is more than a workout DVD – it's a comprehensive resource and the perfect place to begin if you want to start a home yoga practice, regardless of your level. There are so many yoga DVDs out there it can be hard to decide where to put your money, but after exploring this DVD set I can say it's worth every penny.
"Yoga Shakti" is available for $21.20 at Amazon.com.