I hurt my elbow and had to deal with a cold for two days, but I can't say it was a bad week because of that. I was still able to get a lot of good training, and we even had Phil Migliarese as a guest instructor at Scranton MMA. Also, a bunch of us got together and had a little watch party for Metamoris.
Seminar With Phil Migliarese
Last Thursday, we had the pleasure of having Phil Migliarese come to Scranton MMA and be our guest instructor for the day. Since our school is now part of the Balance Network, Phil thought it would be a great idea to come by and meet the students who train with us. And man, did he meet a lot of them. About forty of our students showed up to take Phil's class, including advanced and beginner people. The class basically turned into a seminar. Learning from Phil is always a great time.
At the end of class, I got a big surprise. Phil gave me two stripes on my blue belt, which makes me a four stripe blue belt now! That means the next step is purple belt. That's going to take a little bit more time, though. I know I'm not purple belt material just yet. In my opinion, I have to do a lot more mental growing and developing before I can be a purple belt.
To me, a purple belt is when you become a teacher. Most of the purple belts I know will teach me things while I roll with them by leaving openings for submissions and pointing things out for me. I still have a blue belt mind. If I can beat you while we're rolling, I'm going to do it. I'm still trying to prove myself to people. Honestly, I don't know if that's a good state of mind to have, but I have it, and I'm trying to grow and learn from it.
Metamoris Watch Party
Over the weekend, we hosted a Metamoris 4 watch party at Scranton MMA. We set it up on the projector and got food for everyone. I thought the fights were pretty good. It wasn't the best card, but it wasn't the worst either. Half of the fights ended in submission, and half were a draw. I thought the guillotine from Garry Tonon was just amazing. The way he was able to keep it locked on while they switched between all those positions was so much fun to watch. I suck at guillotines, so Garry, I'm calling you out to come to Scranton MMA and teach me your ways!
As for Andre Galvao versus Chael Sonnen, I've known who was going to win ever since I heard about it the first time. Andre Galvao is one of the top black belts in the world right now. I thought it was pretty obvious he would beat Chael quickly. The match between Josh Barnett and Dean Lister was insane. I had no idea Josh was such a large person. He looked like a giant out there! Anyways, I don't want to get into all the matches, but those were the things that stuck out in my mind.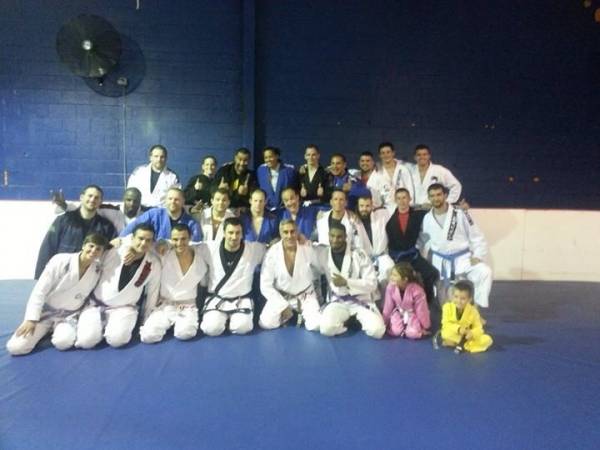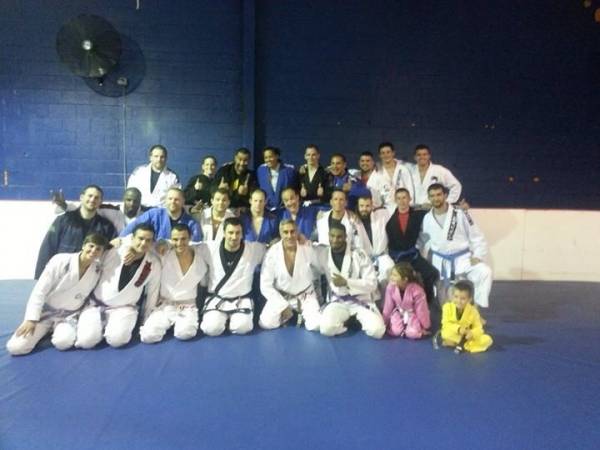 Training This Week
During training this week, we worked on open guard passing. I love learning new guard passes to add to my game. I'm trying to be a good guard passer so I can grab the top position as soon as possible while I'm rolling and work my top game. That doesn't always happen when I'm working with higher ranks, but it's getting a little better.
Unfortunately, though, I couldn't drill a lot because I hurt my elbow. I thought I sprained one of the ligaments in my elbow, but I talked to a doctor and he told me it's more likely to be a bruise right on the bone. I feel like a butthead for not being able to train because of a silly bruise, but this thing hurts. I couldn't bend my arm or put pressure on the area without it smarting, so I took it easy for a few days.
To add to my boo-boo elbow, I ended up getting a cold for two or three days. I was sneezing like crazy and had a terrible headache. I was still able to drill and teach through everything, but I couldn't roll until the middle of the week. But I'm back to normal now and should be able to keep training like I usually do.
My boyfriend, Frank, and I decided that we will not be competing at the IBJJF Boston Summer Open this month. There are no women in my division, which means I would have to travel all the way to Boston to be handed a gold medal. I want my first IBJJF gold medal to be earned, not handed to me. We will be focusing our efforts on the No Gi Pan Ams, which will be at the end of September. Getting a gold medal at that tournament would be a big deal, so I'll be working insanely hard until then.
Sorry for talking so much this week. See ya!
Jess Papi is a blue belt at Scranton MMA and also pursuing her degree in exercise science. Read her entries every week for insights on competing, training, and juggling BJJ and life.