What if someone were to say you could have a full-time job, finish your college degree, have several children, work out, eat well, and have impromptu dance parties, all without losing your mind? Well, no guarantees on that last part, but this has been my life for the past four years. 
The key to keeping my sanity through the chaos: planning. Sounds so simple, right? The problem is, most people won't invest an hour or two per week in themselves. The week slips by with missed workouts, crazy running around, extra grocery store trips, and, God forbid, drive-through visits.
Make a Menu and Create a List
I assume anyone reading is well aware of the role nutrition plays in athletic and even day-to-day performance. For me, there is not a remote chance I could keep up my insane schedule without being properly fueled. By taking an hour or two once per week, getting off YouTwitFaceGram, and investing some time in planning, you can make a world of difference in how well you eat, train, and live. Secondarily, I would be willing to bet you'll save some money by having a plan. Here's a little insight into how we do things in our family.
Once per week, usually Sunday, we sit down with the kids and choose our meals for the week. I am fortunate enough to have an equal number-of-children to days-of-week ratio, but assume this isn't the case for most. After we pore over websites and paleo cookbooks and decide breakfast, lunch, dinner, and snacks for the week, we make a separate list of each ingredient needed for each meal. Every, single ingredient.
This part is important because the one item you forget will be the very thing that causes you to have to run back to the grocery store or say, "Screw it," and order a pizza. Now that you have your detailed grocery list, go through your fridge and cabinets and mark off those things you already have, being aware of the amount needed versus the amount actually on hand. Double check.
A Sample Weekly Meal Plan and Grocery List
I'm not usually much for following other peoples' meal plans, as there is a pretty solid chance you won't like at least one or two options, which confuses the situation and causes you to run off and order takeout. My goal with our clients is to teach them to think through their week, make their own menu according to their likes, and plan accordingly.
In the spirit of leading by example, however, I will share our meal plan for the upcoming week. If you've not learned to cook and don't know your way around a kitchen, may I suggest getting your hands on The Gym Life Book of Cooking Technique, by Colin Stuckert.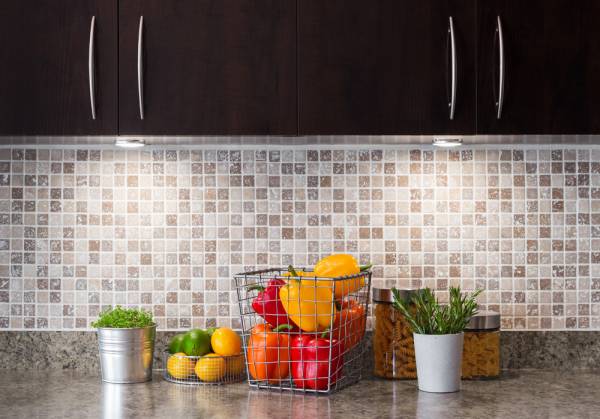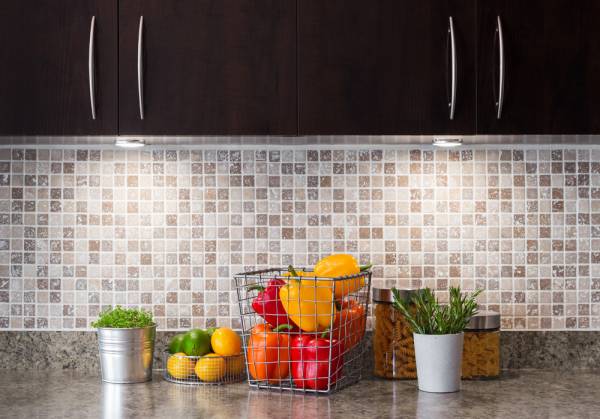 Weekly Meal Plan
Click Here to Download a PDF of the Weekly Meal Plan
Supplies You Will Need:
MONDAY
Breakfast: Coconut milk fruit smoothies and hard-boiled eggs
Lunch: Boar's Head or Applegate sliced turkey, hard cheddar, kale chips, grapes
Dinner: Beef kebabs with red bell pepper, red onion, and small red potatoes on the grill
TUESDAY
Breakfast: Egg muffin cups
Lunch: Leftover kebobs and potatoes. Kids: Beef, carrot sticks, apples, almond butter
Dinner: Crockpot chicken enchilada stew over cauliflower rice – To make cauliflower rice, just process the florets lightly until rice-like, then microwave for five minutes.
WEDNESDAY
Breakfast: Egg muffin cups
Lunch: Chicken salad unwiches, tangerines, celery with almond butter
Dinner: Taco salad – Romaine lettuce, taco meat, cheese, green onion, avocado, and salsa dressing
THURSDAY
Breakfast: Banana muffins
Lunch: Salad – mixed veggies, tomatoes, avocadoes, olive oil and balsamic vinegar, with a scoop of chicken salad from yesterday
Dinner: Crockpot roast, small red potatoes, onion, carrots
FRIDAY
Breakfast: Quick garbage omelet (throw any veggies cut from yesterday's salad in a pan with some butter, whip up two or three eggs, cook, flip. Add goat cheese if that's your thing.
Lunch: Leftover crockpot roast
Dinner: Meatball Marinara over Zoodles (spiralized zucchini) -this also works over spaghetti squash
SATURDAY
Breakfast: YESSS!! Big breakfast day! Sweet potato bacon hash with sausage onion feta omelet
Lunch: For us, we eat breakfast as more of a brunch, or just snack for lunch.
Dinner: Salmon and sautéed spinach and Brussels sprouts
SUNDAY
Breakfast: Super easy banana almond butter crepes, bacon
Lunch: Grilled chicken marinated in Tessemae's buffalo sauce, roasted garlic and rosemary sweet potatoes
Dinner: Finish the leftovers from the week while working on next week's plan!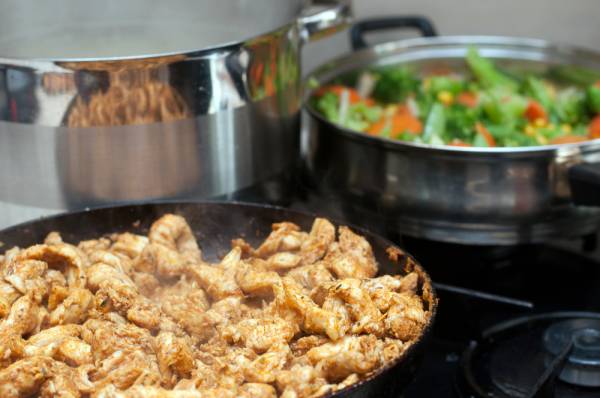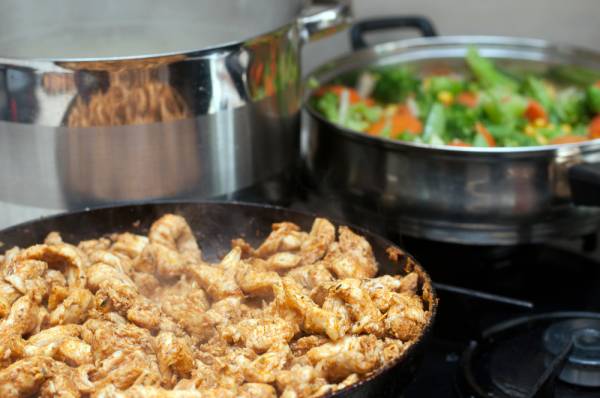 Weekly Grocery List
Here's the grocery list of ingredients needed for this week. Keep in mind, I'm feeding nine people. Your quantities will most likely be much less, so adjust them as needed. Again, I make the list day by day, recipe by recipe. I then go back and re-organize it by market or store and department to make the trips faster.
4 cans coconut milk, no additives
Frozen organic berries
2-3 dozen eggs (We have chickens, so this will get crossed off)
2lb Boar's head/Applegate or other filler-free lunch meat
Bushel organic Kale
2lb organic grapes
Beef tips/stewing beef
4 large red bell peppers
2 large red onions
5lb bag organic red potatoes
1lb ground sausage
3 bushels green onions
Organic carrots, celery, bell peppers
2lb chicken breasts
1 yellow onion
1 can green chiles (+1 can jalapenos, if you like spicy)
1 can diced tomatoes
1 12oz can tomato sauce
1 Tbsp chili powder
1 Tbsp cumin
3 cloves garlic, minced
1 tsp oregano
[Note: You can omit the above eight ingredients and use the cheap, easy version if desired: One bottle of salsa over chicken, add cumin.]
One head cauliflower
Chicken salad (If you want to make your own chicken salad, this is where cooking ahead comes into play. On Sunday, bake some chicken breasts in the oven for thirty minutes at 375 degrees. Refrigerate half, and use the other half for the chicken salad. To make the chicken salad, process the chicken, then add mustard, mayo, onion, and dill. Add this amount of chicken to the two pounds above when making your final list.)
Taco seasoning
2lb grass-fed ground beef
Salsa
Avocado
Cheese (if you do dairy)
Romaine lettuce
Bananas
Almond butter
Butter (We use Kerrygold)
Coconut flour
Baking soda
Baking powder
Salad veggies – Tomato, peppers, cucumbers
Olive oil
Bacon – Lots of bacon
Feta cheese
Rump roast
Organic spaghetti sauce
Aidell's meatballs or more ground beef to make your own
2-4 zucchini
4 sweet potatoes
Fresh rosemary
Salmon
Spinach
Brussels sprouts
Now you'll want to write one more list, re-worked into sections of the store. So copy, paste, and print the list above. Then make categories on a separate piece of paper for produce, meat, cheeses, fish, eggs, and other sections of your grocery store. Create your own list by adjusting the quantities and removing any items you don't need.
If this is your first real food or paleo grocery trip, prepare that it will be a tad more expensive, because you're buying the staples for the first time. For me, I'll cross off much of this list, because I already have the spices, sauces, oils, and other staples. However, compared to eating out or last-minute trips, I guarantee this will save you money in the long run.
Have fun with this. Involve your family. I promise: Week to week it gets easier! Bon appétit!
Photos courtesy of Shutterstock.