This week marks the start of Andy Petranek's three weeks as guest programmer. Andy Petranek is the owner and founder of CrossFit Los Angeles, one of the oldest and most successful CrossFit affiliates. Before finding CrossFit, Andy was an officer in the Marine Corps and an accomplished professional endurance athlete, having competed in three Eco Challenge races, cycled across Costa Rica, and participated in adventure races for five seasons as a Redbull Athlete.
What most people are not aware of, however, is prior to all that Andy was on track to become a professional musician and was a non-athlete. So how did he go from music geek to CrossFit Games finalist and coach?
"The start was the letter I got from my ROTC unit in college that said I had to be prepared when I arrived to do a physical fitness test," said Andy when asked how his fitness journey began. Born to a musical family, Andy quit sports in 8th grade to focus on music through high school. Trumpet was his instrument of choice and after graduating high school he enrolled at the University of Rochester as a dual major in music and biochemistry. Within one semester Andy dropped his music career goals and changed his major to undeclared.
Andy did, however, pass the physical fitness test referenced in the ROTC letter. It consisted of a max set of pull-ups, 2 minutes of sit-ups, and a 3 mile run.
"I lived in a development in Maryland and I mapped it and I put in all the distances from street corners to the end of cul-de-sacs. I calculated out how far I'd have to run to make 3 miles and I started just kind of running. This was before the Internet. This was 1984. So, there was no research on how to run or how to train for running. I had no idea what I was doing."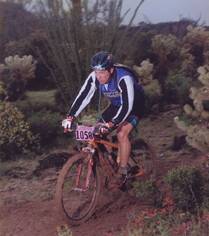 Once Andy passed the test he spent his first two years of ROTC as a Navy option. Navy PT was not as intense as the Marine Corps PT he would experience his second two years of college. PT mainly consisted of calisthenics those first couple years, so Andy supplemented by learning how to lift weights from a college buddy. By the time he left for the Marine Corps Officer Candidate School, between his junior and senior year, Andy was considered one of the fittest guys in the ROTC.
"I became a Marine and I was a platoon commander and all my Marines were always impressed with how fit I was. I moved out to Southern California and I bought a bike and I started biking from San Clemente into the Marine Corps base. My Marines would look at me wide-eyed and think, "Oh my God, the Lieutenant is a complete nut."
During his time in San Clemente, close to the heart of Southern California endurance sports, Andy raced in 5k's, 10k's and a half marathon. He also completed his first triathlon.
And after that? Nothing.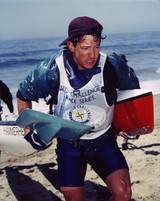 "Basically I got out of the Corps and did nothing. I went back to 'slug.' No working out. No training. I sat for two years. Then I heard these guys on Mark and Brian on KLOS. They were interviewing a guy who was doing this thing called Eco Challenge. I called up the guy and interviewed him and I decided he didn't know his ass from a hole in the ground. Not that I did either, but he definitely did not. I didn't want to be on his team so I started my own team. I wrote a check for $10,000, went to Mark Burnett's office, handed him the check and that inked my spot. Then I got my team together."
It was 1995 and this first year would be the only time in three years Andy completed an entire Eco Challenge. Even then, he did it with only one remaining teammate. In his second year his team came to a grinding halt after a grueling 24 hour sprint to avoid elimination that left one teammate dehydrated and puking blood. His team was stranded without a functioning radio for 30 hours on an island in the center of a raging river before the Eco Challenge helicopters came to rescue them.
After his second year, Andy swore he was done with Eco Challenge. Then one afternoon a friend called him up and said there was an Eco Challenge qualifier race in Malibu. Not interested in qualifying, but thinking the race sounded like fun, Andy called a couple friends.
"We did no training together. We did nothing. We just did our logistics planning together. We showed up. We were the last team to register and we won the whole damn thing. So all of the sudden we had a spot to do the Eco Challenge."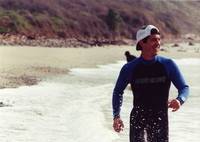 In his third Eco Challenge go around, Andy's team would make it to day four before a teammate had to drop out.
Andy's subsequent transition to sprint length adventure racing was elicited by another phone call from a friend. The Hi-Tec adventure race series was just ending their first season when he received the call.
"It was the last race of the year and they were calling it the National Championship. We went out, a team of three guys, and we won. Then we went to Redbull and we said, 'We have the National Championship team, will you guys sponsor us?' And they said yes."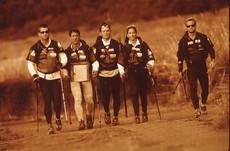 Technically the team had one race under their belt, but in reality the three men were each highly pedigreed endurance athletes. They would go on to race for Redbull for the next five seasons, averaging an overall second place finish each season.
From high school music geek to professional athlete, Andy made a successful if unpredictable transition. What lay ahead next was the development of his coaching career and his discovery of CrossFit.
Andy Petranek Interview Series:
Part 2 – "Discovering CrossFit"
To follow Andy's three weeks of programming, visit our Strength & Conditioning Workout of the Day.