We receive free products and receive commissions through our links. See
disclosures page
.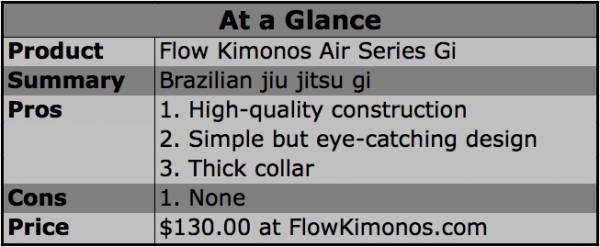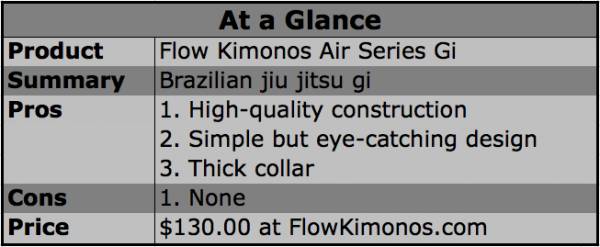 I rarely have easy rolls in jiu jitsu. Even when the guys are going easy on me, I have to try hard to get anywhere. One missed step and I'm fighting to get my shoulders up to my ears and my chin on my chest before that forearm or lapel slips beneath it to finish the choke.
That's what I love about the sport. You have to be completely present in the moment. All you can think about when you're rolling is jiu jitsu, not that jerk who cut you off in traffic or the deadline speeding toward you. Then there are those times when you don't even have to think about what you're doing. Your mind relaxes as your body finds its own way through the roll. That's flow.
Introducing the Flow Kimonos Air Gi
The people at Flow Kimonos know all about flow. The Flow Kimonos website describes what it's like:
Flow is "the mental state of operation in which a person performing an activity is fully immersed in a feeling of energized focus, full involvement, and enjoyment in the process of the activity."
Flow Kimonos offers a Hemp Series, Pro Series, and Air Series gi. I was sent the Air for review. The product description explains that this lightweight gi was designed to be the "ultimate summer training gi" with a softer jacket and lighter pants than its other lines. The cotton/polyester blend of the pants and the jacket's shoulder lining both contain sweat wicking properties and remain light and breathable throughout training.
Features
425gsm pearl weave jacket
Thick, sturdy lapel
Cotton/polyester twill shoulder panel
9oz polyester/cotton twill pants
Thigh-to-shin knee reinforcement panels
Six rows of stitching reinforcement at cuff
Silver contrast stitching and accents
Embroidered logos and small patches at the hip and lapel
Six belt loops
Silver stretchy rope drawstring
Quality and Style
The minimalist design of this gi was intended to allow wearers to customize the kimono so they can match their personal style and represent themselves, rather than a gi brand. I wouldn't change a thing about it. There have been a few times I've noticed people looking at me while I was wearing this gi. Whether I had a new hairdo or freshly waxed eyebrows, all they complimented was my gi.
The Flow Kimonos logo is a bright red in this series, with "Flow" embroidered in silver. The silver is used throughout the gi in the stitching and accents, which pulls the design together. While the armpit reinforcements typically found in gi jackets are absent, standard reinforcements are present at the seam splits, shoulders and chest, pant and sleeve cuffs, knees, and gusset. The gi is light, but built to last.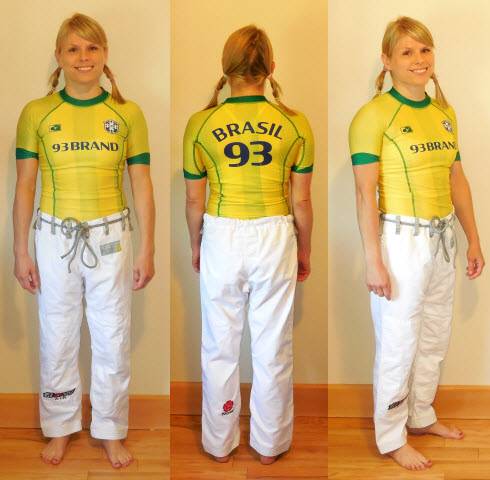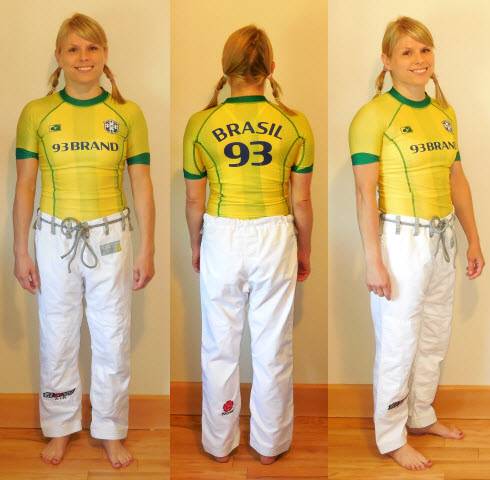 The lapel is covered with the cotton/polyester blend fabric. It's thicker and sturdier than the lapels of most of my other gis, but not quite as thick as the Fushida lapel. The only feature I wasn't a fan of on this gi was the jacket overlap. When I closed the gi, the overlap reached from one side of my body all the way over to my other hip, with the inner lapel doing the same. I prefer slimmer front panels, which would also decrease the weight of the gi.
The Air Series pants are exceptionally soft and comfortable. Most pants these days are ripstop and the cotton/polyester blend felt luxurious in comparison. I loved the silver belt loops and seam split reinforcements, and the multi-level stitching at the cuffs is my favorite. I'm not a fan of rope drawstrings, and this one came untied sporadically throughout training, as they all do. I noticed on the Flow Kimonos Facebook page that they're experimenting with a new printed stretch drawstring, similar to the one Grips Athletics uses. Maybe those will become the new stretchy-rope drawstring. I prefer the ripstop strings, myself.
Fit and Comfort
While the fabric of the Flow Kimono was extremely soft and comfortable, the gi was about one size too big for me, even after washing in hot and drying in the dryer. I think if it was a bit smaller, it would have been one of the most comfortable gis I've ever rolled in because of its softness and its light weight. I wore the gi to our advanced classes and my women's-only class. Because of its size, I found the excess fabric distracting when I was rolling with dominant partners in more intense rolls. In more relaxed rolls, I didn't have an issue.
One of the women in my class borrowed this gi a few times when she began training with us and it fit her very well, as you can see in the photos below. She is 5'4 and 125lbs. For more photos, and pre- and post-wash measurements, please visit the Product Preview post on my blog.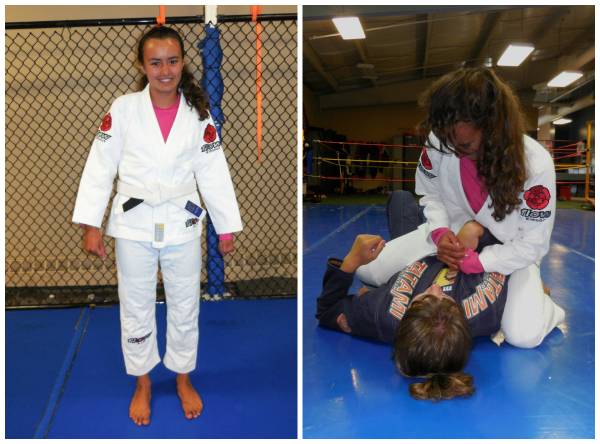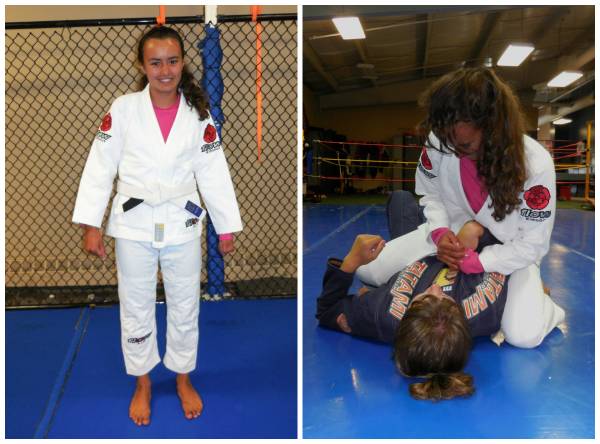 Customer Service
I was sent this gi for review and did not experience typical customer service. Considering the quality of this gi, the $130.00 price tag is amazing. Shipping to Canada is $30.00, with shipping to the United States falling between $13.00 and $18.00, depending upon which state you live in.
Follow Flow Kimonos on Facebook, Instagram, and Twitter to keep up-to-date on sales, contests, and new products. They have a contest on Facebook right now, ending September 30, 2014 for a Pro Series 3 gi, so make sure to scroll down their page and enter to win. I also happened to notice a Tweet on Twitter dated August 15, 2014 stating they had just received a small shipment of the Air Series gis, so get one now before they're all gone!
The Flow Kimonos Air Series gi is available for $130.00 at FlowKimonos.com.