We receive free products and receive commissions through our links. See
disclosures page
.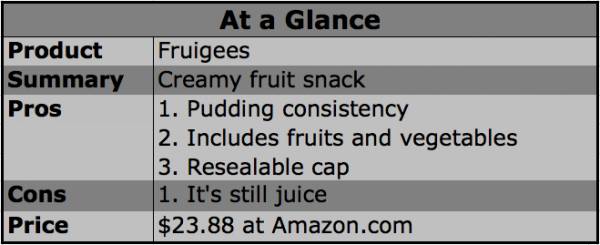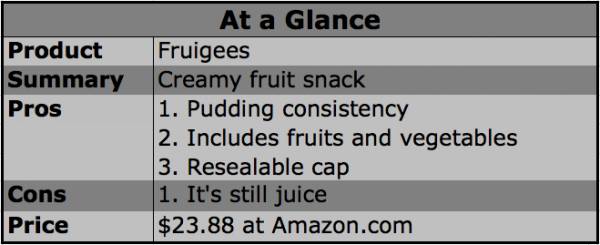 Fruit is a complicated topic when it comes to feeding kids. Parents want to teach their kids that fruit is healthy, so they often turn to fruity options like juice. But despite the name, fruit juice is usually little more than sugary water.
RELATED: 6 Tips on Making Healthy Eating for Kids Not So Difficult
Recently I tried Fruigees (fru-jeez) creamy fruit snacks, and they were a cut above juice and other fruit snack options.
About Fruigees
Fruigees was started by two cousins in southern California. They developed Fruigees in the kitchen and delivered to local farmer's markets before packaging and selling on a larger scale. Fruigees are now available in many retail locations, and the company continues to grow.
Fruigees are fruit juice, but not quite the normal juice pack you may be used to. For starters, the company describes them as a "creamy fruit snack." They are sometimes also referred to as "fruit pudding," which does a good job of describing their consistency.
"The consistency of the fruit pudding is such that it won't come out on its own, even with no cap on, but when storing the Fruigee you can recap it and waste a lot less juice."
Fruigees include carob bean gum (locust gum) and tapioca starch. These ingredients prevent the juice from flowing freely and create a thicker, pudding-like substance. The potentially off-putting description of it aside, I enjoyed the consistency of Fruigees and preferred it to just plain juice. The flavors were longer lasting and a little less sweet than normal juices, but no less flavorful for the discriminating palates of children.
Each fruit juice pack also contains vegetable juice. For many parents, this is a great way to include some vegetable nutrients into a child's diet where they may otherwise be lacking. I sampled their three fruit-veggie flavor combinations.
Flavors
24 Carrot Orange: Citrus and carrot are the perfect marriage of fruit and vegetable flavors. Carrots have a mild and sweet flavor anyway, and spicing it up with the bite of orange is a no-brainer. Not only is this a delicious, mild, and creamy snack, but it's also the least sweet of the three flavors.
Nothing Beets Cherry: Cherry can be a tough flavor to get right. It's easy for real cherry flavors to gain an artificial taste if they're over-sweetened, but this addition to the Fruigees lineup is just right. Beets were the perfect vegetable choice to match up with the cherry, too. Some kids may dislike the flavor, but it takes pretty discerning taste buds to pick up the beets. The beets also add some extra sweetness and earthy flavor to the mix, as well as a little nitric oxide to get the blood flowing for exercise.
GOT BEETS? Beetroot Can Improve Your Performance
Kalefornia Grape: Getting grape flavors to hide kale flavors is an impressive feat, but Fruigees has done it. Natural grape flavors tend to provide sweetness but not a lot of flavor, which is why you'll often see them mixed in with other kinds of juice. The Concord grape juice concentrate used in Fruigees provides a good grape flavor. In contrast, some kinds of kale have a strong flavor many people find unpleasant, but Fruigees effectively hides it. The smell of the kale, on the other hand, is still present. The kids probably won't notice, but you will. It's not a bad thing, but it is there.
Other Benefits
Fruigees have a host of other benefits besides great flavors. Each one is completely organic, non-GMO, BPA-free, gluten-free, and vegan.
"Although Fruigees are a snack option for children, they are also a good choice for some athletes."
The package itself is durable and well-made. The cap is resealable, which is a convenient but uncommon feature for products like this. The consistency of the fruit pudding is such that it won't come out on its own, even without the cap on, but when storing the Fruigese you can recap and waste a lot less juice. In fact, I accidentally sat on one of the Fruigees while writing this review. I'm not a small guy, and the package held up and I didn't end up with a mess on my hands – or a mess on my backside, as it were.
Although Fruigees are a snack option for children, they are also a good choice for some athletes. At athletic events that last for a full day or longer, it's common to see athletes chugging down sports drinks to keep blood sugar and glycogen levels up while also replenishing electrolytes. Fruigees provide an organic and convenient alternative to the adult equivalent of sugar-water.
READ: Eat for Endurance: 4 Things the Pros Do
My Recommendation
Bear in mind that although Fruigees are full of healthy ingredients, they are still fruit juice pouches. The adage of not drinking your calories still applies to this snack. If you have the choice, eating the whole food is best. But, sometimes, that just isn't practical.
If you're in the market for fruit juice for the kids or a snack during competition for yourself consider Fruigees. Many people purchase these products daily anyway, so why not opt for the organic option that includes vegetable juices as well?
Fruigees are available for $23.88 for a pack of twelve at Amazon.com.