Recently, I had the opportunity (I say that loosely) to travel from North Carolina to Nevada. This was not my first cross-country trip. I have driven from Florida to Washington state and then Washington state to North Carolina before.
Recently, I had the opportunity (I say that loosely) to travel from North Carolina to Nevada. This was not my first cross-country trip. I have driven from Florida to Washington state and then Washington state to North Carolina before.
And like many of you, I try to stay fit and eat healthy even when I'm on an adventure. I've learned something new every trip, so here are a few tips to help you so your fitness and diet don't fall by the side of the road.
Note: Before going into specifics, it's important for you to know that when I stop for the night to rest, I hate stopping in big cities. Usually I stop in small towns close to the Interstate. I do this because I like to get early starts to my day when I have to drive more than eight hours.
Keeping Up With Your Diet
Eating on the road is not easy, especially for someone with celiac disease (like myself) or any allergy, for that matter. There are two strategies I find helpful: learning what to order from fast-food joints and grocery shopping.
Fast-Food Restaurants
Since I know many of you follow paleo or the Zone diet, ordering from fast-food establishments can be difficult and frustrating. First and foremost, it can be beneficial to be picky. Knowing what fast-food places are accommodating to allergies will help you immensely when on the road.
Some establishments will create burgers with lettuce wraps instead of buns or have a decent selection of salads.
Also, it never hurts to ask if an unfamiliar establishment will make some changes to your burger by requesting no bun, no dairy, and no sauces ("special" sauces are dangerous).
Some helpful rules to live by in regard to fast food:
Use salad dressing sparingly. Even though you get vinaigrette dressing, it can still have unhealthy ingredients. If you look at the ingredient list you will see things you have never heard of.
Avoid any special sauces. Usually these are mayonnaise based, which can really hurt your diet.
Take the time to sit down and eat. I know when driving, it can be tempting to eat in the car. In doing this, you usually just inhale your food, which can cause indigestion and other unpleasantries. Sit and eat your food. You'll end up eating less and, of equal importance, get a stress break from the road.
Don't be afraid to ask! If you want a lettuce-wrapped burger, ask if they can do this. It's better to ask and know, than to not ask and regret it because the next stop is over an hour away (yes, I have done this).
Grocery Shopping
I find that grocery shopping is the best way to go when eating on the road. Most grocery stores have at least one item you can buy that is healthy and within your diet parameters.
And you don't have to be super picky about where you go if you don't have a lot of options. It may take some digging around, but usually you can find decent granola bars like KIND bars (I enjoy KIND bars because they are gluten free) and some fruit selections.
The key is to be a bit creative and know where to look. I usually start out with the outer perimeter of the store and stay away from the inner isles.
Sometimes grocery stores have sections dedicated to healthy eating with a lot of gluten-free, dairy-free, and soy-free selections. When you find those places, stock up!
But I know what you're thinking. During a busy road trip how do you find the time to go to the grocery store? Well, everyone has to stop at some point.
Around the time you stop to rest for the night, hit up a store before you head to sleep. If you need to get dinner, this is a great time to find the grocery store.
And remember to bring a cooler with you while traveling! You can put all your grocery items that need to be chilled inside the cooler. I recommend you buy only what you will eat that day versus buying for several days.
You don't want to run the risk of getting any gross pathogens from perishable food that has been sitting out too long, even if it's iced in a cooler. Better safe than sorry.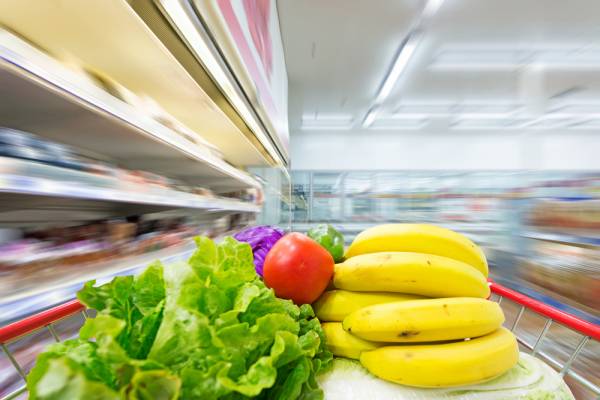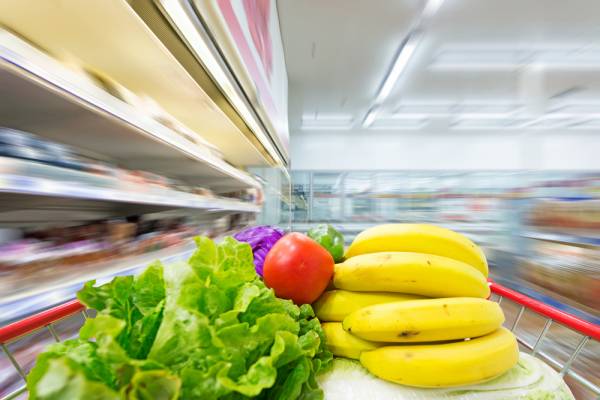 Keeping Up with Your Fitness
This is important to pretty much anyone who makes fitness a priority in his or her life.
Luckily, many gyms have options that allow you to pay for a day pass so you can use the facility. Here are some helpful tips for working out in any environment.
Your Basic Gym – Full of Machines and Equipment
The basic gym will have machines, cardio equipment like treadmills, and free weights (air conditioning included). I know many CrossFitters don't find this the most appealing place to train, but if this is the only place around for miles, you don't have a choice.
But don't fret. You can do many of the same workouts you're used to in gyms like this. It's all about being creative with the equipment available.
If there are zero bumper plates, you can still use the hard plates. You just have to make sure the weight is heavy enough to make you work, but light enough that you can control the weight.
Usually, if I am in a gym like this, it's easier for me to do quality-focused workouts that are not timed. Basically, focus on your form or do a strength day instead of a metcon.
If equipment is sparse, but you have a pull up bar and maybe some dip bars, consider a gymnastics or bodyweight workout. Breaking Muscle has awesome workouts for you to try.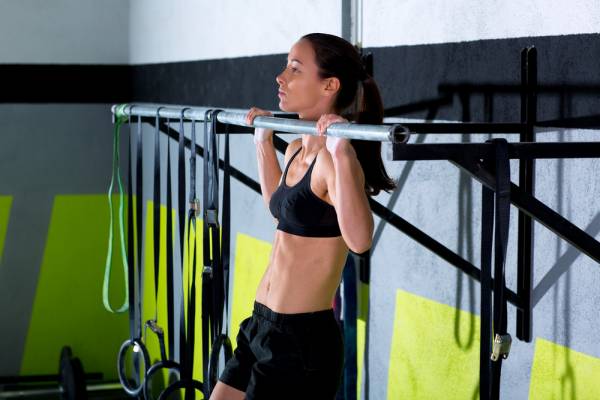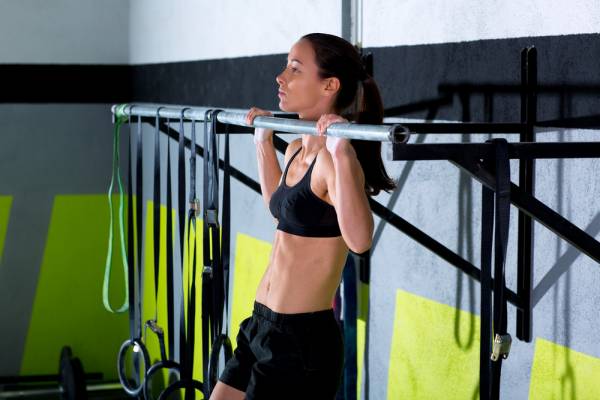 Specialty Gyms
This includes your CrossFit gyms, gymnastics facilities, and MMA gyms. These gyms cater to a specific group of people doing a specific sort of workout. Remember, each of these facilities will be different and contain their own culture.
When you come in to workout, be respectful of the community and its dynamic.
They are allowing you to workout with them, so show the better side of yourself by being humble, listening to instructions, and being friendly to other patrons in the facility. Follow their gym rules and be respectful of the equipment.
Also, always call ahead to let them know you're coming. And by that I mean, call a few hours ahead – not five minutes.
I know many of you reading this are following a specific programming plan. The downside to this is you may not be able to follow your normal programming when visiting one of these establishments.
Typically you will have to participate in their programming for your visit and resume your normal training once you reach your final destination (or a different facility with more options).
The Take-Away
Being on the road can be stressful, especially if you are on the road because you are moving. But you can still keep up with your diet and fitness if you know how to order food from menus, what to get at the grocery store, and how to be creative with your workouts based off what is available to you.
The more you travel, the more you will learn what works for you, but this information should help you get started on your first road trip.