My husband and I have seven children, and as you can imagine, feeding a family of nine can get expensive. We save every penny and buy only what we need and can afford in cash.
My passion is teaching our children habits they'll take with them into the future. It's about spending a little more now, if needed, to not pay huge healthcare costs later. Last weekend, I went to the grocery store and was reminded of all the processed foods that I haven't so much as looked at in years. It made me realize how much money we actually save now that we've changed our eating habits.
Here are some of the healthy foods I bought and how much I spent:
One pound of bananas: $.54 (on sale, normally $.69)
Free range organic eggs: $3.69 per dozen
Sweet potatoes: $.99 each for huge potatoes (I fed three of us on one tonight)
Organic romaine lettuce: $3.99 for a pack of three stalks
Organic baby spinach: $4.19 for a giant box
Conversely, here are the prices for some of the junkier foods:
Frosted Flakes: $3.99 per box
1 DiGiorno pizza and cookies in a box (enough to feed 2-3 of us at most): $8.19
1 twelve-pack of Coke: $2.99 (on sale)
Here are a few examples of meals I prepared last week, with total cost included:
One whole pork tenderloin fed six for $7.99. I also bought 24 distilled waters for $2.99. (How much was that twelve-pack of Coke again?) This evening, I made a crock-pot full of pulled pork tenderloin, sweet potatoes, and fresh picked green beans for $11.89. There were enough leftovers for the adults of the house to have for lunch tomorrow. That's two meals for $11.89.
A salad consisting of half an organic romaine stalk, a handful of spinach, organic tomato, avocado, and olive oil with half a chicken breast fed two people. In my estimation, it cost about $5.75. I challenge you to take $5.00 to your local fast food restaurant and attempt to feed two people. You may get one value meal to share, but you'll probably feel awful for the rest of the day.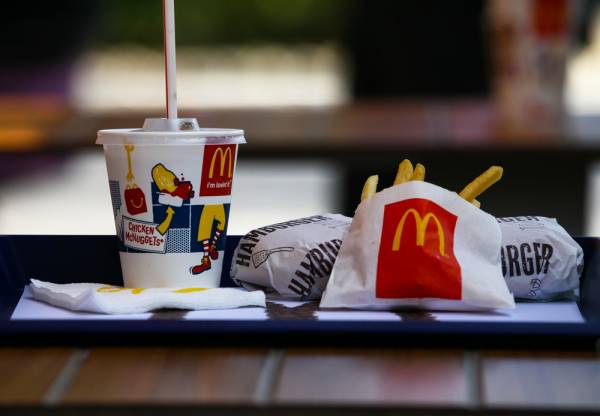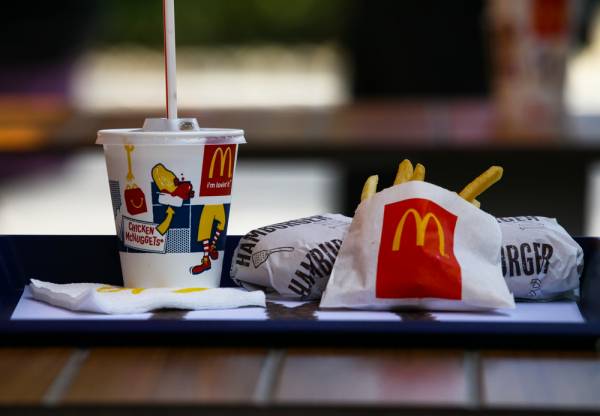 Practice Makes Perfect
I used to feed my family the same "cheap" grocery store food. When I first switched to real food, I spent a lot of money. I realized after some research I had to simply plan better.
While standing in the grocery line the other day, I got up the courage to ask the lady in front of me how many people she was buying groceries for. She said two people, herself and her husband, and added that her grandbaby comes over twice a week. She had the usual items: soda, bread, hamburger buns, cereal, yogurt, spaghetti sauce, noodles, and mac and cheese. She told me it was all she planned to buy for the entire week.
Her total for two (and a half) people for the week was $129.67, while my total for a family of nine was $198.76. If you're tracking with me, that's a difference of $69.09 for seven additional people.
At the end of the day, the key to saving money is planning. If you already have a meal planned and prepped at home, you're much less likely to fly through the drive thru or order take-out. You will save your wallet and your health!
As an example, here's a week's worth of meals and a shopping list:
WEEKLY MEAL PLAN 
Click Here to Download a PDF of the Weekly Meal Plan
Sunday
Sunday is meal plan and cook-ahead day at our house. For this week's plan, you will need to cook several chicken breasts. You'll make chicken salad with half of it and cut up the other half into stir fry pieces. Also, cook a pound each of ground beef, ground chicken, and sausage for tomorrow's crock-pot chili. This way, you're all ready to make dinner in a flash all week. When you cook dinner, always cook a little extra so you can have leftovers.
Monday
Breakfast: No-atmeal
Lunch: Chicken salad on romaine, side of grapes
Dinner: Crock-pot chili
Recipe: Take one pound each of the pre-cooked ground beef, ground turkey, and Italian sausages, and put them in the crock-pot. Add half a white onion, two tablespoons chili powder, one teaspoon paprika, salt and pepper to taste, and one bottle of V8 juice. Place in crock-pot on low for 6-9 hours.
Tuesday
Tip: Bake your bacon while you get ready for work. Heat oven to 400 degrees, place bacon on a cookie sheet, and in 20-25 minutes, it will be crisp and ready to serve!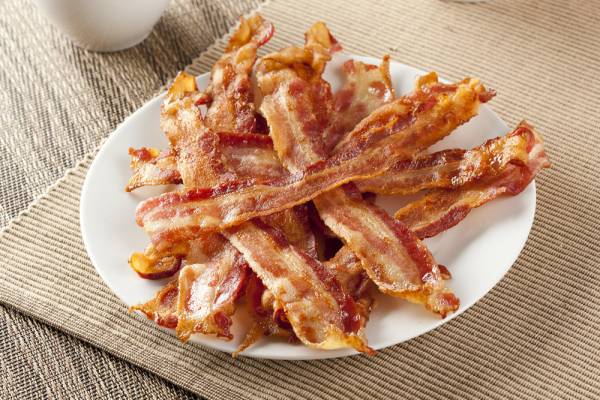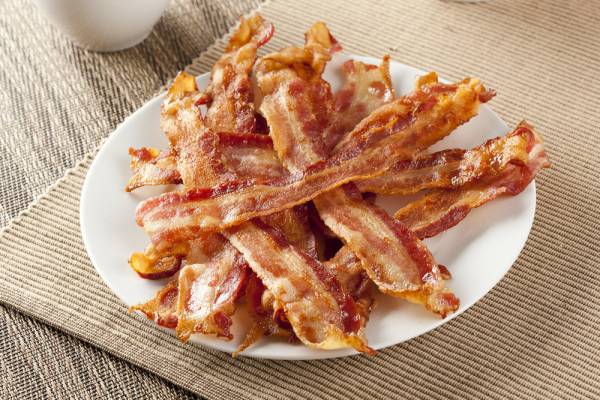 Wednesday
Breakfast: "Garbage omelette" – Use any veggies you have in the fridge, sautéed and thrown in with the eggs.
Lunch: Large salad with the leftover chicken from last night's dinner
Dinner: Burgers topped with fried eggs and grilled zucchini spears
Thursday
Breakfast: Frozen fruit smoothie and hard-boiled egg
Lunch: Leftover burgers and veggies
Dinner: Seared pork and sweet potatoes
Recipe: Preheat oven to 325. Rub both sides of pork with onion, garlic, paprika, chili powder, salt, and pepper. Sear on both sides then place in a baking pan with onions and garlic. Bake for 30 minutes. For added flavor, add apples to pan.
Friday
Breakfast: Scrambled eggs and sausage
Lunch: Leftover pork
Dinner: Crock-pot beef rump roast with onions, carrots, and small potatoes
Saturday
Brunch: Banana pancakes and sausage
Dinner: BLT UNwiches – Bacon, lettuce avocado and tomato on romaine
Sunday
Breakfast: Bacon and fried eggs with apple pear sweet potato hash
Dinner: Mongolian beef made with leftover beef roast and coconut oil in place of sesame oil as recipe suggests.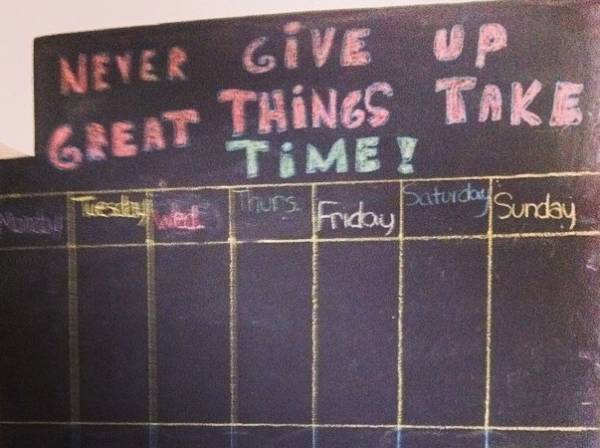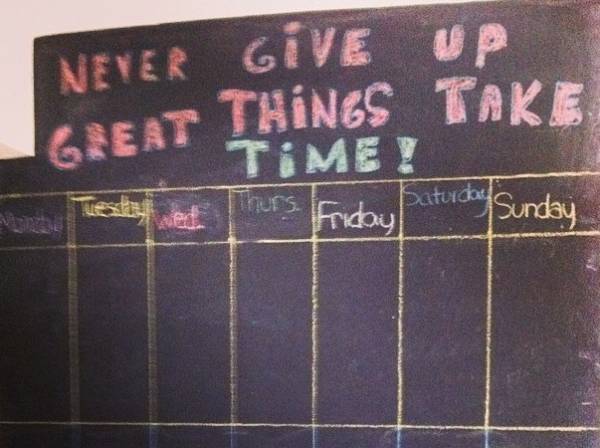 Our family's meal planning chalkboard
WEEKLY GROCERY LIST
You'll remember from the last meal planning article to write all ingredients and quantities down to the last detail, then cross off the quantities you already have.
Click Here to Download a PDF of the Weekly Grocery List
Staples and Spices
These are things you may already have or only need to buy a few times per year.
Cinnamon
Nutmeg
Ginger
Chili powder
Paprika
Rosemary
Coconut aminos (or gluten free soy sauce)
Flax seed
Raw organic honey
Almond butter
Coconut or arrowroot flour
Mixed nuts: Almonds, pecans, cashews, macadamias
Meats and Cheeses
Amounts will depend on number of people you're feeding. For meats, plan for approximately .25lb per person.
Chicken
Pork chops
Large rump roast
3 pounds grass-fed ground beef
1 pound ground chicken or turkey
1 package Applegate italian sausage
4 pounds uncured nitrate free bacon
1 package breakfast sausage (no fillers)
1-2 dozen eggs
feta cheese
Produce
Organic romaine lettuce
Organic tomatoes
Bushel green onions
Seasonal veggies for salads and sides ( broccoli, carrots, bell peppers, etc)
2 large onions (one white one red)
4-6 large sweet potatoes
1 head of cauliflower
5 pound bag organic apples
Grapes/other seasonal fruit
Frozen organic berries
Bunch bananas
Other
Almond or coconut milk (You can also make your own)
I encourage you to browse the Internet for sales or visit Eat Wild to find locally-sourced eats and vegetables. Get a Costco membership (even split with a friend), take advantage of Target's Red Debit card for five percent off, and buy locally at farmer's markets as much as possible.
Again, your first trip for staples may be a bit pricey. However, with some planning, it can be done on a budget. I encourage you to visit your bank statement and add up all the restaurant take-out meals, protein bars, and last-minute shopping trips along with your regular grocery bill. I promise you will save money by planning your meals in advance. Bon Apetit!
Click Here to Download a PDF of the Weekly Meal Plan
Click Here to Download a PDF of the Weekly Grocery List
Photos 1 and 4 courtesy of Nichole Rheiner.
Photos 2 and 3 courtesy of Shutterstock.