We receive free products and receive commissions through our links. See
disclosures page
.
Full disclosure: this isn't going to compare the Hydrow home rowing system to a Concept 2 rower, which is probably what most readers of Breaking Muscle are most familiar with.
Full disclosure: this isn't going to compare the Hydrow home rowing system to a Concept 2 rower, which is probably what most readers of Breaking Muscle are most familiar with.
They are two completely different systems and we will include them both in a comparison roundup before Christmas. This is a review of a standalone home training system and not an adjunct to anything else.
What that means is that I assessed how the Hydrow shapes up as a total package assuming that it would be the center of an at-home training regimen.
I went into this with an open mind although I have a couple of confessions to make: I don't like bikes or treadmills because as a cyclist, and a sometime runner, I prefer to do those things in the real world and am not limited by the land or weather around me.
Rowing uses 84% of your body's musculature, far more than most other aerobic exercise modalities.
And, I think the best bang for your buck is always going to get as close to possible to a total body solution; rowing fits the bill on all counts.
Frankly, most of us are never going to have a boat or scull or access to a suitable waterway, not to mention the necessary skill or ability to maneuver one on our own. While you don't need much skill or instruction to ride a bike or run, rowing is an acquired skill which also adds to its appeal.
At a Glance
Product
Hydrow Rowing Machine
Pros
Sleek design, a strong user experience, and an impressive group of instructors make it fun, challenging, and engaging. Quiet electromagnetic resistance mechanism provides consistent tension for a unique indoor rowing experience.
Cons
It doesn't appeal to every budget and requires a membership pass.
Great Fitness Technology Comes at a Price
The Hydrow is rowing's answer to Peloton bikes in so far as the way it is designed and where it might fit in the industry. Yet, I have seen a lot of commentary about the pricing of a Hydrow rower when compared to a Concept 2 or a NordicTrack RW600.
It is true that you can get cheaper indoor rowers but Hydrow is one of the emerging hybrid technology creations that are taking the fitness world by storm, making it part of a new category of devices.
It's not surprise that the Hydrow comes with a 22-inch screen, an electromagnetic resistance mechanism and, most importantly, networked software and an infrastructure to support perfectly timed row-along workouts with top-notch instructors on the water. It's slick design and high production values on the hardware, software, and content.
It's goes without saying, the software that supports Hydrow is an engineering lift in itself and shouldn't be discounted as if you're logging into a YouTube channel. It's a fully-functioning SaaS (software as a service) application built to scale for a large audience. If the weight of the software wasn't enough, the hardware itself is about 145 lbs and measures 86x25x47 inches.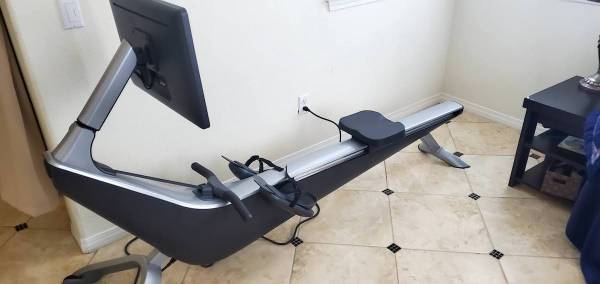 The Hydrow may be glossy but it is also surprisingly solid; the aluminum and steel frame can hold a 375 lb person whereas NordicTrack maxes out at 250 lbs and a Peloton bike maxes out at 297 lbs.
Would it be nice if the Hydrow hit the 500 lb limit of a Model D? Sure but kudos to the Hydrow engineers for going that extra mile over their direct competition.
Getting Better at Rowing Tips:
Don't grip too hard
Drive with your legs
Drive straight back
Don't let your butt go solo
Don't pull with your arms
Keep your elbows relaxed
Don't shrug your shoulders up
Sit up tall at all times
Don't re-bend your knees too soon
Focus on steady movement
The Hydrow's 22-inch screen is clear and sharp, even with direct light on it. It swivels so that if you decided to switch to floor exercises, you can still see the screen, and it comes with a great software interface.
Again, some users have remarked about the similarity to the Peloton interface but frankly that's nitpicking because most fitness apps these days are pretty close in terms of how you move through screens, find workouts, pick instructors and search. And a good thing, too, because it works.
If you know how to lift weights properly, you know how to row.
It's also worth pointing out that Hydrow, the company, has raised $52 million in investment and the money is all up there on the screen and in the design of the product. The user experience is peerless and everything, from the seat design to the feel of the resistance, feels like a premium product.
Your instructors are on the water, your pacing and their pacing has to synchronize, your experience of rowing is enhanced by the visuals, and the controls never get in the way or seem superfluous. This is a well-thought out product and has few weaknesses.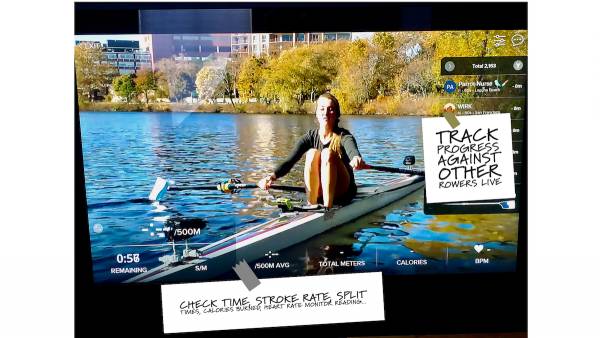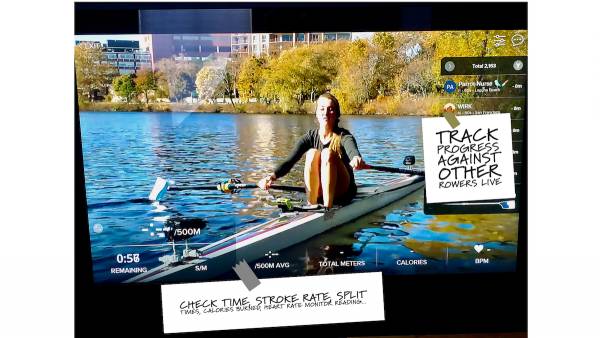 If there was one fear that I had about committing to the Hydrow it was the potential liabilities of long-term maintenance. This is not a product that you can take apart and oil and fix yourself. Time will tell how that pans out for users but it's not unusual to feel that pang of fear when you have invested heavinly in something like this.
Home Workouts Go Better with Help
If you are one of those people who is disciplined or advanced enough to do things on your own then the Hydrow may be frustrating to you in so far as it is best consumed as a guided experience.
You can't ignore the screen or the software and go it alone. Participation in the community isn't a must but you get absorbed into what other people are doing as you see their activity in rows with you or in a nice little feed that shows who has finished a row and how they performed.
It's optional to share but it does work on an visceral level, engaging you and making you feel like you're part of a group of fellow enthusiasts. You can filter the results by age and gender and it can be quite a motivational factor.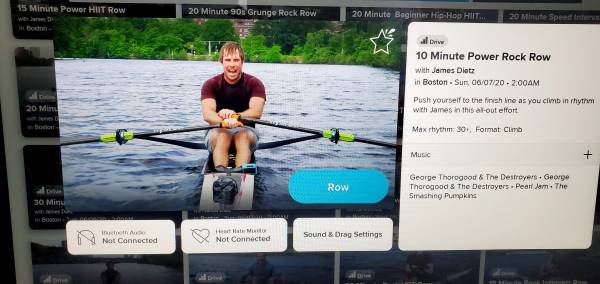 However, the best part of it all is the instructors. You have real rowers, you have one or two person sculls, and proficient rowing on a body of water with bridges and boats and real world scenery.
In one workout, I saw the instructor have to adjust after getting too close to the walls of a tunnel under a bridge. You do feel like you are part of an experience on the water, even when you are as cynical as I am.
However, what really struck me was the fact that you are forced into maintaining good technique because of the intimacy of the instruction. Your instructor is right there in front of you, a skilled rower, and you can't flail around or mess up your own form unless you turn off the sound and close your eyes.
Every row is different and can be a zen experience, as much as they are a challenge. The emphasis on form and consistency are a constant challenge, even to the best rowers.
If you have experienced rowing in a typical box gym without that follow along instruction, the experience on Hydrow is a revelation, feeling as close to being on the water as possible.
I am sure for actual rowers, that may seem an exagerration but I can only talk about how it made me feel as someone who hasn't rowed on water but is now itching to try it out at some point.
I don't know if indoor bikes and treadmills offer that same level of immersion. I was handed the Hydrow experience as a reviewer on these pages and I have become a believer.
Hydrow Indoor Rowing System
Weight
145 lbs
Dimensions
86x25x47 inches
Screen
22 inch display with 25 degree pivot in each direction
Connectivity
Bluetooth connection, WiFi (10mbps recommended), Ethernet (optional) Wifi: 802.11 a/b/g/n/ac; Ethernet: 100mbps/RJ45
Electrical
120-volt standard outlet; 60Hz; Power (Max): 210W, 2A; Power (Avg): 35W (.54A); Power (Idle): 5W (50mA)
Drag Mechanism
Electromagnetic resistance that adjusts 240 times per second attached to a polyester webbing handle strap
Size Limit
36″ inseam; 375 lbs weight
Price
$2,495 but expect holiday deals a plenty by signing up at Hydrow's Shop. Expect to pay over $30 per month for membership