We receive free products and receive commissions through our links. See
disclosures page
.

Walking might be looked down upon by "serious" exercisers as not intense enough, but the truth is walking is fantastic exercise for our bodies and our minds. Research has shown it can increase VO2 max, decrease bodyweight, improve blood pressure, and lower risk of type 2 diabetes. Not to mention exercise outdoors has also been shown to improve our mood.
GO OUTSIDE: Outdoor Exercise Beneficial to Mood and Self-Esteem
Hiking Boots Gone Minimalist
Walking is an activity I love and do regularly. And while I don't always find minimalist footwear comfortable for more intense exercise or running, I love it for walking. I previously reviewed the Lems Shoes Primal 2 and those quickly became and still remain my favorite walking shoe.
But wait a minute – maybe "walking" sounds more acceptable if we call it "hiking"? And guess what you need to go hiking? Boots!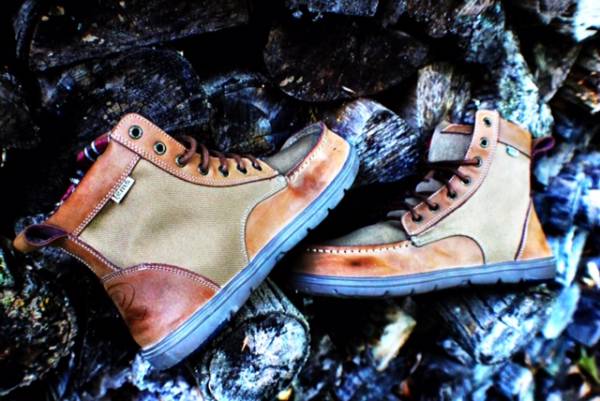 Well, once again Lems Shoes has come to the rescue with their minimalist version of a hiking boot, the Lems Boulder Boot. I was excited to test these out because as much as I love my Primal 2s, they are aqua and pink. They are adorable, but not so compatible with the muddy terrain of the Pacific Northwest trail ways. A pair of water-resistant boots that reach well above my ankle, though? Now that is far more appropriate for a weekend mushroom-hunting foray.
Lems Boulder Boot Features
9.9oz weight
40% nylon, 60% leather upper
100% cotton lining
3.0mm MoistureWick removable insole
9.0mm rubber sole
Zero drop

My Experience
My husband and I do quite a bit of walking/hiking and these boots have become my go-to footwear for these occasions. I have worn them hiking for hours in the forest and for hours on city streets. In both scenarios, the boots performed well.
I took the insole out of my original Lems, but I left it in these boots. I'm glad I did, as walking on tree roots and rocks was a lot more comfortable than it could have been. I think for longer walks and rougher hikes I would leave in the insole, whereas for shorter walks I enjoy the natural "foot massage" that removing the insole allows for. The great thing is the insoles are easy to take out and put back in, so you don't have to commit to one way or the other.
The boots lace up, which is great for getting the fit just right for your anatomy and your comfort level. It took me a few tries to lace mine up properly, as I'm not used to wearing boots, but once I got it right they were very comfortable.
And while these boots are not adorably aqua and pink, they are still stylish and attractive. I've even worn them sometimes when I wasn't walking very far. Crazy, I know. They come in black, brown, and "gravel," so there are a few options for colors, and the gravel color is actually on sale, as well.
Problems
I had a little trouble on my first long walk in these with some rubbing on my Achilles. But once I adjusted both my socks and the way I laced the boots, the problem improved. On my next wearing the problem did not occur. I think like any shoe, you should allow for a break-in period before hiking any great distance.
Also in regards to going on real hikes in these boots, they are water resistant, but that is not the same as water proof. So, keep that in mind if you are like me and plan to trudge around someplace like the Olympic National Forest. That being said, while the boots did appear to get water soaked during my hike, my feet never felt soggy or cold.
This is what the Lems website has to say on the matter:
We chose to leave out a waterproof membranebecause they sacrifice breathability.The upper is treated with a DWR water-resistant coating. When this begins to wear off, we suggest treating the nylon and leather with a spray on Scotchguard, Nikwax, or something similar.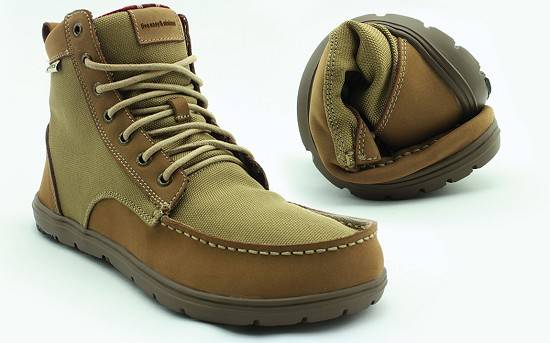 One Last Precautions About Lems
Lems boots are minimalist, and that means if you've never worn minimalist shoes before, you shouldn't go out on a long hike in these right away. You'll be surprised what an impact changing shoes can have not only on your feet, but on your whole body. Your feet may get sore, your legs might get sore in new places, or, if you overdo it, you could wind up with injuries and irritations in all sorts of strange places. Yes, even from walking. So start small, go around the block, and gradually build up yourself and your distances.
LEARN MORE: The Simple Path to Minimalist Running
My Thoughts on Lems Boulder Boots
I love these boots. I love Lems the company and both of their products I've tested. I've been wearing my Primal 2 shoes a lot and for a long time, and they're barely worn at all (though I do have some dirt patches on the aqua now – so sad). If the Boulder Boots perform at all similarly, and I have no doubt they will, then I will be wearing these, too, for a long time to come and for many, many miles.
If you're into minimalist footwear and looking for a quality boot, then I would highly recommend checking out Lems. And even if you're just transitioning to minimalist footwear and looking for something stylish to wear in your non-gym hours, then Lems is a good company to consider.
The Lems Boulder Boot is available in both women's and men's for $115.00 at LemsShoes.com.