We receive free products and receive commissions through our links. See
disclosures page
.

Lems Shoes is the brainchild of Andrew Rademacher, who started making shoes in 2008, knowing absolutely nothing about them. Rademacher just knew the ones he had were uncomfortable and seemed unnatural. He learned plenty and quickly, though, through selling shoes by day and then chopping up shoes and analyzing them at night. He founded Lems with a mission to make shoes designed to fit the natural, healthy shape of feet and they sold their first shoes in 2011.
The name Lems Shoes is actually an acronym for "live easy and minimal," but what makes Lems different from other minimalist shoe companies is that they aren't just about creating a barefoot shoe. While Lems does aim to create a "flat, flexible, and featherlike" shoe, they also aim to create one that you're not embarrassed to wear. Unlike most minimalist shoes, which target athletic usage, Lems originally targeted the casual wearer, even making minimalist boots and boat shoes. That original mission of making a shoe appropriate for casual wear is still obvious in the understated stylishness of their entire line of footwear.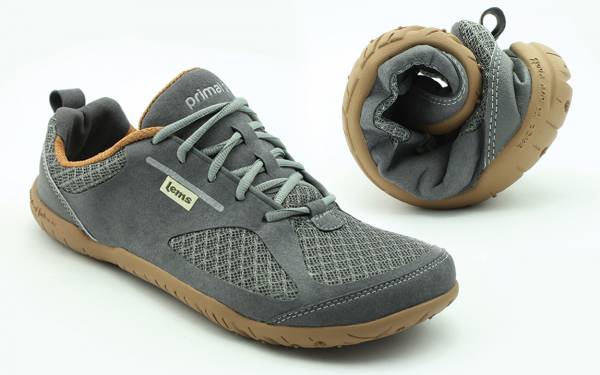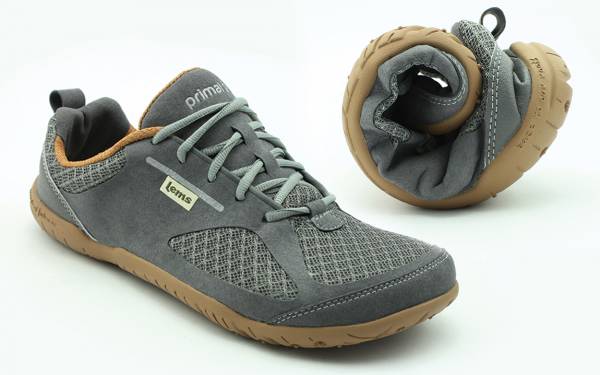 Lems Shoes is now, however, getting into the athletic shoe market with their new model, the Primal 2. Of all the minimalist and barefoot shoes I've tried – and I've tested a variety over the years – I enjoyed wearing these Lems the most.
Some interesting qualities to the Lems:
They have a straight last instead of a curved last.
They weigh only 6.9oz.
They are completely collapsible.
They are flat, without an elevated heel or toes that curl upward.
They come with a 3mm removable insole for those who want more support.
They have a big wide toebox.
They are zero drop.
They have an 8.0mm sole.
The result of all that is a comfortable, yet natural experience for your foot. I will admit to being reticent to wear my Lems at first. But only because it's wouldn't stop raining here in Portland and I couldn't stand the thought of getting the adorable pastel sky color of my Lems dotted with mud and dirt.
But once I did start wearing them, I found the Lems surprisingly cushy. I wore them while walking on regular pavement as well as heavily rocky trails for a few miles at a time and felt no discomfort. The insole, plus the rubber sole, plus the zero drop made me feel like the middle of my foot was supported (though not confined), yet my heel and toes were free to do as they pleased. These are the first true zero drops I've worn that felt good to me.
Our male reviewer had an equally positive experience with his pair of Primal 2 Lems. He reported excellent traction in wet conditions, yet a total lack of squeaking or noise when he wore his wet Lems indoors. That's a nice change from your average athletic shoe. He also garnered daily compliments and fielded many questions from admirers every time he wore his Lems.
On that same note, one thing I particularly liked about the Lems is that while they have a large toe box, they somehow don't look like duck feet. Other minimalist or barefoot shoes I've had were entirely unattractive due to the large toe box and bright color combo. Lems, however, stays true to their mission by having both an attractive and functional shoe. And while some minimalist shoes have a wide toe box, but still use a curved last, Lems uses a straight last so your mid-foot is as free to move around naturally as your toes are.

If you want to really geek out on shoe design and foot health, the Lems Fit, Foot Education, and Shoe Design Info pages have a cornucopia of information. The men's Primal 2 comes in brown, black, and slate. The women's version comes in slate, frost, black, brown, and sky. Lems currently ships worldwide, though the Canadian and international rates are pretty steep compared to shipping within the United States. And lastly, for those of you who are vegan the Primal 2 shoes contain no leather or animal products.
Men's and women's Primal 2 shoes are available for $95.00 at LemsShoes.com.