I competed at my first tournament as a purple belt on Saturday, and I took second place in the division!
Tournament Day
The day started with an eight o'clock wake-up and a two-hour drive to King of Prussia, Pennsylvania. When we got to the venue, I weighed in and sat with the rest of the team to make sure everything was in order. We had four competitors from our school, including two who were first-time competitors, so I wanted to make sure they were feeling good and knew what was going on. Shortly after we settled in, I decided to get my gi pants on and start warming up with our other female competitor, Courtney.
After a little bit of waiting it was finally time to fight. My division had three women. It was a pleasant surprise to have three purple belt women at a smaller tournament like that. The other two ladies fought first, so I had some extra time to stretch and receive some wisdom from the boyfriend/coach Frank.
RELATED: From the Experts: How to Attract and Retain Women in BJJ
My First Match
When my first match got called, I felt ready and confident. My opponent and I walked out to the center of mat, listened to the referee explain the rules, and shook hands. The referee started the match and we both gripped up for our takedowns. I attempted to snap her down a few times, but I failed. She ended up going in for a hip toss, and I was able to take her back off of it.
After some fighting, she was able to slide her hips to the floor, so I climbed up for mount. Because she had my foot trapped, I was able to get the rolling back take. I have been drilling that one for a long time, and it felt so good to hit it in a tournament. I finished the match with a rear naked choke, but she gave me a good fight. I definitely give her props because I can tell she put in a lot of work.
RELATED: The Rear Naked Choke – What Happens When You Get Choked Out
After my first match, the ref let me know that I could take my time and we would start the next match when I was ready. I think I took about fifteen minutes, which was long enough to clear my head, but short enough so that I didn't cool down all the way. I felt ready to take on the next challenge.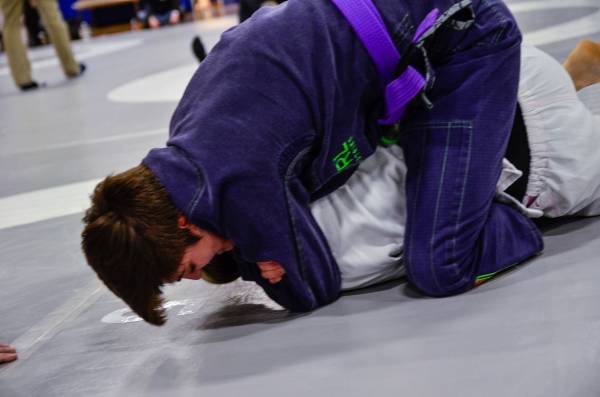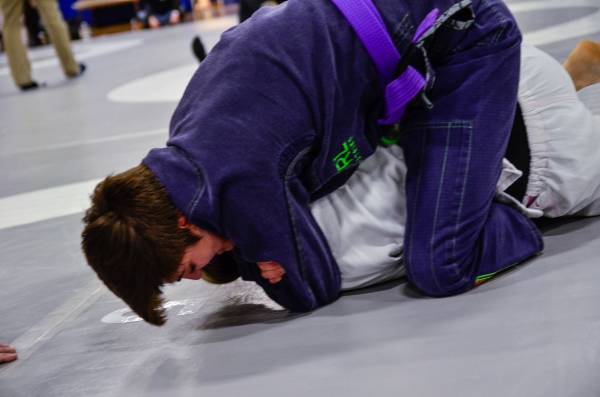 Second Match
My second match was against a woman I already know and have a lot of respect for, Gillian Silver. I knew we were bound to have an epic battle. The match started with some grip fighting and some takedown attempts. It was refreshing to actually stand up with both of my opponents, rather than having to fend off the guard pull.
"The reason I respect Gillian so much is because she works hard in silence and lets her talent shine through during competition. You can tell how hard she works just by rolling with her."
She was able to get double underhooks and take me down. Luckily, I landed with my closed guard. I was able to shoot a decent armbar, but it just didn't cut it. After a scramble I ended up inside her guard, where she shot a great armbar. I tapped, and we hugged.
The reason I respect Gillian so much is because she works hard in silence and lets her talent shine through during competition. You can tell how hard she works just by rolling with her. Plus, she's a genuinely nice person. I like nice people.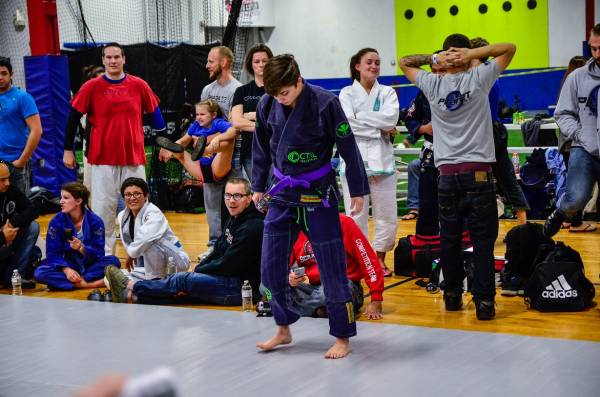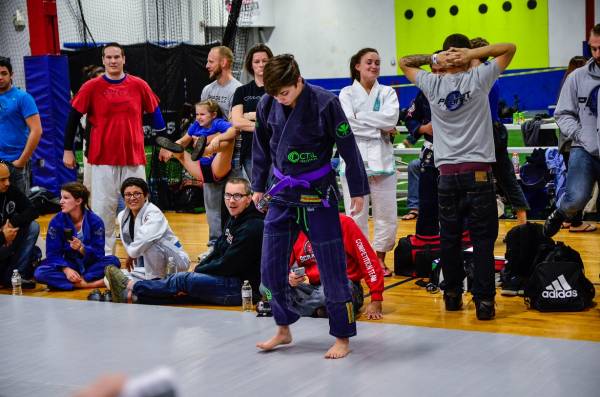 Going Home
Scranton MMA ended up taking six medals home that day. Our first-time competitors, Chris and Courtney, put in the work and had the guts to get out there, which constitutes a champion in my mind. One of our blue belts, Tyler, fought his heart out and won his matches with a humble attitude. We truly have a great team at Scranton MMA.
READ: The Gentle Art of Humility: Ego and Brazilian Jiu Jitsu
My next competition will be the Ultimate Grapplers' Challenge in Reading, Pennsylvania on December 6th. We plan on bringing a big group of first-time competitors that day, so it should be a lot of fun. Thanks for reading, guys. I'll see you next week!
Jess Papi is a blue belt at Scranton MMA and also pursuing her degree in exercise science. Read her entries every week for insights on competing, training, and juggling BJJ and life.
Photos courtesy of D-Kline Design Photography.