Once I realized the foods I ate mattered, I started looking at everything that entered my body. From cleaning products to plastic storage containers, my house does not even remotely resemble anything from three years ago.
MY STORY: How Paleo Living Helped Me Overcome Multiple Sclerosis
But despite the rewards I have received from living a conscious life, I realize it's not for the faint of heart. One of the hardest things for me was traveling with food. Having endless containers and a separate bag for food was overkill. Fortunately, I found a simple solution: Mason jars.
Mason Jars to the Rescue
The Mason jar meal is my favorite way to eat on the go. These meals easily fit in my yoga bag and backpack. I've provided three of my favorite recipes below. Each recipe fits into one jar. Use a wide-mouthed jar for easy access.
"These meals taste great, and they are also nutrient-dense and look so inviting. Every time I take one out, people are jealous and curious."
Once the ingredients are prepared, place them into the Mason jar and add your desired dressing, if you haven't added it already. Grab your utensils and you are good to go. I have prepared jars the night before and found them to be delicious the next day, even if I apply the dressing before I store the jar in the fridge.
These meals taste great, and they are also nutrient-dense and look so inviting. Every time I take one out, people are jealous and curious. Enjoy, athletes – clean eating has never been easier!
Roasted Chicken, Brussels Sprouts, and Romaine Hearts with Lemon Garlic Dressing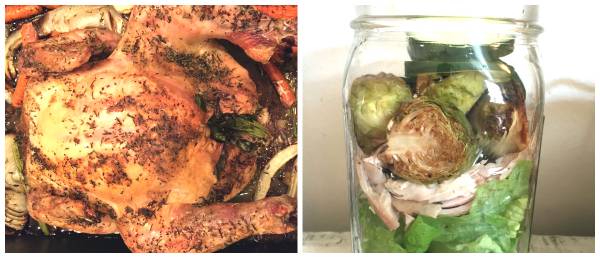 Roasted Chicken
Ingredients:
3-4lb chicken
⅓ cup each of onion, carrots, and celery, chopped
Fresh herbs of your choice (rosemary, thyme, and marjoram are my favorites)
Salt and pepper
2 Tablespoons ghee
Method:
Set oven for 350 degrees Fahrenheit.
Rinse and pat the chicken, then place it in a roasting pan.
Spread one tablespoon of ghee on the chicken. I keep my ghee out so it is easily spreadable, like icing.
Chop all the herbs except for one stalk and sprinkle them over the chicken.
Add the remaining stalk of each herb into the cavity, along with a handful of veggies.
Sprinkle remaining veggies around bird in pan with the rest of the melted ghee. Add salt and pepper to taste.
Cook uncovered in the oven about 20 minutes per pound or until meat thermometer reaches 165 degrees Fahrenheit.
Roasted Brussels Sprouts
Ingredients:
10 Brussels sprouts
1 Tablespoon coconut oil, melted
Salt and pepper
Method:
Preheat oven to 400 degrees Fahrenheit.
Clean and cut sprouts, mixing in melted coconut oil.
Place in a parchment-lined tray and sprinkle lightly with salt. Cook until the Brussels sprouts reach desired doneness – about 15 minutes for slightly charred.
Jar Assembly: Place a handful of romaine hearts in the bottom of the jar, followed by some shredded chicken, and top with Brussels sprouts. Drizzle with lemon juice and extra virgin olive oil.
Herb-Rubbed Lamb and Fresh Spinach Crudité with Balsamic Vinaigrette
Herb-Rubbed Lamb Ingredients:
7 lamb chops
5 stalks of fresh rosemary
1 bulb of fresh garlic, minced
Salt and pepper to taste
Method:
Chop lamb into individual chops.
Chop rosemary and minced garlic and mix them together. Add salt and pepper to taste.
Place the mixture on the top of each chop. The first three steps can be done ahead of time.
Heat a pan with fat of your choice over medium heat.
Place the chops in the pan, cooking for about 3 minutes each side until medium. Remove from heat.
Jar Assembly: Once the lamb is cool, assemble in the jar by adding fresh spinach and raw veggies of your choice. Drizzle with balsamic vinegar and extra virgin olive oil.
Minty Lamb Mini Meatballs, Broccoli Rabe, and Arugula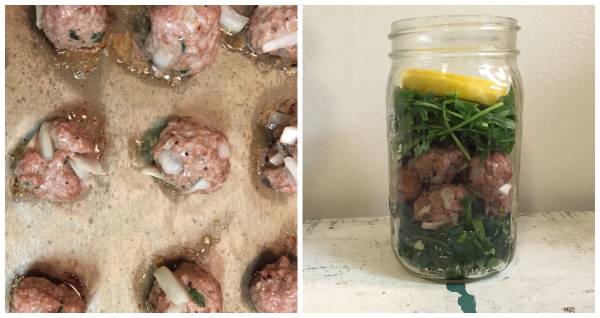 Lamb Meatballs
Ingredients:
1 pound of ground lamb
Bunch of fresh mint
1 medium onion, chopped
Salt and pepper to taste
1 egg (optional)
Method:
Preheat oven to 350 degrees Fahrenheit and line a cookie tray with parchment paper.
Place all ingredients in a bowl and mix.
Roll mini meatballs about the size of a quarter and place on pan.
Bake for 10 minutes.
Broccoli Rabe
Ingredients:
Bunch broccoli rabe (rapini)
1 teaspoon garlic, minced
2 teaspoons ghee
1 lemon
Salt and pepper to taste
Method:
Blanche the rapini quickly in boiling water. Drain and rinse with cold water immediately.
Add ghee and garlic to the same pan, cooking until the garlic is golden brown.
Add the broccoli rabe and sautée about five minutes, mixing in the garlic and ghee with each turn.
Drizzle with lemon and add salt and pepper to taste.
Jar Assembly: To assemble, place the broccoli rabe on the bottom of the jar, followed by the meatballs, and top it off with fresh arugula.
Photo 1 courtesy of Shutterstock.
Photo 2-4 courtesy of PaleoBOSS Lady.