We receive free products and receive commissions through our links. See
disclosures page
.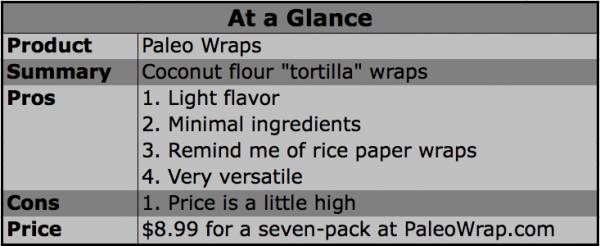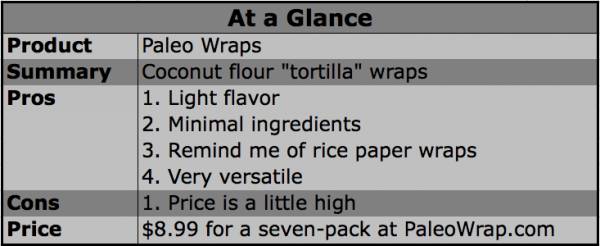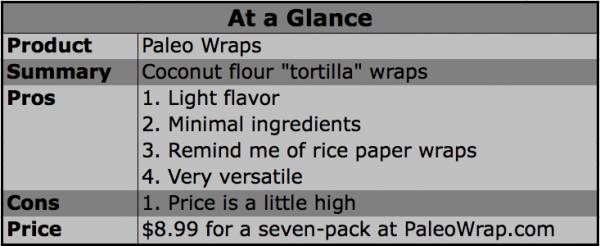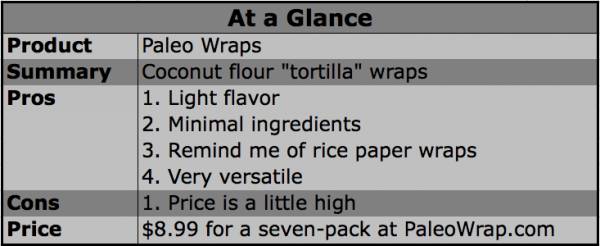 There are some foods you just miss when you go paleo. For many, a good tortilla is one of these mourned items. Sometimes things made from cauliflower just don't cut it.
Julian Bakery, the creators of both Paleo Bread and Paleo Waffles, have now come to save the day with their newest product – Paleo Wraps. Paleo Wraps are 100% paleo and made completely from coconut in a dedicated gluten-free facility.
Thus, the wraps are raw, vegan, starch free, gluten free, grain free, yeast free, soy free, GMO free, salt free, and low carb. The only ingredients are coconut meat, coconut water, and unrefined virgin coconut oil. Each wrap is seventy calories, with only four grams of net carbs. In keeping with their conscientious approach, the Paleo Wraps also come packaged in BPA free bags.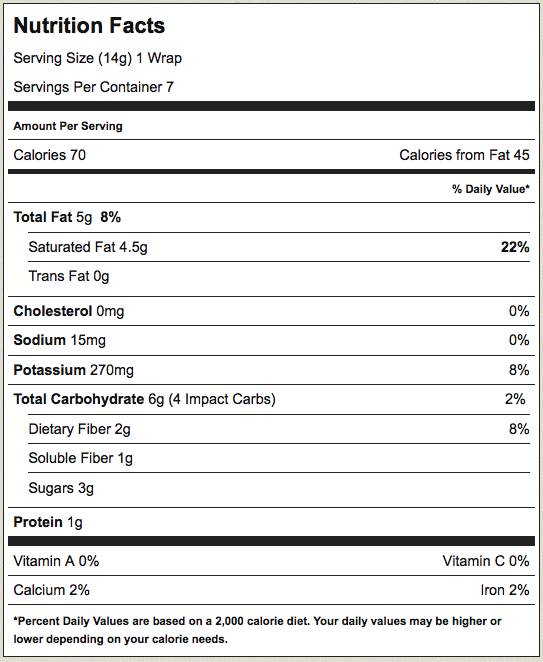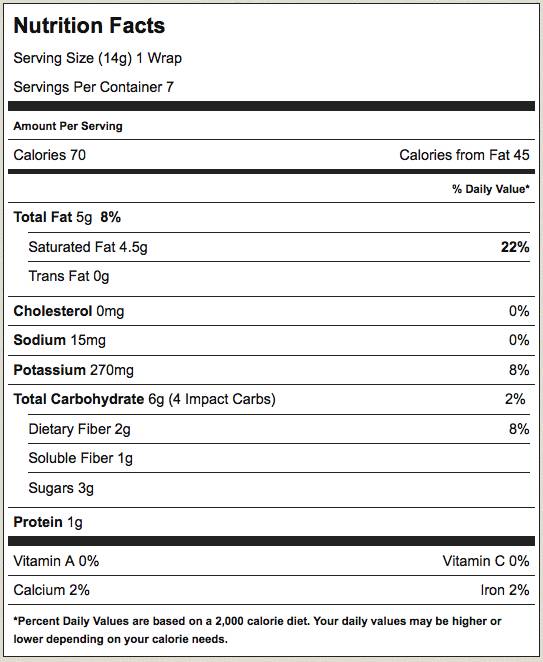 Paleo Wraps don't come with any sort of instructions on how to best use or serve them, however, so I decided to experiment using these preparation methods:
Heated in pan
Heated in pan, filled with other food
Microwaved
Microwaved, filled with other food
Cold
I stored my wraps in the refrigerator, which apparently you don't actually have to do, so that's where the "cold" option in my list came from. According to the Julian Bakery website, they actually have a shelf life of nine months at room temperature.
So, let's start off with my worst preparation idea. I do not recommend microwaving Paleo Wraps on their own. I heated one by itself for thirty seconds and it turned dark brown and became brittle. It still tasted fine, but became useless as far as any sort of wrapping ability.
Microwaving them once you pile food on top of them seems to work a little better, but you should be judicious with the heating time. In my second attempt at microwaving, I put two wraps in the microwave, each with some cheese and London broil inside them. I heated them for thirty seconds and that worked (and tasted) just fine. (And yes, I sometimes eat cheese and use a microwave.)
Heating the wraps in a pan on a low heat seems to work, as well. I prepared them once this way and stuffed them with eggs and other goodies, and another time I tossed shredded cheese on one and heated the cheese along with the wrap. Heating in the pan was my favorite way of preparing the wraps, as it made them less rubbery to bite into than eating them cold.
When you don't heat the wraps, they roll quite easily without any tearing or breakage, but they also have the most rubbery texture. I tried them cold filled with eggs and also on another occasion filled with chicken salad. The Paleo Wraps remind me a lot of a denser version of rice paper wraps you might eat as part of a spring roll. I think the coconut flavor of the Paleo Wraps would actually taste great with any sort of spring roll or Asian food scenario.
If you don't like the smell and taste of coconut, you're not going to like these wraps. I like coconut and I'm used to eating coconut products, so I found them to be pleasantly sweet and light. They are not overwhelmingly coconutty. But just as you wouldn't expect your corn tortilla to not smell and taste like corn, don't expect these to come across as anything but coconut.
The wraps are also on the expensive side, at $8.99 for seven wraps. That being said, you'd only use one in places of two pieces of bread and I pay $6.00-7.00 for a loaf of Udi's Gluten Free bread (which isn't even paleo) that amounts to seven servings, so the wraps are really about the same as other products in that category.
In the end, if you've got an itch for tortillas and you can't go outside your paleo boundaries, these wraps from Julian Bakery are an excellent solution. There is actually an option to buy the wraps in bulk at $49.99 for 48 wraps, and Julian Bakery only charges $5.95 for two to three day shipping when you buy six or more items. So there are ways to make these tasty little wraps fit into just about any budget.
Paleo Wraps are available for $8.99 for seven wraps at PaleoWrap.com.