We receive free products and receive commissions through our links. See
disclosures page
.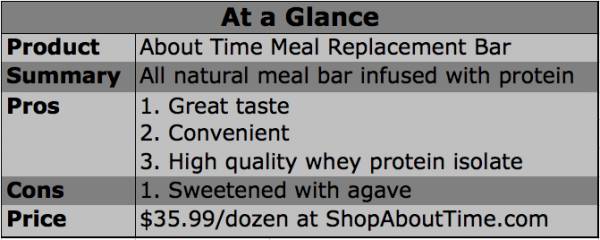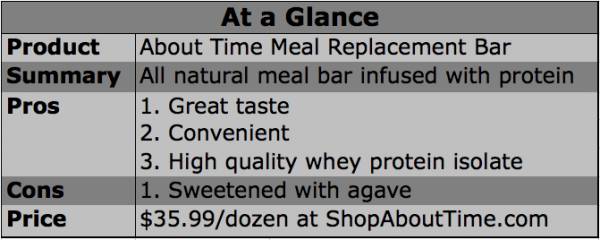 When it comes to food, it seems like convenience is key. There's a reason fast food chains have boomed into a billion dollar industry. The fact is folks are short on time and they need to eat. It seems, however, that convenience foods rarely have health and fitness in mind. In fact, healthy foods and convenient foods seem to oppose each other on the spectrum of food options.
About Time Meal Replacement Bars may be a significant bridge over the gap between health and convenience when it comes to nutrition. The folks at About Time nutrition are rooted in a foundation of fitness and performance. It's what they do. High performance protein supplements and athlete friendly products are their game, and it is their thought that fitness savvy individuals are crunched for time just as well as anyone else. They'd also like to think that such folks would rather seek convenience in food products that support their lifestyle, than default to the convenience often found in McDonalds and Kentucky Fried Chicken, for example.
And, I think they're right.
About Time Meal Replacement Bars are made of only natural ingredients and whey protein isolate. These bars contain no artificial ingredients or sweeteners, either. With zero trans fat, 21g of protein, and 350 calories per bar, About Time has a product that may be a lifesaver the next time you're short on time and in need of a responsible snack.
These bars also come in two great flavors: Oatmeal and Carob & Coconut. You can tell the folks at About Time walk the walk when it comes to performance, too, because I think others would agree the size that many of these snack bars come in are generally far too small to fill up any active man or woman. About Time meal bars are hearty enough in size to do the trick with just one bar.
I personally enjoyed the oatmeal bar a ton. As someone that is seemingly permanently hungry, I found the bar was quite filling and tasted great. It was reassuring, as an athlete, to know I was getting the added why protein in the bar and it was wholesome enough to actually hold me over.
I think anyone is a potential candidate to reap the benefits of About Time Meal Replacement Bars. Whether you're an elite level athlete, weekend warrior, or you've been off the training wagon for years, About Time meal bars have taste anyone can appreciate and an attention to nutritional detail that is rare in convenience foods. Just like swimming pools are lined with life preservers, any well-equipped suitcase or gym bag should have an About Time meal bar.
Safety first!
Boxes of 12 About Time Meal Replacement Bars are available online for $35.99.