We receive free products and receive commissions through our links. See
disclosures page
.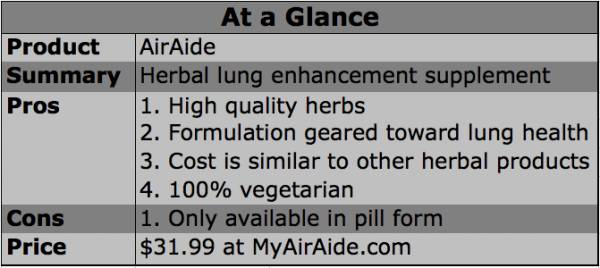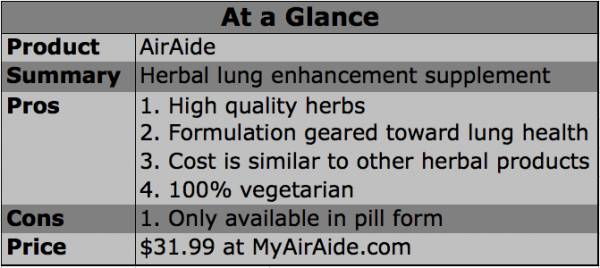 AirAide has taken many effective traditional Chinese herbs and formulated them into a combination suited for increasing lung capacity, lung health, and breathing efficiency. Many of these herbs are the same ones I prescribe regularly to asthmatics and people recovering from long-standing upper respiratory illnesses.
Traditional Chinese herbs are said to "affect" particular organs. 5,000 years ago, mystics and priests didn't have the ability to break down the herb into its biochemical constituents to truly understand why something affects the lungs. In modern times we know herbs that positively affect the lung have chemical components with bronchiodialating effects. Aromatic herbs such as peppermint and schizonepeta help open the breathing passageways and will cause relief with any acute breathing issue.
The herbs that AirAide has chosen for their product cover a wide gamut of potential underlying lung issues. Treating the physically manifesting symptoms is only effective if the root of the issue is addressed in addition. Not stopping with herbs just to address the immediate, AirAide has also included herbs to bolster the systems that support the lungs. In Traditioal Chinese Medicine, if we are not digesting well then phlegm will rise up from our stomach and take root in the lung. AirAide has added herbs such as Bai Zhu and Chen Pi to enhance the digestive functions, thus making us not only perform better, but also keeping the crud out of our cough.
In addition to aiding with lung related maladies, AirAide can also be used as a performance enhancer. The AirAide website suggests the product can help combat smog, allergies, and high altitudes by increasing lung capacity. And unlike pharmaceutical drugs, AirAide can provide these benefits without harmful side effects. This may be of particular interest to endurance athletes or those who are juggling training and traveling to different locales.
As a licensed acupuncturist and herbalist, both in California and nationally, I believe this to be a great product and found the results of deeper breathing and less constriction myself after using the product for a week while doing both CrossFit-style workouts and training in Brazilian jiu jitsu. With a completely vegetarian delivery system and a price that is reasonable, AirAide is a great product for athletes of all ages and ability levels to support their lungs while enhancing their entire systems.
AirAide available online at myairaide.com for $31.99.