We receive free products and receive commissions through our links. See
disclosures page
.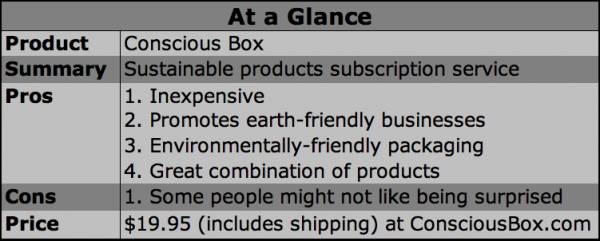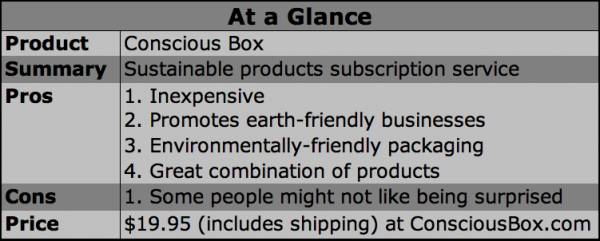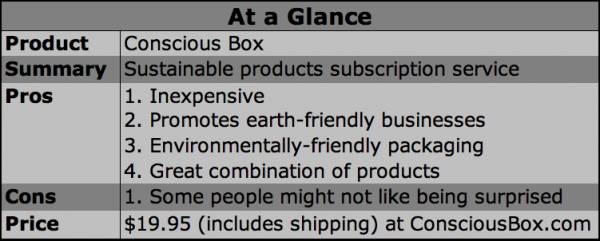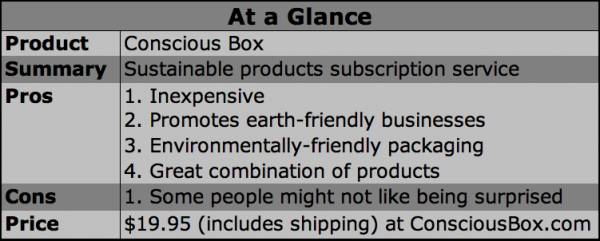 One of the highlights of my week is seeing what's in my CSA box, but I have to admit that Conscious Box is even more exciting. Can you imagine having a little box full of sustainable products – from food products, to dietary supplements, to skin care – delivered to your door once a month? If that sounds like something that would put a smile on your face, you have to check out Conscious Box.
Conscious Box is one of the most innovative ideas I've come across in a while. I think the following tidbit from the company website pretty much sums up one of its most appealing and impressive qualities:
Conscious Box is committed to overcoming the problem of greenwashing. Used to describe deceptive business tactics that lead consumers to believe something is "green" when it really isn't, "greenwashing" is rampant in today's markets. We hope to educate, inform, and prevent consumers from falling for these tactics by providing them with products that are authentic and purposeful.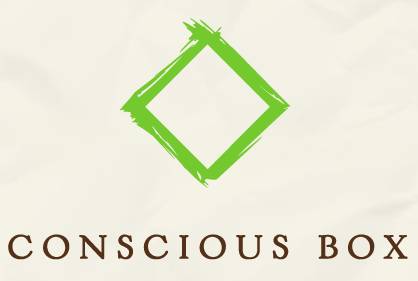 To fulfill this mission, Conscious Box provides a monthly subscription service that delivers sustainable products right to your doorstep. Not only is the box full of sustainable products for consumers to try, but it is also an effective way for companies to get their names out there. Although I had seen some of the products I received on the shelves at Whole Foods or Sprouts, there were several others I had never heard of. My box also included several coupons for discounts and even free items, such as 20% off an order at Thrive Foods and a free package of Jovial foods einkorn pasta.
Here were my three favorite items in this month's Conscious Box:
Weleda's Pomegranate Firming Serum: I'm always trying to find good skin products, particularly moisturizers. I first came across Weleda's products after my first daughter was born four years ago in Belgium, where the hospitals gave out freebies of their baby products. I didn't realize they also made products for adults, and really love this serum, which I saw yesterday at Whole Foods for $45. In fact, I like it so much I'm planning on buying the cleanser to go with it.
I Love Chicken Poop: This lip moisturizer is awesome. I live in Phoenix and have dry lips, which is a bad combination. I Love Chicken Poop is made of jojoba, avocado oil, sweet orange, lavender and beeswax, and it smells and feels great.
Berry Plus Laundry Detergent: I'm a little bit picky about laundry detergent because my daughters both have sensitive skin. Berry Plus is a plant-based laundry detergent that works well and smells great. What I really like about it is that each load is packaged in a pre-measured capsule so you don't have to worry about using too much or not enough.
And that's not even the half of it. Here are the other items that came in my Conscious Box:
Crispy Green freeze dried mangoes
Crunchmaster crackers
St. Claire's Organics watermelon tarts
Honest Tea juice box
Kids Natural Calm multivitamin sample
2 thinkThin crunch bars
Sparklehearts Shine shampoo sample
Wexy eco-friendly snack bags
Go Raw apricot live bar
Subscribers can choose from 1, 3, or 6 month options, which all come out to $19.95 or less each month, including shipping. All the packing materials are recyclable, with plant-based inks and BPA-free labels.
Conscious Box also has an all-vegan box. This vegan box starts shipping in September and is curated by Brendan Brazier. Check back in September if you're curious, as our resident vegan, Danette Rivera, will be reviewing the vegan Conscious Box.
I love wandering around stores like Whole Foods, but most of the time I just end up feeling overwhelmed with all the products out there. Now my meandering will be a bit less aimless, thanks to Conscious Box. If you want a convenient, fun way to sample natural products and support sustainable companies, Conscious Box is the way to go. You can visit their website to subscribe and "discover the best of the planet every month."