We receive free products and receive commissions through our links. See
disclosures page
.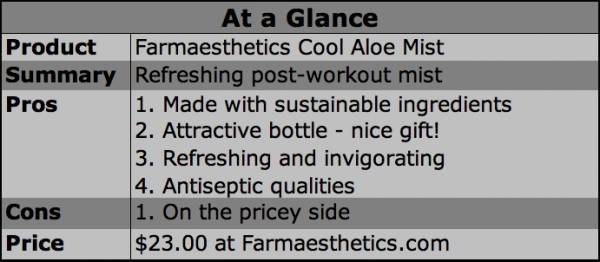 Companies that make high-quality, environmentally-friendly skin care products are fortunately on the rise. Recently I had the opportunity to try one such product made by a company called Farmaesthetics. Farmaesthetics has quickly grown in popularity since its first opening at a farmer's market in 1999. According to the company's website, "all Farmaesthetics products are 100% natural utilizing certified organic herbs, flowers, oils, and grains from American family farms."
While browsing the Farmaesthetics website, I noticed right away how simple their products are. In my experience making my own skin care and home cleaning products, that's usually a good sign. The product I tried is the Cool Aloe Mist, which contains just five ingredients:
1. Witch Hazel: Witch hazel is a potent herb and you'll notice the cooling astringent effect it brings to the Cool Aloe Mist right away. It's often used in natural products that fight acne, due to its ability to reduce inflammation in the skin. For athletes, witch hazel is commonly used to fight foot fungal infections.
2. Aloe Vera: Aloe vera is one of my favorite plants. Not only is it easy to grow here in Phoenix, but it has a number of applications (sunburn, moisturizer, and even shaving gel!). Aloe vera is the main ingredient in the Cool Aloe Mist, which gives it a hydrating effect and also relieves any sunburn you might have gotten during an outdoor workout.
3. Lavender and Bergamot Essential Oils: These essential oils lend a lovely, light fragrance to the Cool Aloe Mist and also act as antiseptics. Lavender also reduces inflammation and bergamot has a cooling effect that is a huge relief after a hard workout or a long day outside.
4. Lecithin: Lecithin is often used as a stabilizer and moisturizer. Technically, it is an additive but it's also plant-based. Since lecithin is usually derived from soy, I would be interested in finding out whether Farmaesthetics uses non-GMO lecithin in their products.
You can use Cool Aloe Mist on your body or face. It's also safe for use on children, and I use it on my childrens' skin if we go out for a long hike. I find it particularly refreshing after a run or workout outside, and as summer approaches it will definitely accompany me on any trips to the beach, camping trips, or other outdoor ventures.
As with many other organic skin care products, my only gripe about the product is the cost. A 4 oz. bottle costs $23.00 plus shipping. I make a lot of DIY skin care products at home and have most of these ingredients already, so the price tag would be my biggest reservation. That being said, I took a trip to Whole Foods the other day and compared prices, and I found the cost is actually very reasonable when compared with similar products. Not only that, but you're also supporting a business that promotes sustainable farming practices and uses real ingredients. Even considering the cost, I am perfectly happy with this product and would be interested in exploring other items in the Farmaesthetics line in the future.
Cool Aloe Mist is available for $23.00 at Farmaesthetics.com.