We receive free products and receive commissions through our links. See
disclosures page
.


There are so many BJJ and MMA gear companies to choose from now it's hard to keep up with them all. Gameness has been around since 1998 but I had never tried their products until I received the Female Top Dog rashguard to review. I did a little research into the name of the brand and at first I was a little taken aback, since gameness is a term used to describe a characteristic most associated with Pit Bull Terriers in regards to dog fighting.
Breaking Muscle contributor Eric C Stevens examined this concept in his article, Gameness: Pit Bulls Have It, Do You? He shared the research of Sam Sheridan, a Harvard graduate and the author of A Fighters Heart. Eric wrote: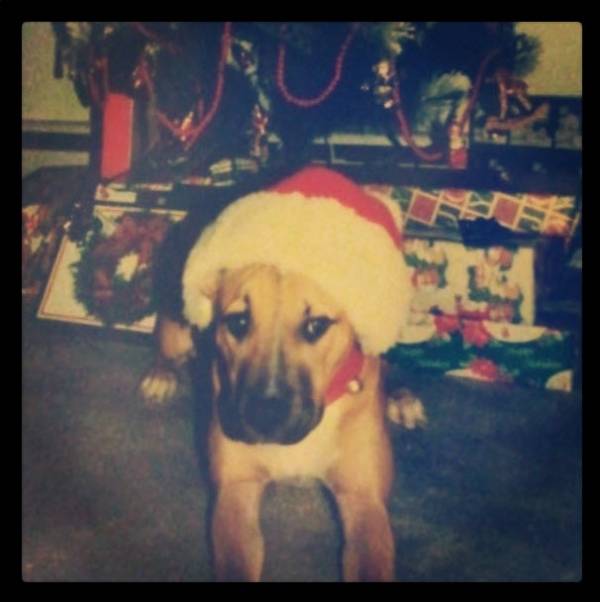 In his book, Sheridan even explores the underground world of illegal dog fighting. Of course, most of us are appalled at the notion of man's best friend being subjected to the brutality of fighting, but his point is not to glamorize or justify, but to explain the animal behind the fight. Rather than glorify, he instead breaks down why these dogs fight and what they fight for. Specifically, he looks at the often-misunderstood Pit Bull Terrier and why it is considered the ultimate fighting dog. After all, there are bigger dogs, faster dogs, meaner dogs, and stronger dogs. What the pit bull does display more than any other dog is a quality Sheridan calls "gameness." That is, a love of the fight. A pit bull fights not out of fear, depravation, or anger, but for love – a love of its owner and a love of the fight. Great human champions fight and compete for that same reason, love.
I am a former Pit Bull owner and they will always have a special place in my heart. My pit bull, Sandy (pictured above), was the sweetest, most gentle dog I've ever had and I love repping her breed with the Top Dog rashguard.
Quality and Style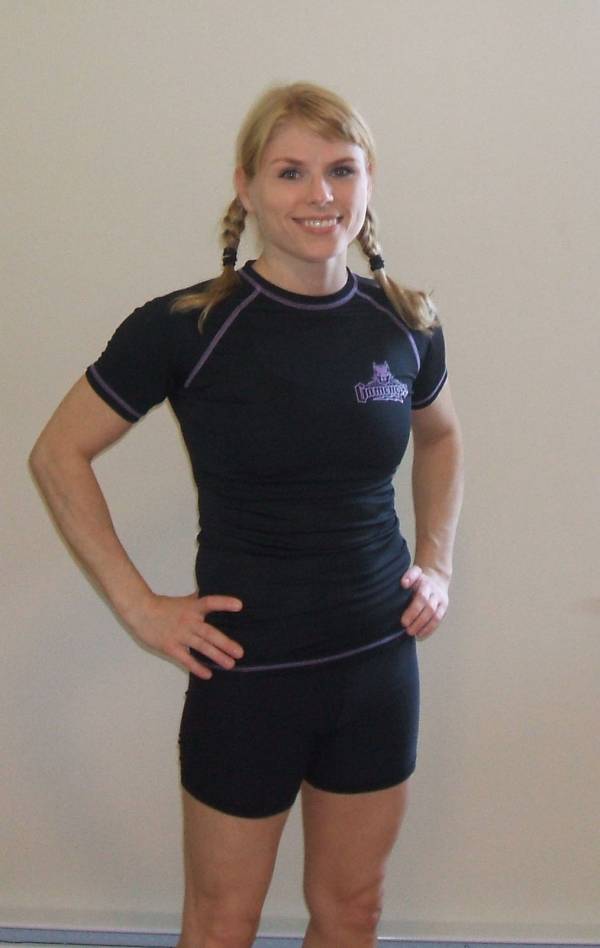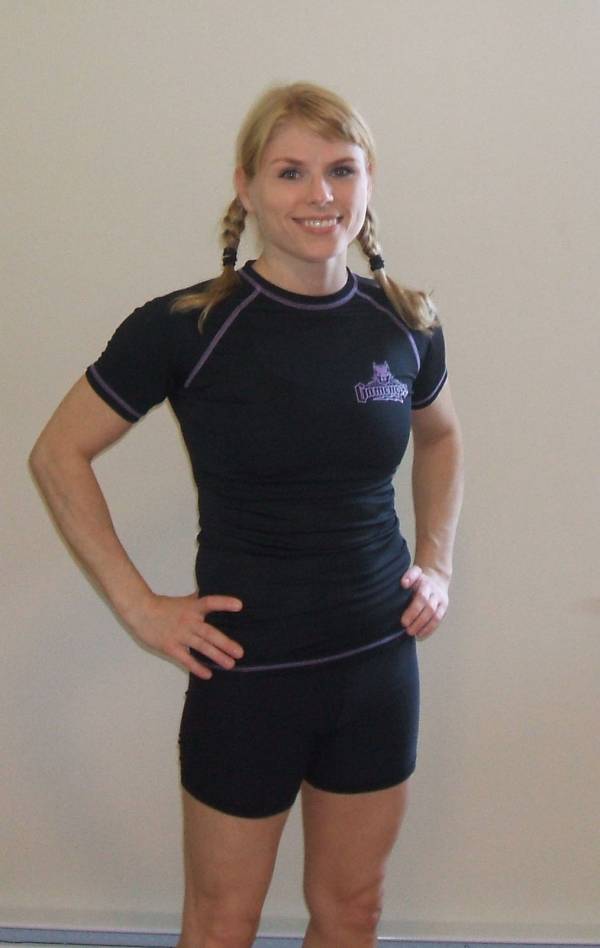 With all of the amazing graphics available in the BJJ world right now, understated rashguards like this one run the risk of being overlooked. The only flaw in the design is the screenprinted graphics, which have already begun to crack and peel.
Features
93% Polyester, 7% Spandex
Flatlock seams
Screenprinted graphics
Designed exclusively for the female body
Fabric incorporates eco-friendly antimicrobial treatment
Violet graphics and stitching perfectly match the Gameness Violet Feather Gi
When my package arrived from Gameness and I examined the fabric, I was skeptical. The color is flat and the fabric isn't slippery like most training tops. My initial impression of the fabric was that it reminded me of the red slacks I got for Christmas in 1982. When I tried it on though, my skepticism dissolved. Although they feel nice to the touch, shiny and silky rashguards do a great job of showing every little flaw and my body type is the kind that puts on weight right at the waist. Instead of drawing attention to a muffin top, the Gameness rashguard is slimming. The understated design makes it a perfect match to any bottom and I like to pair it with the OK! Kimonos Tora Spats.
Fit and Comfort
Because the slim-fitting Top Dog remains tight to the body throughout any activity, it's virtually impossible for a training partner to get his or her fingers caught up in the material and become injured. I find it stays in place very well, although no matter what you wear while grappling, it will ride up a little at times and expose the midriff.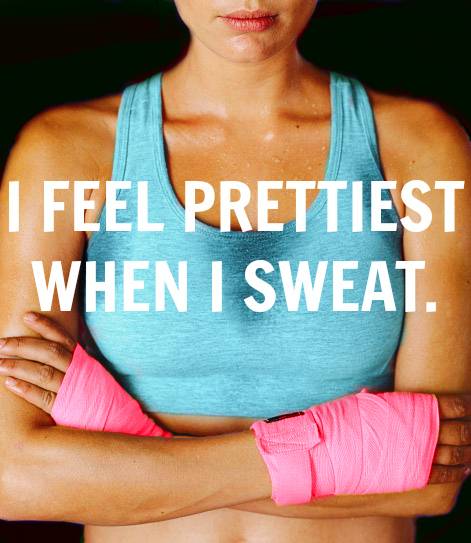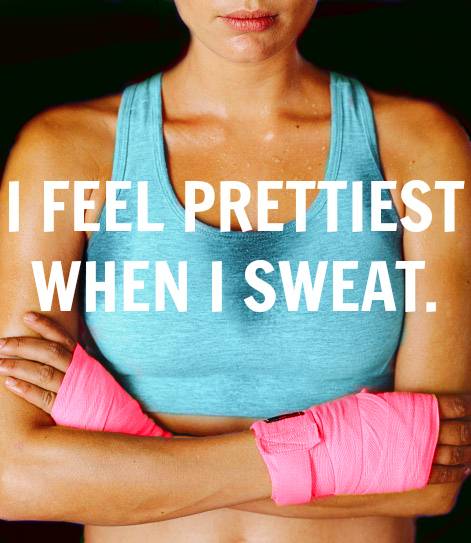 What stood out to me while training in this top was how quickly it dries. No matter how sweaty I got, I felt comfortable. There's a popular meme featuring a woman wearing a moistened sports bra and hand wraps with a dewy sheen to her skin. It says, "I feel prettiest when I sweat." I don't. When I train, I look as though I've been dragged down the road for a couple of miles in a hurricane. Not only am I covered in my own sweat, I'm also drenched in the sweat of my training partners.
This rashguard efficiently wicked sweat away from my skin and the fabric doesn't seem to retain the fluid. I've even worn this rashguard into the sauna while using Sweet Sweat and it still didn't get that heavy, wet feeling that many fabrics do. I usually wear long-sleeved shirts to no gi and short-sleeved shirts to my strength and conditioning training and under my gi. I'm so glad I have both versions of this rashguard to wear for any activity.
Customer Service
I was sent the Top Dog rashguards for review so I did not have a typical customer experience. They do offer same-day shipments and my order was sent via UPS with tracking options. Any time I contacted Gameness regarding the shipment, their customer service team responded that day. In addition to my review gear, they included the Gameness Ladies Shield T-shirt, which I wear constantly. It is difficult to find a BJJ-related t-shirt in women's sizes but this one fits perfectly. I can't even find a t-shirt that fits me this well in a women's clothing store. I'm excited to see what Gameness comes up with next for women.
Follow Gameness on Facebook and Twitter and visit their website to see more of their training gear. At the moment, I'm staring at their Violet Female Feather Gi, which I definitely don't need. It might look pretty with my hair though, right? And it has a Pit Bull on the leg – so cute! Review possibly pending.
The Gameness Top Dog Female Rashguard is available for $50 at Gameness.com.