We receive free products and receive commissions through our links. See
disclosures page
.

A good weightlifting shoe can make or break a lift and help you set new PRs on your Olympic or power- lifts like the snatch, clean and jerk, squat, and deadlift. Not only that, but your footwear can also be a part of your safety. All you really need to do is imagine slipping under a bar to know you don't want to do it. So when choosing a shoe, you want a good blend of functionality and protection.
Enter inov-8's Fastlift 335 weightlifting shoes. Inov-8 is a footwear company whose popularity seems to be on the rise due to their commitment to quality and a "back to nature" focus on footwear that conforms to you, not the other way around. Known more for their running and cross-training shoes, inov-8 has recently decided to try their hand at lifting shoes.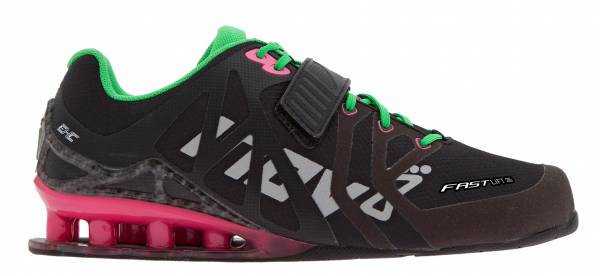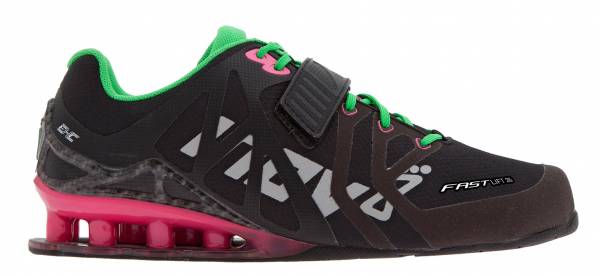 The shoe itself is fairly light considering its level of stability and heel lift. The 335 in the name is a reference to its weight of 335g, or 12oz. Inov-8 currently offers only one design, of a black mesh with red highlights, which I personally think looks pretty awesome. There is also a women's version, the Fastlift 315, which is black with green and pink highlights. As is the custom with weightlifting shoes, the shoe sports both laces and a Velcro strap.
There are a few design features that set the Fastlift 335 apart from other shoes. The shoe is named for the platform-style heel. The shoe confers a lot of support in the heel and outside edge of the foot as a result of the heel design. The forefoot, by contrast, is characterized by what inov-8 calls Meta-Flex, and is much lighter and more flexible than the heel and mid-foot portions of the shoe to make it more reactive.
Not being able to try them on, I simply chose a size and the shoes arrived fitting me perfectly. While I have a large foot at size 13 that makes my choice of shoes unique, I don't have a super wide foot. These shoes seemed tailor-made to my foot.
When standing, the shoe had the interesting effect of flattening my foot because of the extra outside edge support. I thought this could be problematic until I started lifting with the shoe and found the opposite. The support on the outside edge allowed me to keep my knees out while pressing all my weight into my heels and outside edge of my foot, almost without choice. This is exactly how you want to be lifting. The height of the heel was just right to allow even my inflexible self to go ass-to-grass comfortably.
Because of the interest the CrossFit population has in this brand and the company's marketing for the use of this shoe for CrossFit workouts of the day (WODs), I tested the shoe on a few of these. Just as I found they were excellent shoes for the basic power-lifts and oly lifts, I similarly found they were useful for most of the benchmark WODs like Fran or Diane, which involve a basic standing lift combined with one or two other exercises that don't really involve the footwear, such as dips, push ups, pull ups, and so forth. For these workouts I found the FastLift 335s made the standing lifts more stable and safe while improving performance. They also were not at all annoying to keep wearing during the transition.
However, I decided to put an emphasis on more varied WODs that included a different set of motions to push the envelope of these shoes. So I did the Kelly WOD, which involves running, jumping, and wall ball. The wall ball portion of Kelly was pretty straightforward. The squat portion of wall ball was as good as I expected after performing a standard bar squat with success. However, the running and jumping were a little different.
When jumping in the shoe, I found single leg jumps to be fine, but Kelly calls for a box jump with both legs at once. In general, a problem with double leg jumps, especially when fatigued, is internal rotation of the femurs. This can put undue stress on the ankles and knees and rob you of power. With lifting shoes on and greater outside support, I found this problem was exacerbated. Additionally, although the harness of the shoe is an asset to lifting, it made the dismount seem a little rougher than normal, although I wasn't injured.
For running, the shoe destroyed my form. It forced a heel strike on a harder than normal surface, and caused me to reach with my steps, which felt uncomfortable on one of my knees. The shoe also interfered with the natural pronation and supination of the ankle during running. This shoe is bad for running.
Now, while I don't see anywhere that inov-8 specifically recommends this shoe for running or jumping, they do recommend it for use in WODs. For most WODs this shoe will serve you well, but for any workout involving running, jumping, or even more dynamic actions, wear something else. For the basic gym lifts and the WODs that include them, you're good to go.
In all I think this is a great lightweight weightlifting shoe. Inov-8 got it right on their first go at a pure lifting shoe, and I'll be using mine every time I lift, but I won't ever run or jump in them again.
Inov-8 Fastlift 335s (men's) are available for $150 at Amazon.com.
Inov-8 Fastlift 315s (women's) are available for $150 Amazon.com.