We receive free products and receive commissions through our links. See
disclosures page
.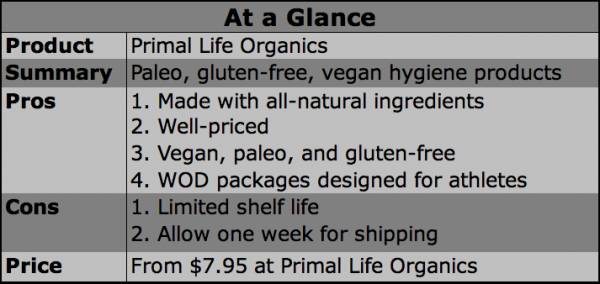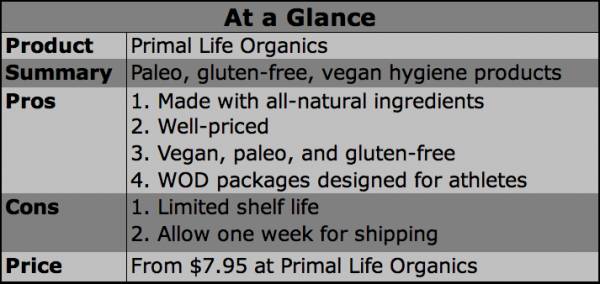 At this point, the paleo diet is relatively well-known. But what a lot of people might not have caught on to is the lifestyle aspect of the paleo movement. Much like veganism, which encompasses everything from food, to clothing, to hygiene, paleo products are not limited to food, and the paleo movement is not limited to cooking. Primal Life Organics provides high quality products for people who have embraced a more holistic paleo approach, and I was fortunate to get to sample several items myself.
I've been itching to try my hand at making my own personal hygiene products for some time now. I've made a few things – homemade body butter and lip balm – and both were far superior (and far less costly) than products I've purchased. That being said, the Primal Life products were even better, for a few reasons. I received a sample of "Diane's WOD Package," which includes: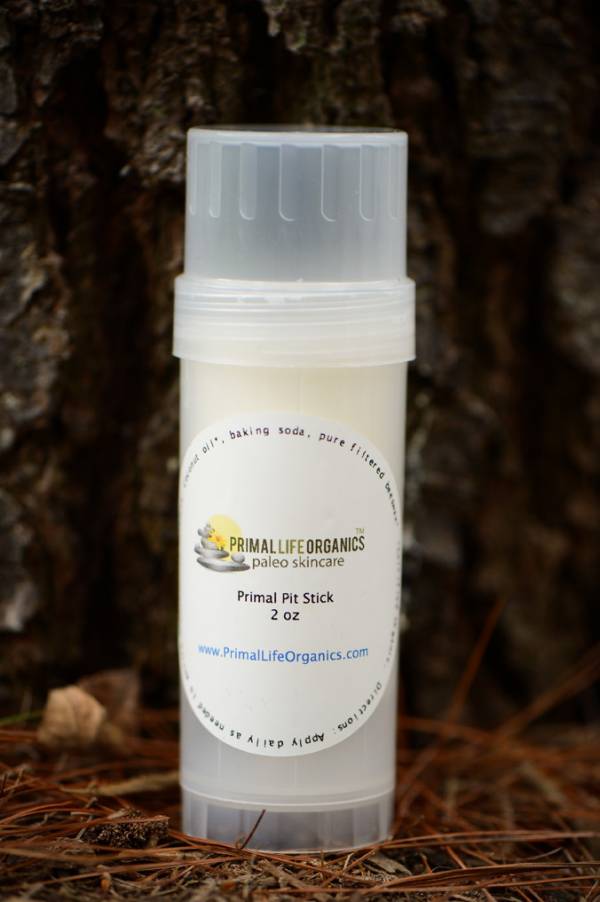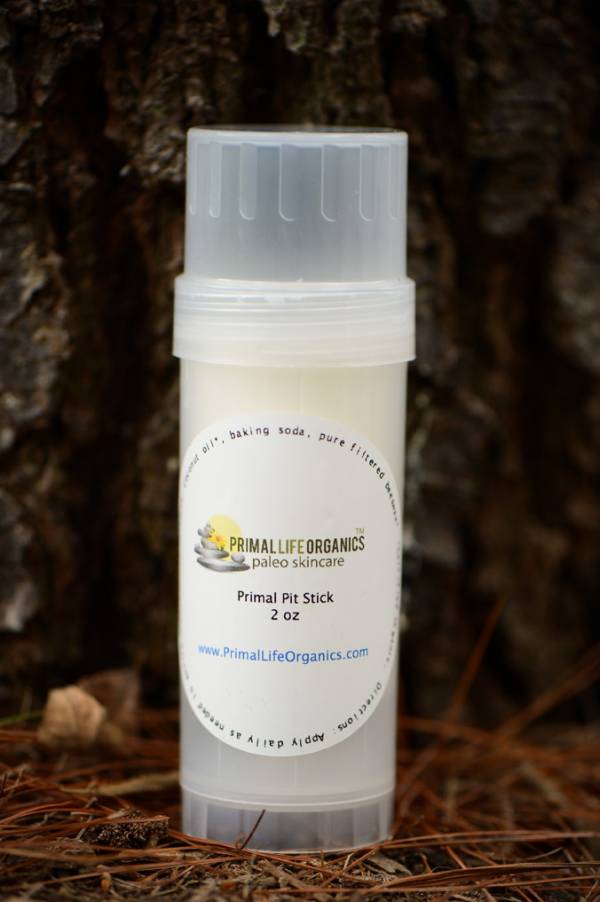 1. Primal Pit Stick Deodorant: Mine was in the lavender fragrance, although it also comes in Forest and Unscented. This was probably the product that impressed me most. I don't think I'll ever buy another deodorant – and I've tried them all.
2. Torn Up Primal Skin Repair: I've been working on my pull ups a lot lately and use this every night before bed. It provides relief both in the short term and well into the next day.
3. Grunt Lip Balm: I've made my own paleo lip balm before, so I can say without a doubt that what makes this product unique is the combination of oils – shea butter, coconut oil, hempseed oil, avocado oil, and extra virgin olive oil. My creation only has shea butter and coconut oil – which is good, but not as good as this one. And I'm not one to admit defeat unless it is well-deserved.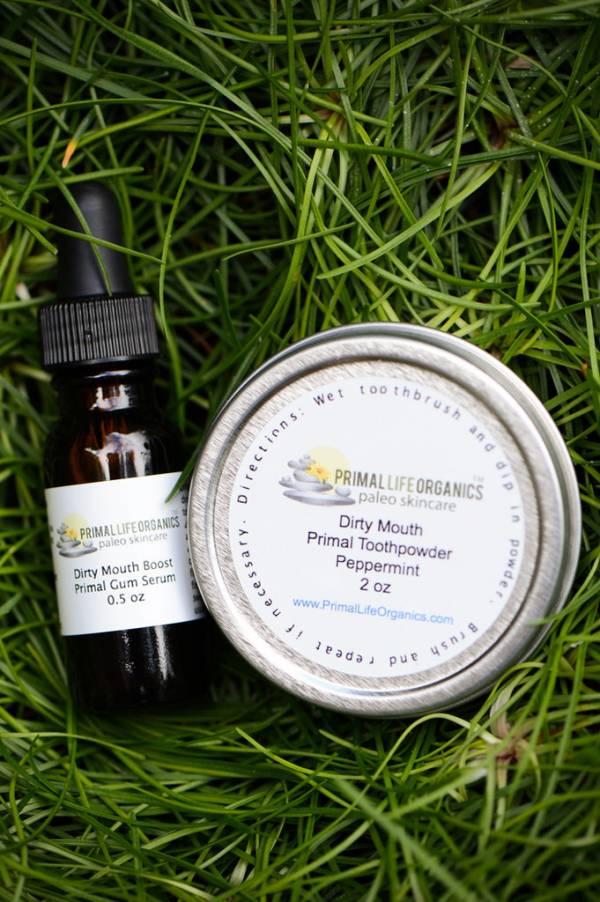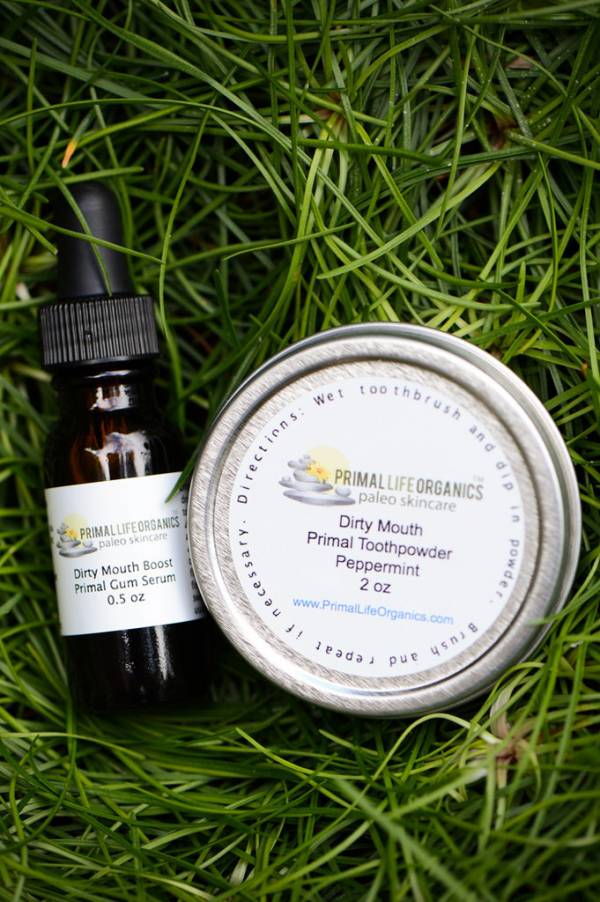 4. Dirty Mouth Primal Toothpowder and Dirty Mouth Boost Primal Gum Serum: I have to admit, I was skeptical about this one. I'm a bit attached to my minty freshness. Although I haven't completely switched over, I was pleasantly surprised by these products. The serum contains 11 essential oils to help eradicate nasty bacteria, and the powder contains three types of clays – bentonite clay, white kaolin clay, and French green clay – to remove tartar, clean the gums, and restore minerals. I have heard a lot about products like this before and am glad I had this opportunity to try them, since my attachment to my 'normal' toothpaste might have stood in the way otherwise. It's amazing how fresh your mouth can feel without the sugary minty stuff. As noted on the website, "Organic essential oils are used for their antiseptic qualities and to freshen the mouth and make you forget that you are brushing your teeth with Primal Dirt!"
5. Primal Hand Repair: This luxurious hand cream contains aloe butter, shea butter, jojoba oil, coconut oil, and extra virgin olive oil. It has kept my hands moist and refreshed through the dry winter months. A little goes a long way, and although I've used it almost daily for a month or so, I've only gone through about half of it.
All of the products have that pleasant, natural scent that comes with good ingredients like coconut oil and essential oils. The prices are also very reasonable, and if you are a Facebook fan you'll receive special exclusive offers.
There are only two downsides to Primal Life products, if you can call them that. First, all the products are made when you order them, so you have to allow a week before they're shipped. Second of all, they have to be used within a year because they contain no preservatives. Then again, considering the quality and effectiveness of these products, I doubt they wil last you that long.
You can find Primal Life Organics products from $7.95 at PrimalLifeOrganics.com. Diane's WOD Package sells for $70.00.
Breaking Muscle readers can get a 15% discount on all Primal Life Organics products through 1/25/13. Just enter the discount code of "Muscle" at checkout.