We receive free products and receive commissions through our links. See
disclosures page
.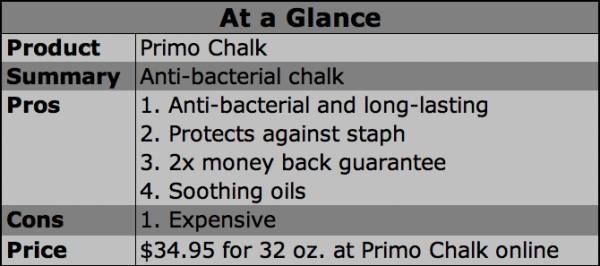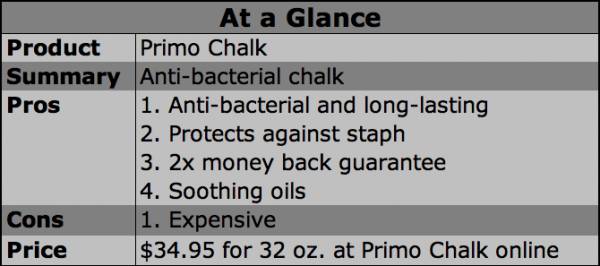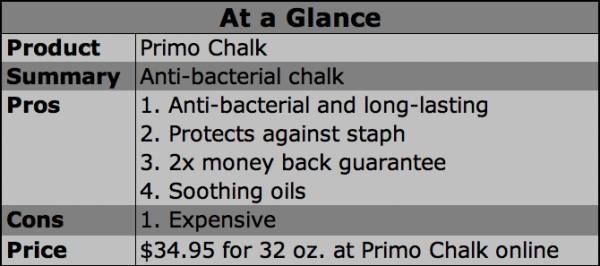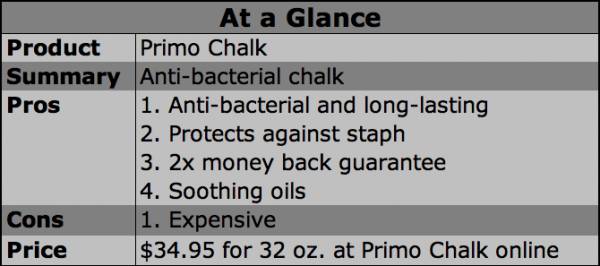 As an athlete, I know I am not alone when I say chalk is all but a commodity in the world of weightlifting. Now, I can't speak for the rock climbing community but in my experience chalk is chalk, and that's that. Right?
Wrong.
Primo Chalk has developed a chalk product that stands alone in the seemingly straightforward market for weightlifters, gymnasts, and rock climbers. First and foremost, Primo Chalk is infused with anti-bacterial oils, which brings a new level of sanitation to the gym floor. Not only does Primo Chalk boast they have a Staph fighting, all natural, antibacterial product, they have published research to prove it.
Clinical trials indicate an aerosol version of Primo Chalk's antibacterial oils:
…can significantly reduce the number of aerosol-borne bacteria and may have application in treating air for enclosed environments and preventing transmission of aerosol-borne bacterial pathogens.1
Now, I myself never looked to clean up my act with gym chalk. That's what a good hand washing and lotion is for, isn't it? Well, another aspect of the chalk is surprisingly worth mentioning as well. It has a wonderful scent and actually feels like it conditions your skin. Primo warned me it would, so I was pleasantly surprised the "essential oils" did what they said they would.
Outside of the spa-like qualities that probably don't mean much to most weightlifters, the chalk performed outstanding. It lasted longer than the more dry, simple chalk I'm used to and I found myself wondering how I'd grown so fond of a chalk brand.
A downside to Primo Chalk is the cost. This is more than the average chalk, so you must pay for it. For example, a 32oz bag of Primo Chalk retails for $34.95. An equal amount of standard gym chalk, such as Ader Gym Chalk, will go for $19.50.
The take away for me was that in a week Primo Chalk turned me into a believer. I now have a chalk preference. Who would have thought? Though I'm not one to place value on skin products and their "soothing" benefits, they are undeniable side benefits of Primo Chalk, nonetheless. As for the anti-bacterial qualities, I'm not germaphobic but as a gym owner, it's intriguing. The thought of having one bad story about being a "gym with a Staph problem" is enough motivation for me to splurge on an enjoyable chalk experience.
Primo Chalk does have a wholesale program. So, if you own a gym you can share the Primo Chalk experience with all of your athletes through your retail distribution.
In addition, Primo Chalk is confident in it's ability to impress. They are so confident in it they offer up a money back guarantee unlike anything I've ever seen before. Primo Chalk will pay two times your money back if you aren't satisfied with their product. They will actually pay you your money back and then some if you don't like it. How's that for confidence?
I applaud Primo Chalk for raising the bar in an area of sports performance that's apparently overlooked. I look forward bringing my own bag to the gym with me.
Primo Chalk is available for $34.95 at PrimoChalk.com