We receive free products and receive commissions through our links. See
disclosures page
.


Thanks to jury duty I was able to put my new Six Pack Fitness Executive 500 Briefcase to a thorough test this past week. I don't know about you guys, but I pretty much never leave the house without packing a day's worth of food. People have historically made fun of me for this, but they have also historically made a habit of then asking me about everything I eat and why, so I'm sticking with being a food-hoarder. The Six Pack Fitness line of bags is highly enabling in this capacity.
I previously reviewed the Six Pack Fitness Innovator 500 bag, which is strictly a meal management system and cooler. The Executive adds another whole dimension to "lunch boxes" by adding the capacity to handle all your business needs. And by that I mean, this bag has about a thousand different pockets of all different sizes so you can carry everything from pens and business cards, to tablets and laptops, in addition to any foods, supplements, and fluids you plan on consuming all day long.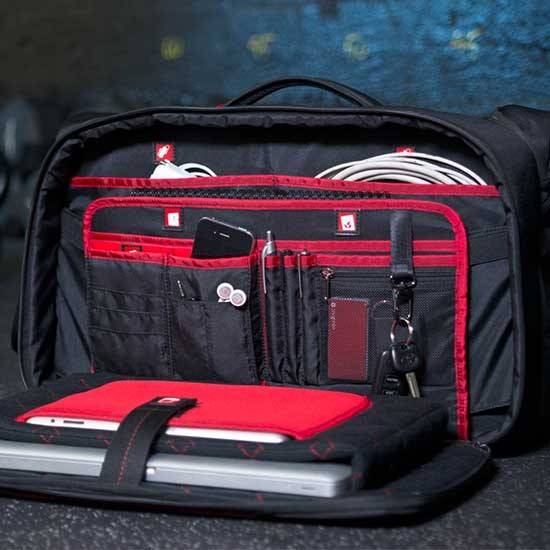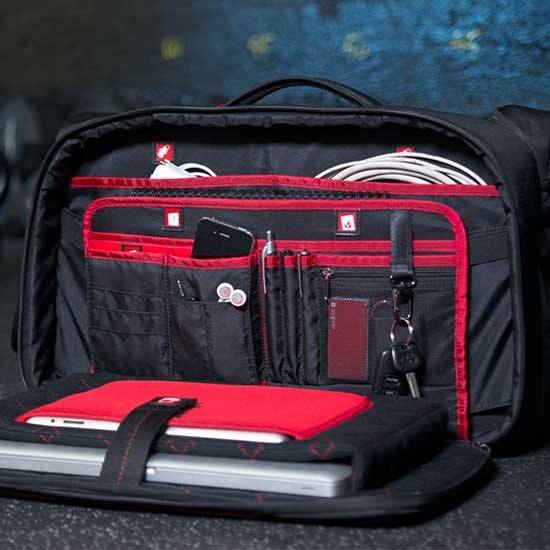 The laptop pocket will hold up to a seventeen-inch laptop. I had no problem sliding my MacBook Pro in there easily, even with a mouse dongle sticking out the side. There are pockets clearly sized for a tablet, a phone, writing utensils, and about a million other things, as well. Seriously, this is one of those bags that six months after you get it you're going to find a pocket you didn't even know about and be totally excited. Well, at least I would be totally excited. I love those kinds of bags!
And that's just the business side of this bag. Then you've got the full array of food storage and compartments. On either end of the bag are tall, neoprene-lined pockets for shaker or water bottles. The traditional BlenderBottle fits a little tightly in these, but I actually liked that I could put an open can in there and not feel like it was going to slosh around. The food containers for the Executive are smaller than those for the Innovator, but they are similarly BPA and PVC free, and microwave and dishwasher safe. The Executive comes with five food containers, one container with (awesome) adjustable supplement dividers, and two freezer packs. There are shelves inside the food storage areas to keep things organized, or you can remove the shelves if you want to put your own containers or more shaker bottles in there.
You could also fit some limited clothing or gym gear in this bag, if you choose to use the top compartment for that. It's not big, but you could fit shorts, a shirt, and a pair of socks in there. But really this bag is about accommodating your day job and your food. If you want something that handles day job, food, and gym, then you'd probably want to check out the Voyager 500 Backpack instead.
Additionally the Executive is definitely big. It measures 21"x9"x12" – which is great for putting all your work and food stuff inside, but I'm not a particularly big person, so I wouldn't want to walk a great distance with this bag. It does, however, have a nice and well-padded shoulder strap.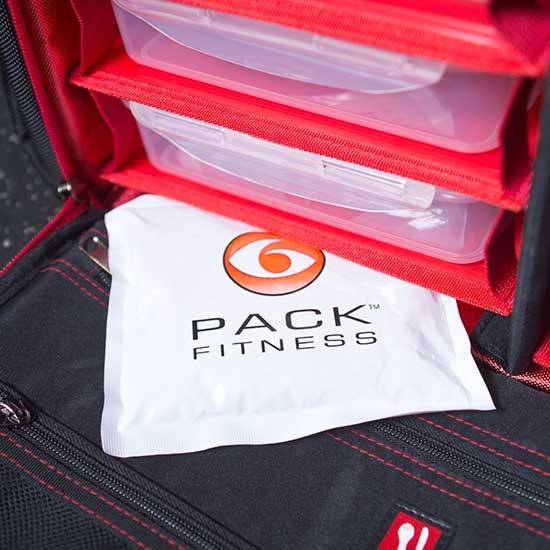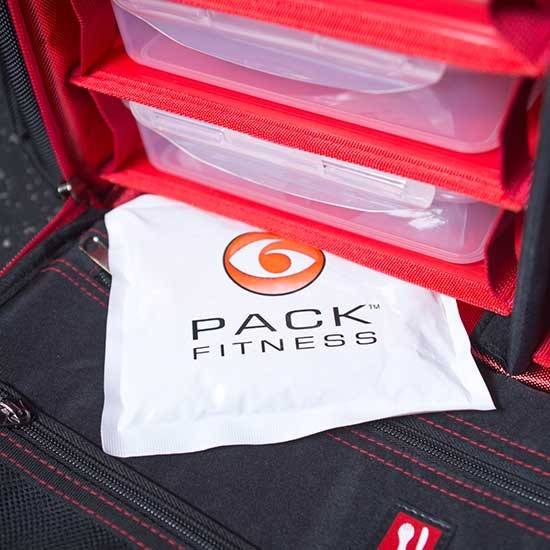 As in my review of the Innovator, I will caution you to be careful with the freezer packs that come with this bag. They freeze fast and stay frozen for a long time, which is great, but they also have surprisingly sharp edges and get slippery once frozen. They need to be laid flat in the freezer, so they take up a bit of room. And if your freezer is like mine, room is not something you have a lot of in there. So consequently I found that when I ventured into my freezer the packs became like freshly-caught fish skidding around in there – only remember, these are fish with sharp edges. More than once I just jumped out of the way and let them fly out onto the floor. Problem there being, since the packs are brittle from being frozen, they can break. So just be cautious with the freezer packs in general.
Ultimately, this bag was essential in my survival of jury duty. I stayed well fed for two days and had everything I needed to work from my laptop in the courthouse lobby all day. I've got at least two years until I get called for jury duty again, but in the meantime for any situation that arises that requires work plus food, I'll definitely be using my Executive briefcase.
The Six Pack Bags Executive 500 Briefcase is available for $199.99 at SixPackBags.com.
Six Pack Bags is also offering a discount for Breaking Muscle readers – use coupon code BREAKINGMUSCLE at checkout for 15% off.