We receive free products and receive commissions through our links. See
disclosures page
.


No doubt many of you have experienced the same dilemma with food that I have. You don't trust your workplace, friends, or restaurants to have the foods you need, so you diligently pack food to take with you everywhere you go. You end up with gym bags and briefcases full of food containers. Or, you end up with food mashed into your work clothes and dirty socks touching your eating utensils.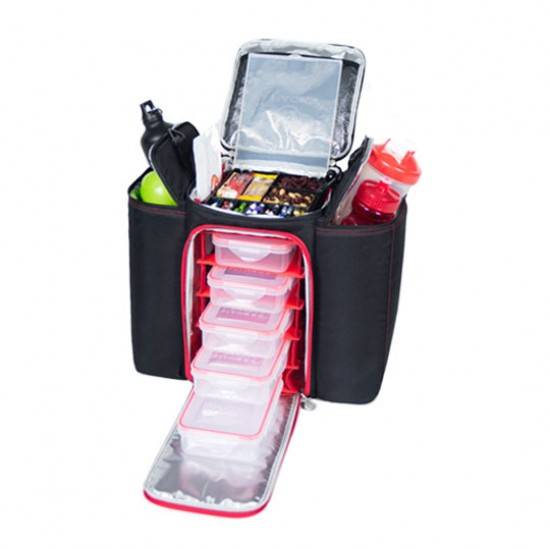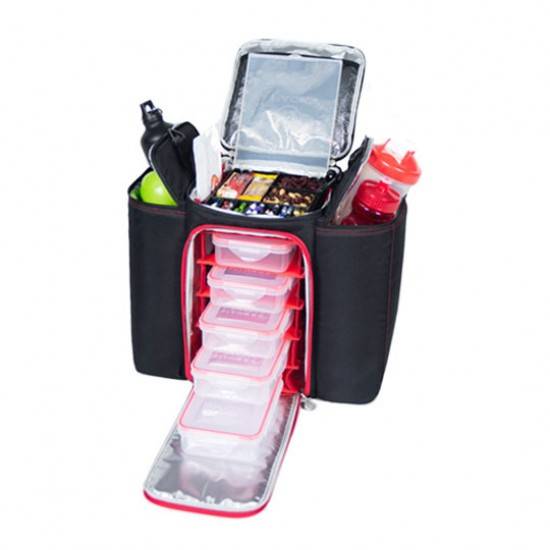 The cleverly and appropriately-named Six Pack Fitness has come up with a solution for the nutritionally obsessed athlete. A high-quality bag meant to help you transport your food, supplements, workout shakes, and more.
The bag measures 17"x9"x13.5" and weighs about five pounds. It is constructed from polyester and ballistic nylon. Truth be told, it's pretty darn sleek looking. While it comes in four colors – blue, hot pink, grey, and black – the black is by far the most elegant and professional looking, in my opinion. The inside of the bag is lined with a reflective, cooling material to keep everything well insulated.
The bag itself consists of:
Main front compartment with shelves for your meal containers
Two vertical side pockets for bottles, utensils, and anything tall
Top compartment for supplements, utensils, and other small things
While the Six Pack website says the shelves in the main compartment are "adjustable," that isn't the word I would use to describe them. They are removable, and they are also not attached at the bottom of the bag, so they can be compressed if you want to put a large container below them. But the shelves are sewn into the straps that suspend them in the compartment, so to me they don't seem adjustable.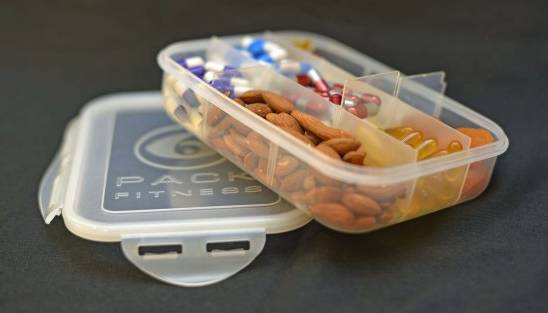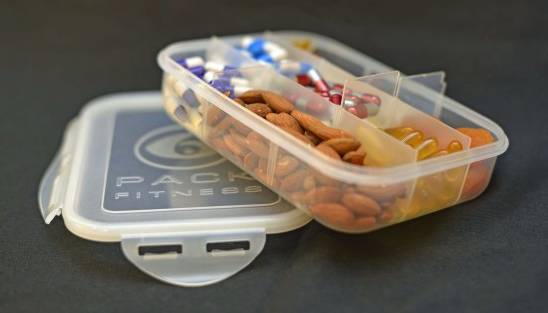 The bag comes with two gel packs, a divided supplement container, and five meal containers. The supplement container is awesome. It can be completely personalized; you can remove and rearrange the little dividers to suit your needs. The only thing I would caution against is getting too excited when you first get your bag, opening the containers willy-nilly, and flinging your little dividers all over the kitchen. (I might have done this.)
According to the Six Pack website, all the containers are BPA/PVC free, microwave safe, dishwasher safe, and leak proof. I personally never microwave anything made of any sort of plastic, so I can't speak to how well it does in the microwave, but we've run these containers through the dishwasher a number of times now with no problem. Additionally, my husband has been using this bag daily and has never once mentioned any leakage issues, no matter what type of food we packed for him.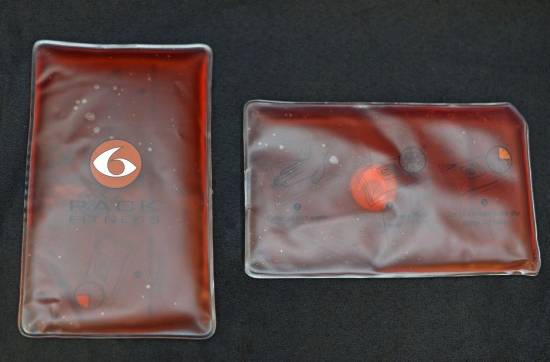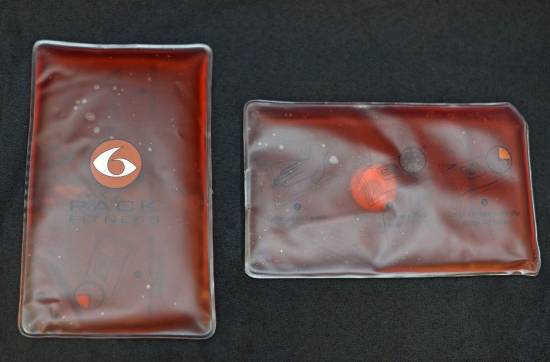 The freezer packs do need to lay flat in your freezer to be able to fit back into your bag properly. So, you might have to clean out your freezer. On the upside, they freeze surprisingly fast, so certainly if you freeze them each night when you get home from work you'll have no problem using them again the next morning. We did manage to get a nasty paper-cut like cut from the edge of one of the freezer bags, though. So be careful if you're packing your bag before you've fully ingested your morning coffee.
The one thing that bummed me out about the bag was that the vertical side pockets don't fit two of the classic BlenderBottles. It does fit two side-by-side, but not two stacked on top of each other (for a total of four). Given the need for pre- and post-workout shakes, and sometimes BCAAs during a workout, that can add up to a lot of bottles and it would have been nice to be able to get four total in the side pocket. It's just a little bit too short for that. It does however fit any two bottles side-by-side – whether it be the tall or short classic BlenderBottle or the new BlenderBottle SportsMixer. We just really wanted to stack the short ones.
On the upside, the vertical side pockets do have removable Velcro vertical dividers that help keep the contents organized if you're sticking smaller things in there that you don't want getting mashed altogether. And that is the whole point of an amazing bag like this, right? No more mashed bananas in the bottom of your gym bag?
Overall this is a great bag. It does exactly what it's designed to do, accommodates everything from supplements to an entire day's worth of meals, and it looks sleek enough that everybody at the gym or your office is going to ask you where you got it.
The Six Pack Bags Innovator 500 is available for $99.99 at SixPackBags.com.
Six Pack Bags is also offering a discount for Breaking Muscle readers – use coupon code 6PF15XF at checkout for 15% off.