We receive free products and receive commissions through our links. See
disclosures page
.
As a recovering chocoholic, I was a bit nervous when I received my bag of Sunfood's Cacao Nibs in the mail to sample. Would I eat them all in one sitting and wake up with a chocolate hangover? I quickly discovered the answer was no. You only need a small amount to reap the benefits.
What I hadn't anticipated was how versatile these things are. I put them in everything – my blended iced coffee with a bit of coconut milk and agave nectar, my daughter's steel cut oatmeal in the morning, trail mix for a weekend hike, a bowl of ice cream (that makes it healthy right?), and even in soups and stews. If you've ever seen these in the store and thought to yourself, "When would I ever use those?" the answer is: all the time.
Aside from the long list of uses, the list of benefits associated with raw cacao goes on and on. Here are just a few:
Magnesium: Cacao is loaded with it. Hence the PMS chocolate cravings that often plague women at a time when adequate magnesium intake is most critical. Magnesium also aids in digestion, muscle relaxation, and brain functioning.
Antioxidants: Cacao contains high concentrations of several antioxidants, including polyphenols, catechins, and epicatechins. In fact, cacao contains more antioxidants than many more commonly known antioxidant sources, like acai, pomegranates, and yes, even red wine.
Chemistry: Cacao has great chemistry, providing phenylethylamine, theobromine, anandamide, and serotonin to happy chocolate lovers.
In addition to discovering my love for raw cacao, I also found a new brand whose virtual shelves I will be frequenting in the future. Although you'll find a lot of manufacturers who produce organic, vegan, and raw cacao, Sunfood is also verified by the Non-GMO Project, which I personally consider to be a big bonus. I was thrilled to discover the many products Sunfood has to offer, at very reasonable prices, and will certainly be sampling more in the future (the mesquite powder, maca powder, and raw olives are next on my list).
The 8-ounce bag I tried contained enough cacao nibs to last me several weeks, making them well worth the reasonable price tag of $9.95 (they sometimes run specials for even less). They also come in eco-friendly resealable packaging. The only somewhat negative factor is that some people are sensitive to raw cacao and may have digestive problems, so like anything else, eat them in moderation. Also, if you've never tried it before, be warned that raw cacao does not taste like Hershey's. It has a bitter, nutty taste that resembles an espresso bean much more than a Hershey's Kiss.
In short, whether you are a raw chocolate connoisseur or new to the raw cacao scene, I would highly recommend Sunfoods products. Not only are they healthy and produced by a sustainable and eco-friendly company, but they're also just fun to experiment with in the kitchen.
In fact, the other night, to celebrate the first week in Phoenix without triple digit temperatures, we had our first bowl of hearty chicken mole-inspired soup, made with the cacao nibs instead of the usual Mexican chocolate. It's the perfect fall soup to cook for hours on a cold and rainy day at home, and the cacao adds a new dimension altogether. Here's the recipe I developed and some photos:
Ingredients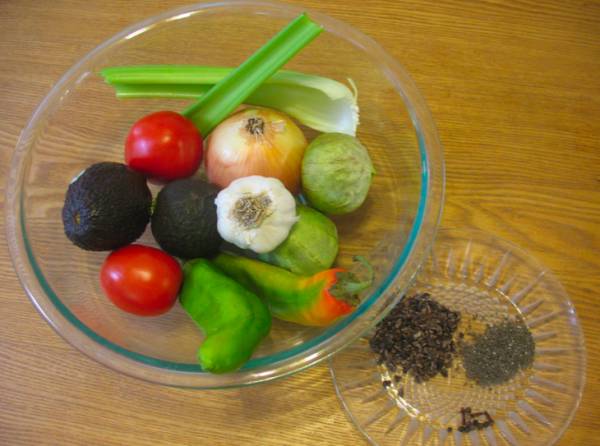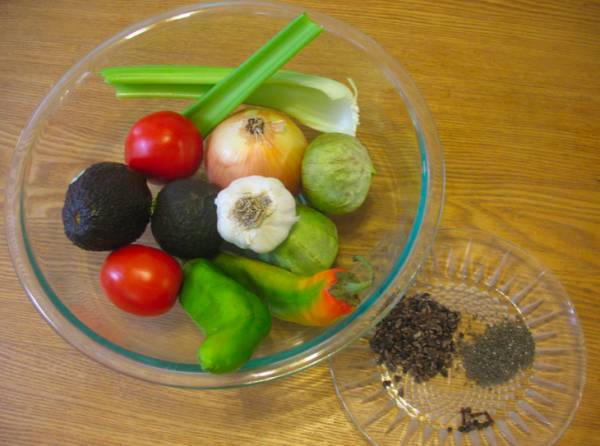 Vegetables
2 green chiles
2 tomatillos
2 Roma tomatoes
1 large onion
4 cloves garlic
2 celery stalks
For Garnish: A few avocados
Fresh cilantro
Spice Mix
5 whole cloves
5 whole peppercorns
½ t. chia seeds
1 T cacao nibs
1 t. coriander
½ t, cumin
½ t. cinnamon
1 t. chili powder
1 tsp. salt (or more to taste)
¼ c. raisins
¼ c. almonds
14.5 ounce can fire-roasted crushed tomatoes
2 chipotle chiles in adobo sauce
4 – 6 c. chicken stock
3 lb. boneless, skinless chicken breasts
Instructions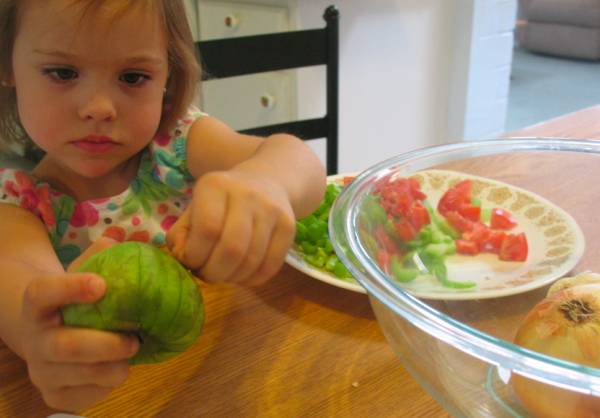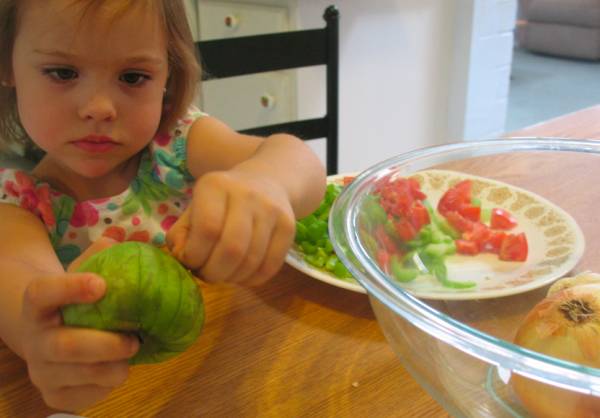 1. Chop all the vegetables as large or small as you like (you're going to put them in a blender, so don't be too nitpicky). If you have a helpful child like I do, recruit her to peel tomatillos, garlic, and onions.
2. Place all the spices in a coffee grinder and grind them into a powder.
3. Saute all the vegetables in a large pot (the same pot you will cook the soup in to avoid extra dishes). You will have a lot of vegetables, as demonstrated by my model.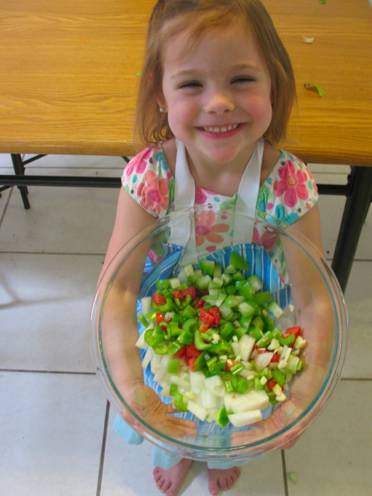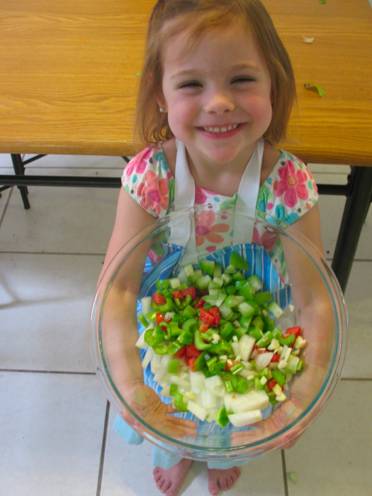 4. Remove the vegetables and add the raisins and almonds to the leftover oil. Cook them for about 3 to 4 minutes, or until the raisins are plump. Stir frequently to avoid burning the almonds.
5. Let everything cool for awhile, then add the
vegetables, can of tomatoes, chipotle chiles, spice mix, and 1 cup of chicken stock to the food processor. Process until the almonds are about the same size of the cacao nibs. This gives the finished product a nice nutty texture.
6. Meanwhile, cube the chicken breast and brown it in the same pot you used before.
7. Add the mixture from the blender to the pot, as well as the rest of the chicken broth. Bring the soup to a boil, then cover, reduce it to a strong simmer and cook it all day, or for at least two hours.
8. Garnish with fresh avocado slices and top with a bit of yogurt or fresh cream, fresh cilantro, and of course, more cacao nibs. This recipe feeds our little family of four for two or three nights, and will stretch even further if you serve it over rice. Bon appetit!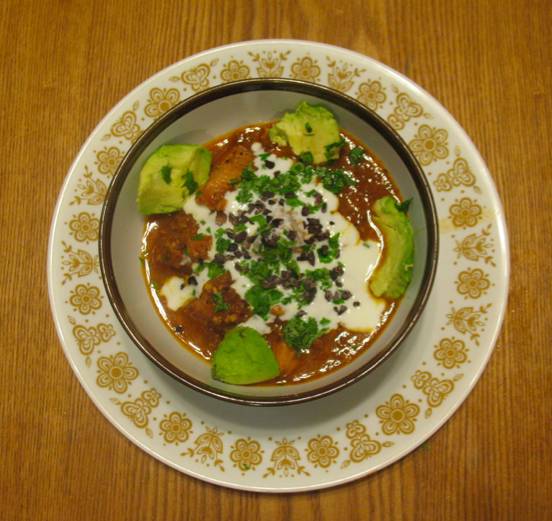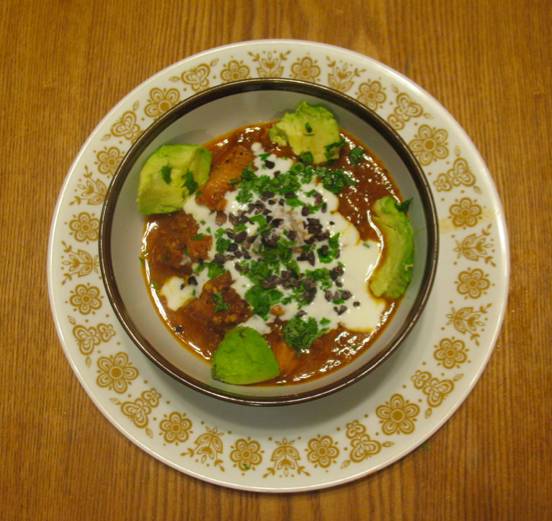 For a great appetizer that also uses cacao nibs, serve Sunfood's own recipe for Guaca-Maca Mole before the main meal.
Sunfoods Chocolate Cacao Nibs are available for $7.96 – $9.95 at Sunfood.com.