We receive free products and receive commissions through our links. See
disclosures page
.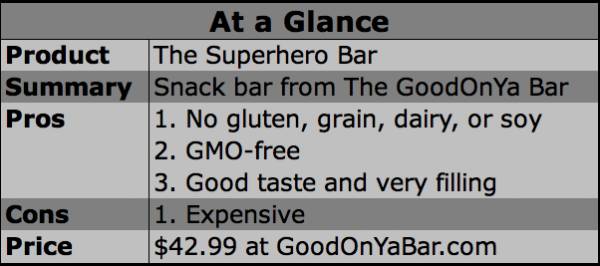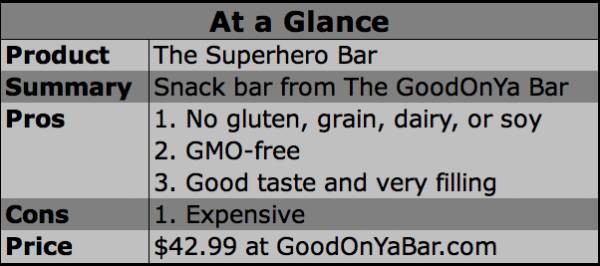 When I read about the new product from the folks at the GoodOnYa bar, I couldn't wait to try it. I've tried the peanut butter honey bar and breakfast bar and have been happy with each product. I expected nothing less from the bar of all bars: the Superhero Bar.
Let's start with what is not in this bar of deliciousness:
No gluten
No dairy
No GMO ingredients
No grain
No soy
If you've ever looked at the ingredients list for most snack bars out there, you know that's an impressive list of no-no's. I can't tell you how many times I've read the label on a so-called "healthy" or "natural" energy or protein bar only to realize it's basically a concoction of sugar alcohols and other ingredients that are far from natural or healthy. Add to that list of what's not in the Superhero bar the fact that they are also 100% raw, and you might start to wonder what is in them.
Of course, there are plenty of awesome ingredients out there that don't fall into the above categories, and a good number of them can be found in the Superhero Bar. These include:
Cashew butter: A good source of healthy fats.
Raw honey: Don't get me started on this one. I could go on all day. Raw honey is not only delicious but also contains beneficial enzymes that are destroyed during processing.
Coconut flakes and coconut butter: A source of more healthy fats and also adds to the texture of the bar.
Chia seeds: Chia seeds are known as superfood and is especially beneficial as an energy source.
Goji berries: These berries have a good amino acid and antioxidant profile.
Lucuma: Lucuma is native to Peru and has a unique sweet taste, as well as a low glycemic index.
Maca: Maca is an excellent source of vitamins and minerals.
With all those superfood ingredients, you might wonder if the Superhero bar actually tastes good. Of course taste is always subjective, but in my opinion these bars are delicious. They have a chewy texture with the perfect balance of sweet and salty.
Relative to what else is out there, this is a healthy snack bar. To be clear: this bar is a snack. It tastes good and has a lot of sugar, fat, and carbs. But it's a snack you can enjoy, knowing it isn't composed of Frankenfood ingredients. And even if you have a liking for Frankenfood ingredients, you'll probably still enjoy this bar.
My only complaint about the Superhero bar is the superhero price tag. A pack of twelve costs $42.99, which is significantly more than some of my other favorite snack bars. However, with that list of ingredients the higher price tag is understandable.
I prefer to eat these bars after a workout or as a snack on a busy day. They are pretty rich and you will probably find that eating just one is quite filling – or at least I did, and I eat like a horse so that's saying a lot. Overall, if you're looking for a post-workout treat or a healthy snack to bring with you to work or on vacation, give the Superhero bar a shot.