We receive free products and receive commissions through our links. See
disclosures page
.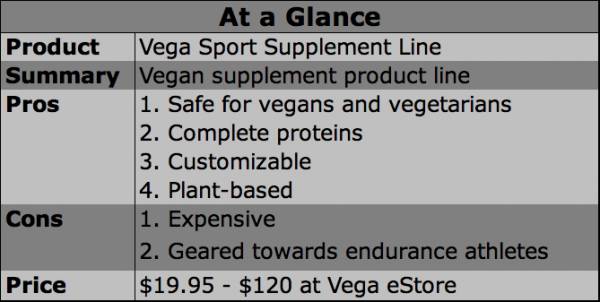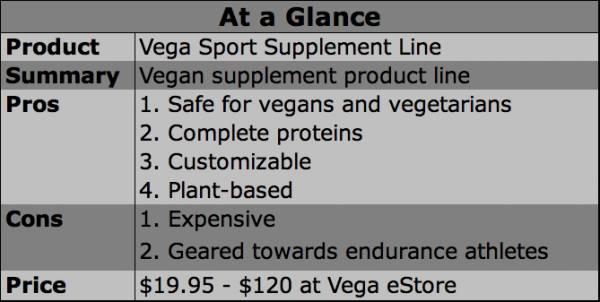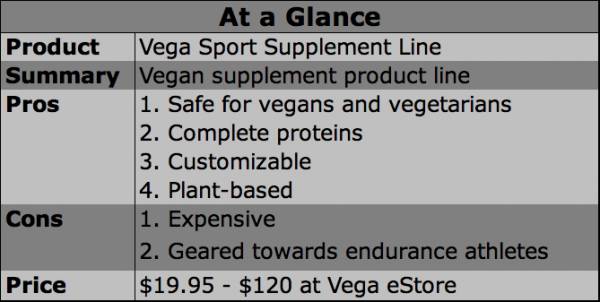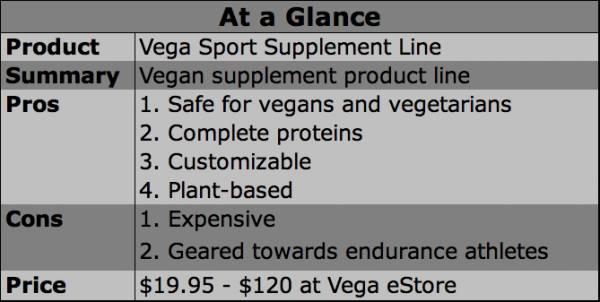 The Vega Sport Performance System is a vegan supplement product line developed by super athlete, Brendan Brazier, to support people committed to a whole food plant-based diet. Brazier knows the importance of supporting performance with nutrition – he has garnered quite a track record with exceptional finishes in numerous events from triathlons to ultra-marathons, and won the National 50km Ultra Marathon Championships twice. As a vegan himself, Brendan has created a system that vegans and vegetarians can feel at home with.
Vega Sport offers an entire sport performance system that supports athletes in their Prepare, Sustain, and Recover products:
Prepare
The Prepare segment of the system is fueled with a pre-workout product called, Pre-Workout Energizer. This product is a powder that comes in two flavors: Lemon-Lime and Acai Berry. Both flavors include a host of plant based energizing ingredients like yerba mate, green tea, and coconut oil. The Pre-Workout Energizer also claims to build energy stores in the body by including "complimentary carbohydrates" like organic sprouted brown rice syrup and organic palm nectar. The brown rice syrup has a glycemic index of 90, making it a quick energy source, while the organic palm nectar has a much lower glycemic index of 35. Vega offers that this will provide a "slow, steady energy that won't spike or crash."
Sustain
The Sustain line of products includes the Electrolyte Hydrator, Endurance Bar, and Endurance Gel. The Electrolyte Hydrator comes in Lemon-Lime and Pom-Berry, and is mixed with water to restore precious electrolytes and minerals.
The Endurance Bar comes in Acai Berry and Mocha. The bar takes the role of providing a quick, easy supply of nutrient dense calories while you're on the go. These bars are even fortified with Omega-3.
Lastly, the Endurance Gel is the epitome of fuel on the run. Each pouch is ready to fuel athletes with energy that is unlike anything on the market. This gel is the only one of its kind to include coconut oil, which offers non-carbohydrate energy.
Recover
The Recover branch of the Vega Sport System includes three products. The first is a powder called Performance Protein. Performance Protein perfects all of the convenience of protein powder, while maintaining a strong commitment to a company ideology that is rooted in a whole food plant based diet. Each serving packs 5,500 mg of BCAAs and 5,00mg of glutamine, making it a dream come true for vegan and vegetarian athletes.
The Protein Bar is a convenient source of 15g of protein. Given that a common knock on vegan and vegetarian sources of protein is that they are incomplete proteins, one may enjoy the fact that the bar offers 15 grams of complete protein.
Last but not least, the Recover product line features the Recovery Accelerator drink mix. This ready to blend mix capitalizes on the benefits of such natural ingredients as glucosamine, MacaSure, devil's claw, L-arginine, and American ginseng.
Conclusion
In total, Vega clearly has a lot of offer. Most directly, there are seven products to sift through if you're an athlete looking to maintain integrity to a whole foods plant based diet, and participate in the Vega Sport System. The complete system is quite a lot to take in, both literally and figuratively.
Vega offers a Vega Sport Starter Bundle, however, that costs $24.99 and includes 2 single-use packages of each product. Although this won't get you far, it's a relatively affordable way to try each piece of the system. Athletes who choose to embrace the system on a longer-term basis will end up paying between $29.99 and $49.99 for a multi-use version of each product. Clearly, this can quickly turn into a pricey venture.
In trying to figure out where to start, I personally was thrilled to see Vega Sport's recommended usage chart. Vega Sport outlines recommended compliance to each product with specific relevance to the type and duration of one's training.
One look at the chart will inform athletes that using all of the products in the system is only relevant to performance of lower intensity, for a longer time period (greater than three hours). This frees many athletes from the financial commitment to the complete system and puts some real integrity into what Vega Sport is promoting. Where many companies can't wait to sell consumers on the idea they need everything they have to offer, Vega takes the time to evaluate exactly what is relevant to each athlete.
For an athlete training or performing in the two categories of training that have a duration between one and three hours, for example, Vega Sport only recommends four of the system's seven products. Furthermore, the "lower intensity, shorter time" category is encouraged only to take the Pre-Workout Energizer. So, before you spend hundreds of dollars on the complete system, check in with Vega Sport's guide to see what products are relevant to you and your training.
As a person who is committed to the firm belief nothing trumps the performance of real food, I think Vega Sport has found a way to provide an array of products for people who share that ideology. In addition, Vega Sport is a safe haven for vegan and vegetarian athletes to utilize as a resource.
The best aspect of the products, though, is the commitment to real food. Vega Sport isn't encouraging athletes to replace the role of food in their lives, but their products provide a true supplement to a lifestyle of real food plant-based nutrition. In a world where supplement companies all too often cross the line of supporting nutrition to trying to replace it, I say "Bravo, Vega!"
Vega Sport products are available from $19.99 to $119.97 at the Vega eStore.