New Year's Eve day found my kitchen full of family – my oldest nephew, my only niece, my nephew-in-law, and my parents for a cooking extravaganza. It was six to eight hours of cooking, eating, and yes, a bit of wine for those who desired it. We had to balance gluten-free, corn-free, pescatarian, and no fava bean flour, with a taste for deliciousness. My niece was the instigator of the event, my nephew dreamt of butternut squash soup while in boot camp, and my parents can always be counted on when there is food to be discussed.
With butternut squash soup as the first defined item on the meal plan, I knew there had to be a bread item to accompany it. With the temperature rapidly dropping, perhaps you too are searching for something bread-y to pair with your soup, stews, or salads. I think I have found the answer.
I feel like going gluten-free has freed me up to experiment even more with my cooking, to investigate the science of it, and go with the basic concepts to create new things. I enjoy reading recipes and will sometimes combine a few different ones, depending on what ingredients I have on hand, but I still always want it to succeed. Perhaps because gluten-free baking is fairly new to me, I've decide to really treat it as experimenting, and being okay with the potential for failures. Besides when the frozen gluten-free bread available in stores is so awful, how bad can my worst failures really be?
So, I decided I'd take a known success and modify it even more – trying to attain a concept I had in my brain and a taste I had in mind. I would make cheddar and chive scones – a savory scone, a mealtime scone. I knew I had the basics from the Holiday Scones recipe, but I would need to modify for the flavors and for using a different mix of flours.
On our New Year's Eve cooking extravaganza I stuck fairly close to the portions in the Holiday Scone recipe. I used all Pamela's flour mix this time, upped the xanthan gum to one teaspoon, left out the sugar, substituted shredded cheddar cheese for the cranberries, chopped fresh chives for the orange rind, milk for the orange juice and baked away! They came out quite lovely!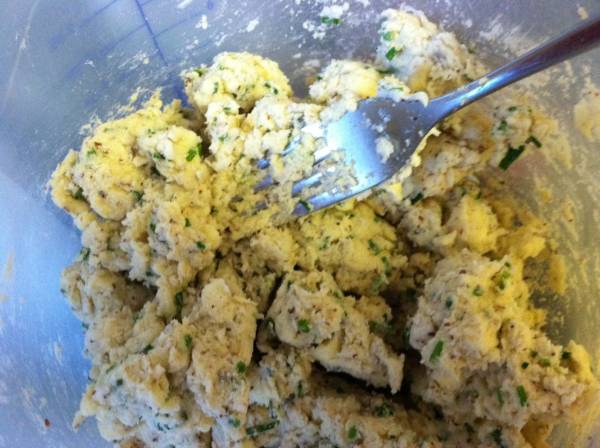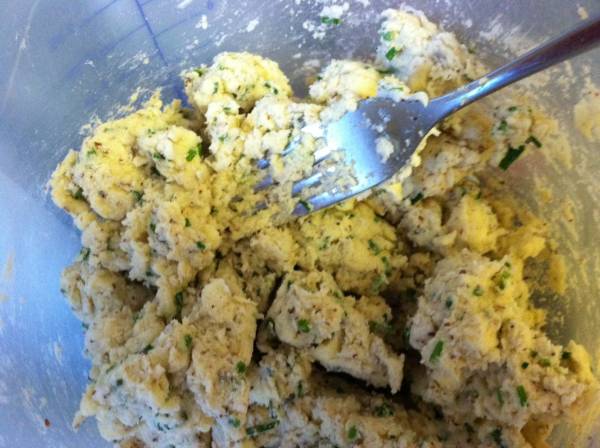 Now, the butternut squash soup was so good, and the weather so cold today, I decided to make the soup again for dinner and to freeze some for lunches…and wouldn't that lunch be so much better with a savory scone accompaniment? But I decided to experiment a little more. I don't always have milk on hand, and I don't always have sour cream on hand. I needed to know if I could mix it up a bit.
I decided to substitute the milk and sour cream with 2% greek yogurt, upped the cheese to a "rounded" half cup (mostly because I shredded too much), and upped the chives to just under a quarter cup. I began mixing and decided it was still slightly too dry to pull the dough together, so I added two tablespoons of soy milk. And it totally worked!
I have a feeling I'll be spending some time working through different scone combinations – dried cherry and goat cheese perhaps? Dill and havarti? Lemon and blueberry? What combinations do you think will be tasty? What will satisfy your bread-y craving?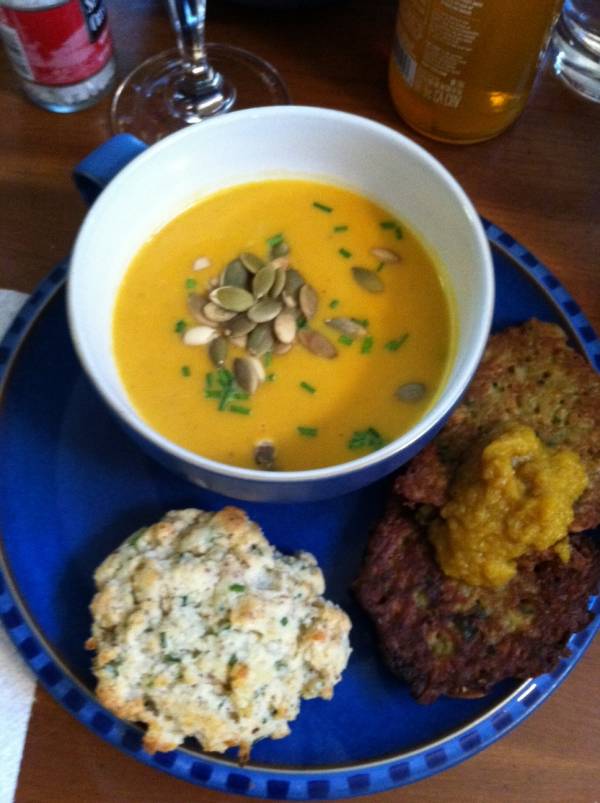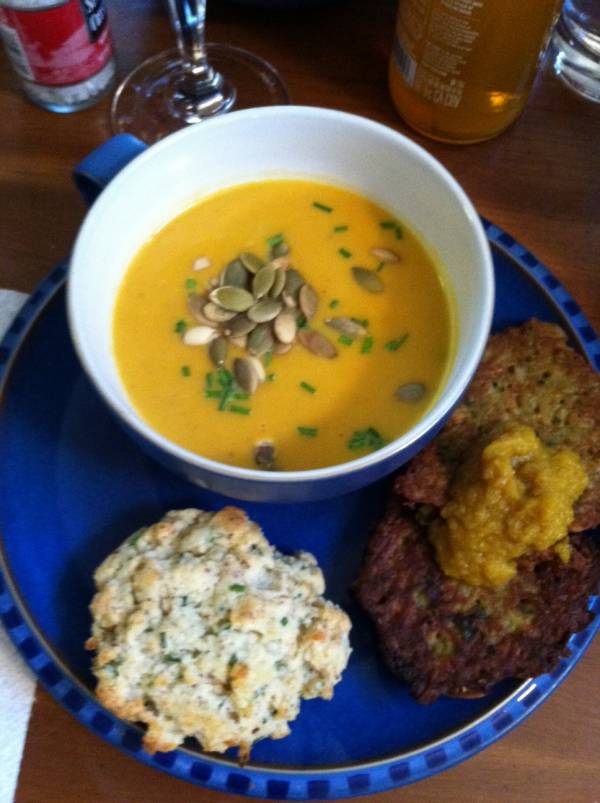 Gluten-free Cheddar and Chive Scones – for when your soup needs a friend!
1 ½ cups all-purpose gluten free flour
1 tsp xanthan gum
1 ½ teaspoons baking powder
½ teaspoon salt
½ cup butter (1 stick)
½ rounded cup of shredded cheddar (I used sharp Vermont white cheddar)
¼ cup chopped chives
½ cup 2% Greek yogurt
2 tablespoons soy milk
Pre-heat oven to 400 degrees Fahrenheit.
In a medium bowl mix flour, xanthan gum, baking powder, and salt. With pastry blender or knives used in scissors fashion cut in butter until mixture resembles coarse crumbs.
In a small bowl mix together Greek yogurt, cheddar cheese, chives and soy milk. Add to dry ingredients and combine until just blended.
Using a spoon, scoop up dough to form about a 3″ scone, and place on a lightly greased cookie sheet, patting the dough to about a half inch thick.
Bake scones 10-12 minutes until golden. Serve scones warm or cool on wire rack.
This recipe makes 9-10 scones. Scones can be frozen and reheated in the toaster oven.