We receive free products and receive commissions through our links. See
disclosures page
.
Sometimes athletes need to train outside, in the dark, and at strange times of day. Maybe you're an athlete who wants some added visibility during a trail race through a dark forest. Perhaps you are a parent who wants added visibility for yourself and your children during dusk or dreary outside conditions. No matter what the darkness brings, the 4id Safety Light line has something bright for just about everyone.
I hadn't heard of 4id Safety Lights before, but I was excited to try them out. As someone who often has to get out in the early darkness to complete training, the idea of a safety light seems like a very smart idea.
4id Offers Something for Everyone
The three versions I got to try were the Powerarmz LED Safety Band, the Powerspurz Shoe Safety Light, and the Slapwrapz Multi-Use LED Wrap Light. There are batteries included with each light and all styles are weather-proof and list a 100-hour flashing burn time. The shoe safety light and the arm-band both have a 70-hour steady burn time before the batteries need to be replaced. All three of these lights offer a flash or a steady light option.
It appears that all the products offered by 4id come in a package of one, so if you would like a pair, you would need to purchase two items. All of the LED safety products come in several colors of LED lights. The LED colors available depends on the style of light purchased.
I wore all three lights I received at one time for testing purposes. I would consider myself an average user and I wore them for several different road runs of 3-6 miles each and hikes through non-paved, but not difficult, terrain with my dogs.
The Powerspurz Shoe Safety Light
This style of safety light is designed to clip to the heel of your shoe. It does grip snugly, and while I could feel it clipped on at first, it wasn't bothersome and eventually I forgot about it. The light will fit most shoe sizes, and does stay on well. If the terrain is very difficult, there is potential it could come off, but with average use, that wouldn't be a worry. There is a warning on the package not to use this style with leather shoes or it could scratch the material. The light didn't loosen or come off during any of my activities, and it was very bright even during dim, rainy daytime hours.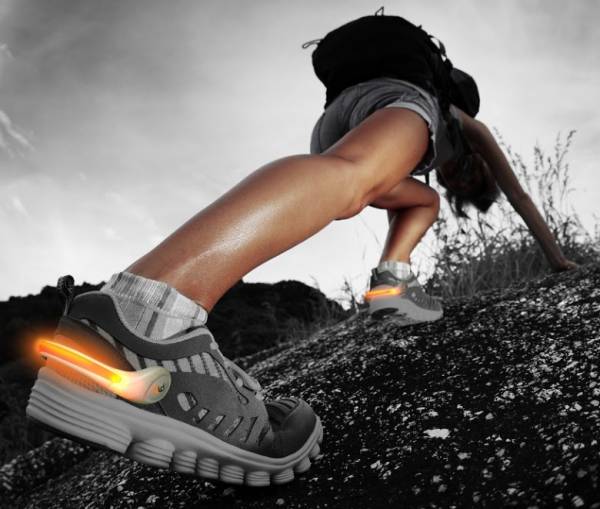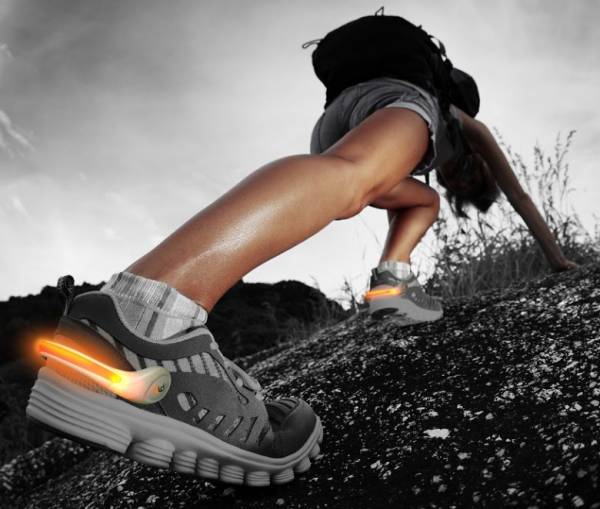 The Powerarmz LED Safety Band
This safety light is designed to be worn on your arm, about mid-bicep. There are two pieces to this safety light. The first piece is the safety band itself, which is made of pliable plastic. The battery compartment is on one end of the safety band and the hole for the Velcro strap on the other. The other piece of this style is a strap that is designed to go around the underside of the band to wrap around the arm. The band stayed on well and is very adjustable for comfort. I wore it over a light jacket for the test; on bare skin I think it could be bothersome after a bit of time, due to the strap, but should be comfortable for most users otherwise.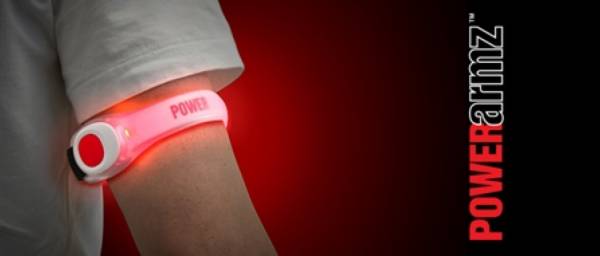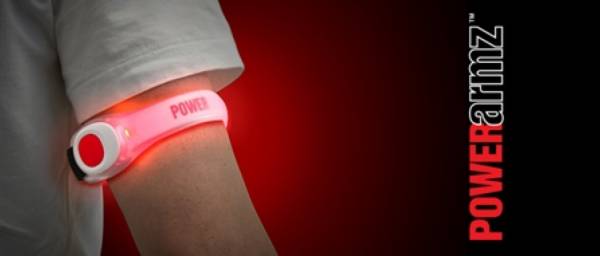 The Slapwrapz Multi-Use LED Light
This was my favorite style of the safety lights I tested. This light remains in a circle or coil, no matter what it wraps around. It functions like a kids slap-bracelet, if you are familiar with those. You can use this light on your wrist, arm, or ankle – anywhere it will wrap around. It stays in place well without being too tight. You could wrap it around a bicycle frame or stroller handle instead of wearing it, and you can even attach it to your dog's collar.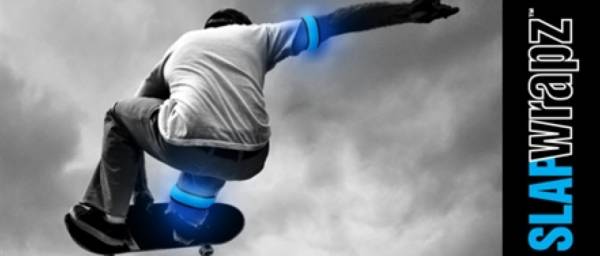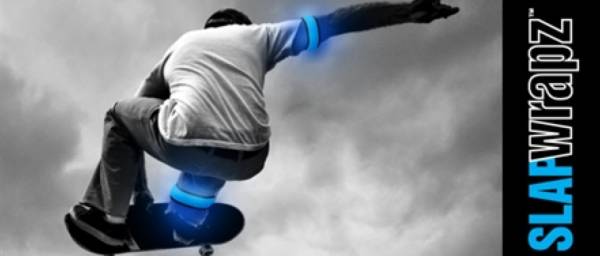 Your Safety Is Worth It
I found these three styles of lights to be bright and useful. While I liked all of them, the Slapwrapz was the one I would primarily use. The other styles are terrific, too.
These safety lights get a big endorsement from me. The quality of the products is excellent. They are comfortable to wear, they are bright, and there is a range of styles available. These lights are definitely a good purchase.
More gear reviews for outdoor training: