A year ago my family headed out for the afternoon, leaving a family favourite gently cooking to perfection at home: slow roast pork shoulder with plenty of crackling, or "pig meat 'kin bit"as my 3-year-old daughter calls it. The same day, she and my wife got into a definitive parent-child altercation, which culminated in the former unleashing her very worst threat of all: "YOU can't have pig meat 'kin bit Mummy – you have to have salad!"
After just three years of life, my daughter Maddie-Ane had developed a hearty disdain for salad. And it's unsurprising with how they are put together most of the time.
Vegetables Are King
Getting enough nutrient-dense food in is crucial for anyone's diet. This is my first Breaking Muscle article in a while and frankly, my views haven't changed much. I still believe you need to prioritise eating enough vegetables over worrying about food timing or the latest diet craze from Milan.
Vegetables deliver complex carbohydrates for your macro needs, and plenty of vitamins and minerals for your micro needs. But before you get the blender out, let me stress the importance of dietary fibre being in the mix as well. Fibre is essential for gut health, ensuring nutrients are transported through the body at the right pace instead of being rushed through in a smoothie or health shake. It's also crucial to have some chewable substance to your food to prepare your body for effective digestion and to cue the brain to accurately interpret the calories consumed.
With this in mind, this month I've turned my attention to jazzing up the humble salad – and even Maddie-Ane has given her seal of approval.
Celeriac Remoulade
Coleslaw is a popular salad for most people, and remoulade is a great favourite of mine at the moment. This recipe is very good with cold cuts, or as a side for steak or pork.
Prep Time: 10 minutes
Ingredients:
½ celeriac
2 tsp wholegrain mustard
1 tsp chopped capers
25g chopped cornichons
2 tbsp mayonnaise
Juice of half a lemon
Method:
Peel the celeriac with a sharp knife, cutting off the tough knobbly outer. Using a mandolin or sharp knife, cut into very thin slices, then shreds.
Put the celeriac into a bowl with the capers, cornichons, mustard, lemon juice, and mayonnaise. Stir together and serve.
"Kind Of" Indian Salad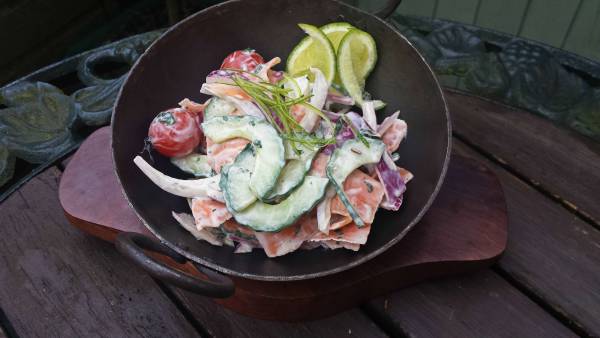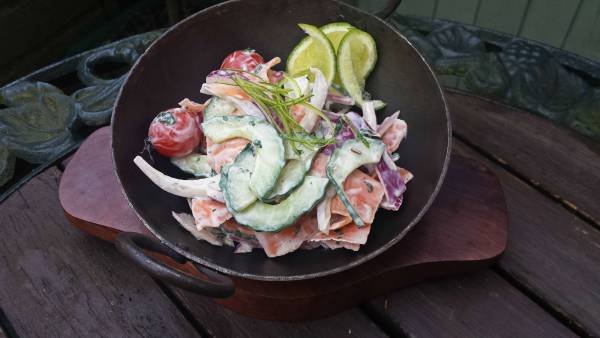 This recipe is essentially an exercise in making something exciting from ingredients available from convenience stores. I live in the middle of nowhere and managed to get everything I needed for this. If you want to reduce fat content in your diet then you can use low fat yogurt. The idea of using yogurt as a base for salad dressing is true for the other recipes too.
Ingredients:
½ cucumber
1 large carrot
1 red onion
8 cherry tomatoes
Fresh coriander (optional)
For the Dressing:
2 tbsp plain yogurt
Juice of half a lime
1 tsp mint sauce
½ tsp cumin seeds or ground cumin
Method:
Halve the cucumber lengthways and scoop out the seeds with a teaspoon.
Slice and place the cucumber in a bowl. (This stops the salad going sloppy.)
Peel the carrot with a peeler to make long ribbons.
Peel and slice the onion and add the lot to the bowl along with the tomatoes and toss together.
Now make the dressing. In a small bowel put the yogurt, lime juice, and mint sauce. Then if using cumin seeds, toast them a little in a dry pan then add to rest of the ingredients and mix. If you use ground cumin, just add it with the other ingredients.
Put the dressing in the salad bowl and toss it all together, finishing with a few fresh coriander leaves.
Oriental Bean and Radish Salad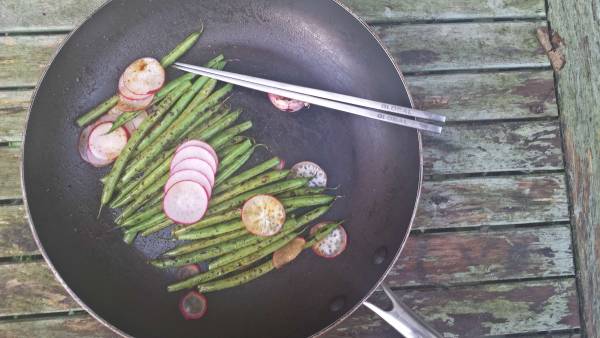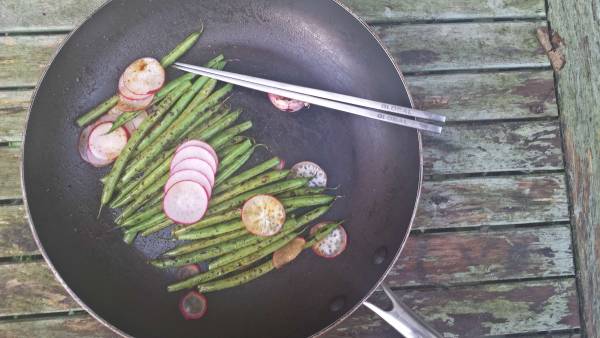 I haven't yet bothered to Google the definition of salad, but I think this one edges towards being a vegetable side dish. But we're all friends here, and you can always let it cool to eat later.
Ingredients:
200g French beans (or whatever pod legumes you can get.)
8 radishes
1 clove of garlic
1 knob of butter
For the Dressing:
1 Tsp soy sauce
1 Tsp balsamic vinegar
½ tsp Chinese 5 spice powder
Method:
Put a large pan over a medium high heat, add the butter and lightly crush the garlic clove. When the butter begins to foam, add the beans. Cook for 3 minutes.
Meanwhile finely slice the radishes with a sharp knife or mandolin. When the beans have taken a little colour, add the 5 spice powder and toss.
Remove the pan from the heat then add the soy sauce, vinegar and half of the radishes, tossing it all together.
Transfer to your serving dish of choice, then top with the remaining radishes.
Beetroot, Orange and Almond Salad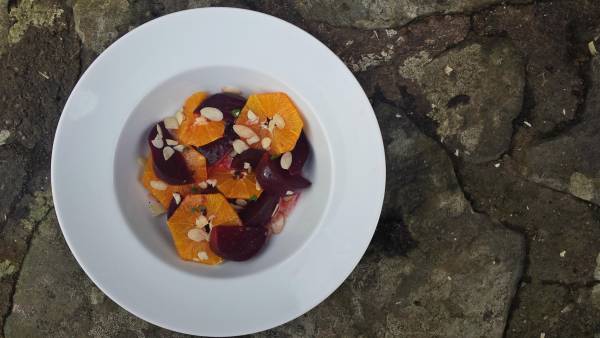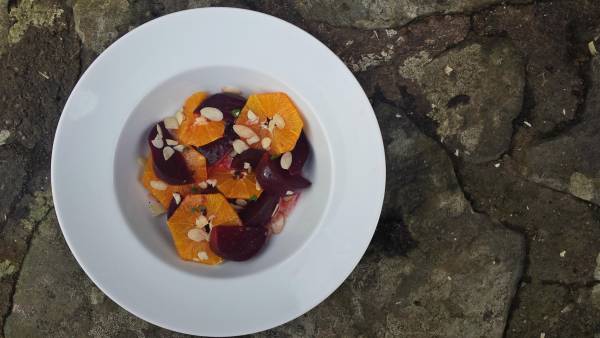 The name of this recipe is pretty much the ingredients list, but there is a lovely little trick in the dressing. I really like beetroot as a food, and considering I am a kettlebell guy the obvious Russian link is always worth a nod. Beetroot is great for you, but some people don't find it very palatable – pairing beetroot with fruit can really open up the door to liking it.
Ingredients:
200g cooked beetroot (not pickled)
1 large orange
1 tbsp flaked almonds
A few fresh mint leaves
For the Dressing:
1 tsp ground all spice
4 tsp olive oil
1 tsp red wine vinegar
Method:
Peel the orange by cutting off the top and bottom with a sharp knife then work your way around, cutting off the skin. There may be some juicy flesh still on the skin. Don't waste it -squeeze the juice into a glass and add to the dressing.
Slice the orange and the beetroot and put into a bowl.
Lightly toast the almonds in a dry pan and add to the bowl.
Mix all of the dressing ingredients with the orange juice, then dress the salad. Top with a few mint leaves.
More Like This:
Photos courtesy of Tim Harrison.