We receive free products and receive commissions through our links. See
disclosures page
.
Compression garments are the latest "in thing" for athletes, runners, and lifters. They're also one of the most misunderstood items in your gym bag.
Compression socks will not increase your strength or stamina during your workout. You won't run twice as far or fast thanks to a pair of compression socks or pants.
But compression garments will reduce lactic acid build-up in the muscles, improve circulation, prevent inflammation, reduce the risk of chafing, and speed up post-workout recovery. As I discovered, a good pair of FitShit Compression Socks made all the difference after my workouts.
FitShit Compression Socks
The compression socks by FitShit are lightweight knee-length socks made from 200-thread count micro nylon. The graduated compression improves blood flow and reduces fatigue, while the strong elastic cuff holds the sock in place without impairing circulation. The padding built into the heel and toe is designed to reduce impact and prevent blisters.
The socks are "one size fits most" (they were just great on my size 13.5″ feet), and come in a stylish black with grey heel and toe and the logo "FitShit" emblazoned in white up the calves.
My Testing Process
I'm a big guy: 6′ 6″ tall, weighing in around 280 pounds, with thick calves, wide feet, and weak ankles. I had a bit of trouble getting the socks up and over my calves, but once in place they were surprisingly comfortable. It took a bit of getting used to the compression on my calves and ankles.
I put the socks through their paces, with four weekly workouts that included: HIIT training (15 minutes), sprint training (15 minutes), resistance training (45 minutes), jogging (5K), trail running (5K), cycling, elliptical training (20 minutes), and flexibility training (10-15 minutes). I wore the socks every day for an entire month, only washing them at the end of each week.
Performance Evaluation
Please note that this was the first pair of compression socks I've ever worn, so I have no previous experiences to compare these to.
Ease of Use – Getting these socks on was a bit of a wrestling match, but I assume that is standard with most compression socks. The elastic was tough to slip over my big feet, ankles, and calves.
Durability – After a month of wear and four washes (with the poor quality water of my city), the socks showed no signs of fraying, stretching, sagging, or unraveling. They look and feel as good as the day I pulled them out of the box.
Comfort – Aside from a bit of pinching at the toes when I pulled the socks too tight, they were very comfortable. The elastic around my calf wasn't too tight or restrictive, and I had good range of motion.
Breathability – My feet were always comfortable in these socks, which offers excellent ventilation and breathability.
Smell – The fabric is surprisingly odor-resistant. Even after a week of daily use, the socks had only a minor smell.
Effects During Training – Wearing these socks while running or training didn't make any noticeable difference in my strength or stamina. I didn't suffer shin splints while running/sprint training, however, but I did feel they reduced the endurance in my calf muscles (for hill runs).
Effects During Recovery – This is where the real effects were noticed. I was at least 50% less sore the day after leg day and running a 5K in these socks. They helped to speed up recovery and prevent DOMS after hardcore training.
The only noticeable drawback to these socks was the fact that they were hard to slip on and adjust once in place. It was almost impossible for me to grip the sleek material to shift them on my feet.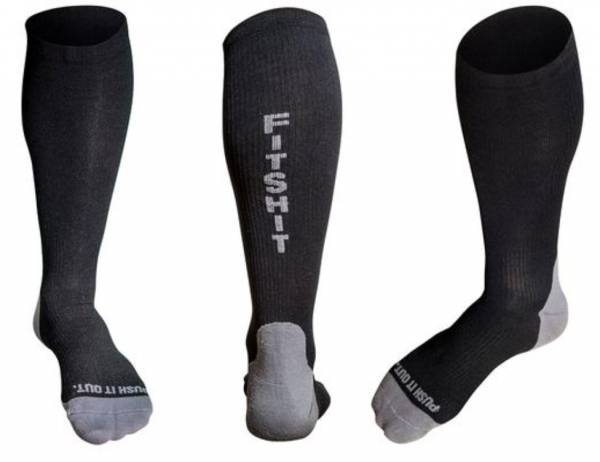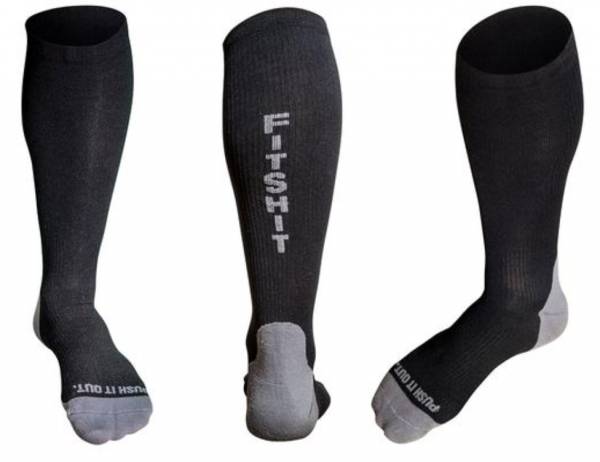 FitShit Gets a Thumbs Up
If you need a good pair of compression socks, this is definitely a good choice. The socks are durable, comfortable, and reasonably priced. They're an excellent option to help improve post-workout recovery and prevent soreness.
FitShit Compression Socks At a Glance
Features
Comfortable elastic cuff to help the socks stay in place

Graduated compression to minimize fatigue

Moisture wicking 200 thread count micro nylon

Smooth toe seam to help prevent rubbing

Price
$49 per pair – black, gray, blue and pink