If you're a baseball player and you expect to maintain your off-season gains, maximize your recovery, and reduce your risk of injury, then you need to have a solid in-season training program as well. You may have been training four or five days per week during the off-season, but now that the frequency of practices and games is increasing, you may only need one or two training sessions per week.
For the purposes of this particular baseball in-season training program, we'll be looking at two sessions per week. The workouts will be posted on Wednesdays and Fridays, but you can do them on the days most appropriate for your training schedule. If you'd like to learn more about this program, you can read my article here.
Again, no matter what is planned on paper, the athlete needs to address his or her needs on a day-to-day basis and adapt accordingly. I hope this program helps you maintain your gains from the off-season and also improve your game!
Phase 2
As we approach the middle of the season, each athlete really needs to evaluate his particular needs. Are his strength levels staying consistent? Is he picking up nagging bumps, bruises, or injuries? Is he better suited to limit his strength training volume and focus on his recovery methods, or can he still work in some strength exercises? Whatever is designed on paper must be easily adaptable to the athlete's changing needs as the season wears on.
Week 5, Day 1
Foam Roll
Glutes – 1 x 60 seconds each side
IT Band – 1 x 60 seconds each side
Quads – 1 x 60 seconds each side
Groin – 1 x 60 seconds each side
Hip Flexor/TFL – 1 x 60 seconds each side
Mid/Upper Back – 1 x 60 seconds each side
Pre-hab
Perform the following movements in a circuit by completing one set of each exercise and then return to the start and complete any movements with additional sets.
Glute Bridge – 2 x 12 reps
Scapular Punches with Band – 2 x 8
Quadruped Reach Throughs – 2 x 6 each
Plank – 2 x 60 seconds
Scapular Punches with Band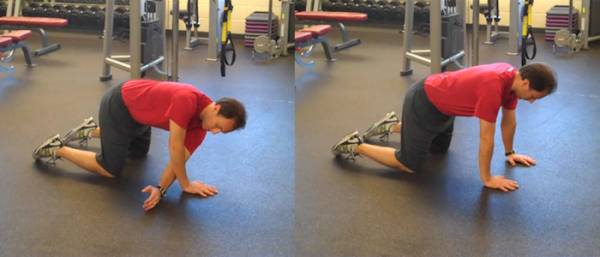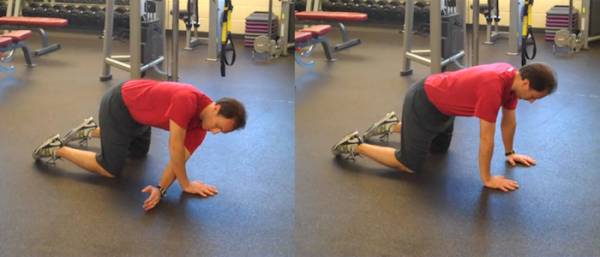 Quadruped Reach Throughs
Dynamic Warm-up
Reverse Lunge with Twist – 1 x 10 yards
Quad Stretch with Toe Touch – 1 x 10 yards
World's Greatest Stretch – 1 x 10 yards
Inch Worms – 1 x 10 yards
Lateral Lunge – 1 x 10 yards each direction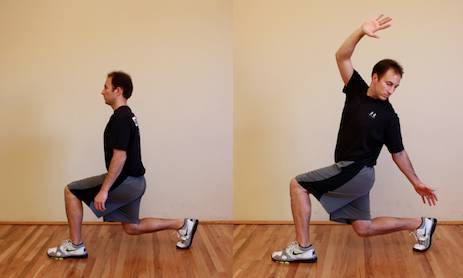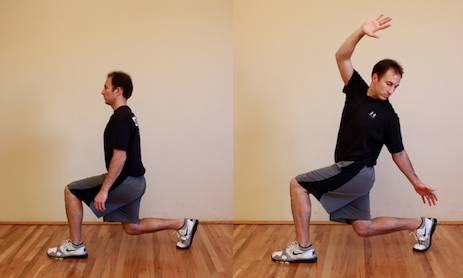 Reverse Lunge with Twist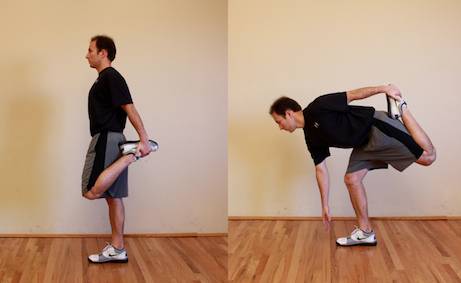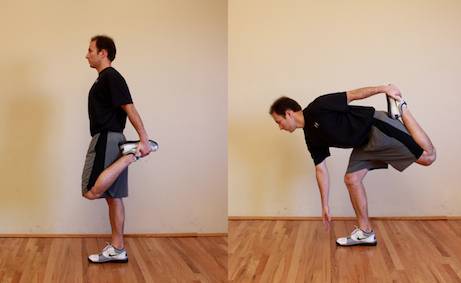 Quad Stretch with Toe Touch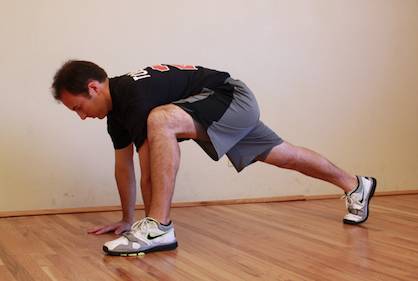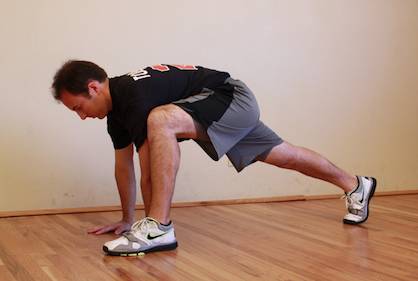 World's Greatest Stretch

Inchworm
Strength
Exercises listed below are paired in supersets. Training in supersets means that you will perform one set of the first listed exercise and then one set of the second listed exercise. Take 45-60 seconds of rest and then repeat for the second set of each. Continue this method until all sets in a given superset are completed. Then, move to the next two exercises that are paired together as a superset. If an exercise is listed by itself, then there is no superset. Complete one set of that exercise, rest, then complete the next set.
Dumbbell Reverse Lunge – 3 x 6 each
Standing Cable Row – 2 x 8
1-leg Stability Ball Hamstring Curl – 2 x 8 each
TRX W's – 2 x 10
Static Stretching
Hamstrings – 1 x 60 seconds each
Groin – 1 x 60 seconds each
Piriformis Stretch – 1 x 60 seconds each
Hip Flexor Stretch – 1 x 60 seconds each
Calves – 1 x 60 seconds each
Foam Roll
Glutes – 1 x 60 seconds each side
IT Band – 1 x 60 seconds each side
Quads – 1 x 60 seconds each side
Groin – 1 x 60 seconds each side
Hip Flexor/TFL – 1 x 60 seconds each side
Mid/Upper Back – 1 x 60 seconds each side