Subscription, delivery meal boxes—what a cool concept. A variety of pre-measured whole food ingredients, complete with recipe cards, can be delivered to your door. Sun Basket is one of the companies that offers this service and, I have to say, I was very pleasantly surprised when I got my first Sun Basket delivery, especially because I wasn't sure what to expect.
Upon delivery, the Sun Basket box itself was high quality and in very good condition. When I opened the box, there was a thick layer of recyclable plastic padding and earth friendly freezer packs with organized bags and containers housing the ingredients to the three meals I'd chosen from the Sun Basket website. Being the skeptic that I am, I thought for sure the food would look messy from the trip through the mail, things would be warm, wilted, spilled, or there would be something missing. Not the case. As I got out all the ingredients and reviewed the full-color recipe cards, I realized that the folks at Sun Basket know what they are doing.
Almond Crusted Trout [Photo credit: Sun Basket]
How Does Sun Basket Work?
To order through Sun Basket, you simply go to their site and set up an account. Sun Basket puts all their menus and instructions online, so you can easily scope out the menu for each week when you make your meal choices. The meals are targeted to be prepared and cooked in about 30 minutes. The menus, prepared by award-winning chef Justine Kelly, vary from week to week, so for any particular week, there are a variety of meals for you to choose from. There are seafood, vegetarian, beef, chicken, and even breakfast options. The menu links include the ingredients, the recipe, and the nutrition information. The site is uncomplicated and very user-friendly.
Sun Basket strives to include only non-GMO ingredients and includes organic offerings whenever possible, and there is a variety of menu choices to suit every nutrition need. Everything included in the box is either recyclable or edible—very impressive. The only things you need from your kitchen are common kitchen tools like knives, pans, and cutting boards, along with your oil of choice, salt, and pepper.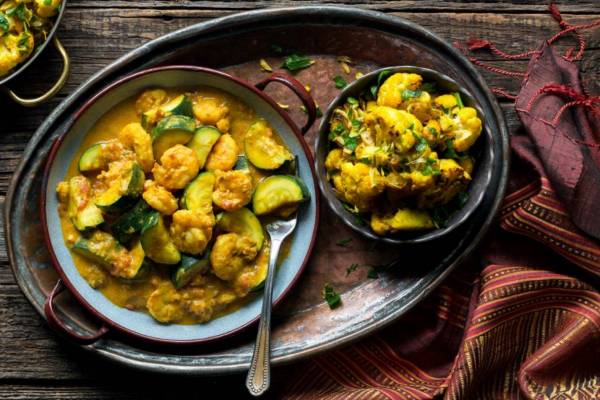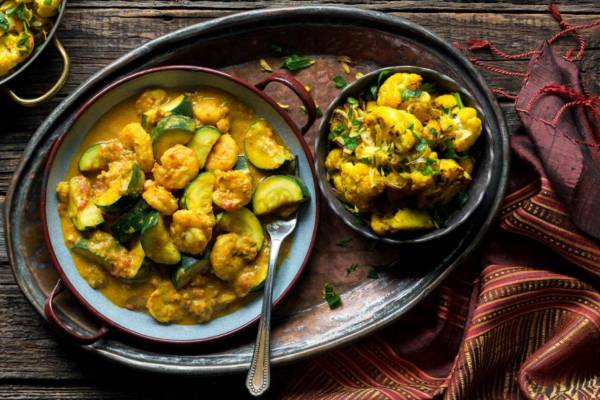 Masala Shrimp [Photo credit: Sun Basket]
Food and Recipe Quality
The first recipe I tried was Masala Shrimp with Turmeric Roasted Cauliflower. I don't normally buy shrimp or really any type of seafood to cook at home. I live in a small area not far from the Pacific coast, but sadly the seafood we get here is nothing like you could find on the docks. I was very impressed with the shrimp I received from Sun Basket. The shrimp were packaged and sealed in a very nice recyclable plastic container and upon opening they didn't have that fishy smell that is present with a lot of packed seafood. All I had to do was rinse and pat the shrimp dry and then they were ready to be cooked in the recipe. Having fresh shrimp sent through the mail is a feat, my opinion. I have had many bad experiences with seafood purchased in person at a regular store, so I was very happy to see that these shrimp arrived fresh. The other ingredients for this dish were perfectly measured into separate containers. Following the recipe card was very easy and the instructions were complete, helpful, and descriptive.
The second recipe I cooked was Almond Crusted Trout with Chermoula and Cucumber Salad. Again, the seafood in this recipe was packaged fresh and I only needed to rinse and pat dry. I chose two seafood dishes on purpose because, in my experience, seafood is the hardest to maintain and can be the most finicky to prepare. Part of this recipe had an egg. Sending eggs in the mail seems counterintuitive, but there it was, the egg, whole, nestled in its little recyclable plastic container. In my mind, this recipe was a real test of Sun Basket's methods, and they did not fail me.
The third dish in my order was the Green Goddess Steak Salad with Kale. This salad was flavorful and portioned with just the right amount of greens and dressing. The steak was tender and fresh upon opening. This meal was the fastest to prepare. I had it done in 20 minutes and felt like a world-class chef.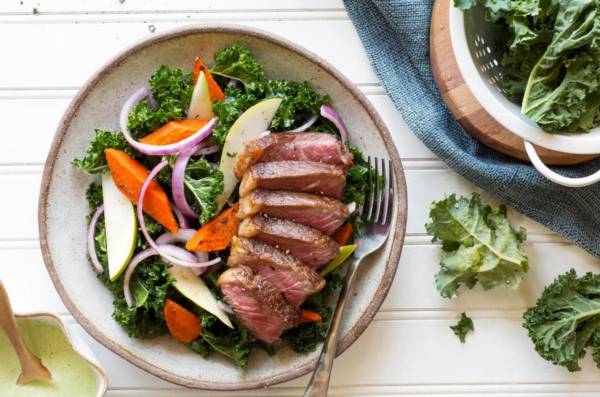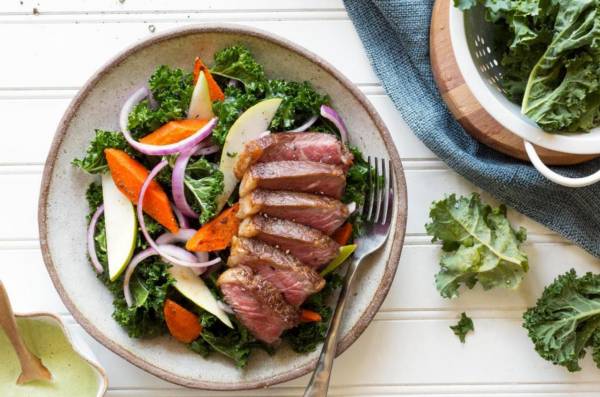 Green Goddess Steak Salad [Photo credit: Sun Basket]
Worth the Money to Save You Time
After I cooked my meals, I wrapped up all of the packaging and put it in the recycle bin. It was fun to try some flavors and foods I normally wouldn't buy, mainly because I would have no idea what to put together. I was really critical of this product because when one spends hard-earned money on meals, you really want to know what you're getting into. Sure, you could probably shop and make more inexpensive meals, but when you factor in your time, fuel, and additional prep, a meal package a few nights a week doesn't seem so bad. I will definitely buy Sun Basket boxes in the future. Throughout my experience, I was impressed by Sun Basket's dedication to quality. I can't wait to get my next delivery.