Photos provided by Danette "Dizzle" Rivera.
I sat in the near-empty stands of a pristine tennis court at the Indian Wells Tennis Garden with a pink umbrella trying to fight off the cruel sun. The Santa Rosa Mountains stood behind the courts, hazy in the one hundred and six degree heat. The cutting song of the cicadas buzzed through the silence. Julio, my husband, was poised to serve. His doubles partner, Mike, crouched near the net. The Floridian opponents across the net wore neon orange shirts and they held their breath anticipating Julio's nasty kick serve. I held my breath, too, as sweat beaded on my forehead.
It was Friday, day one of the USTA National Championships and Julio and his 5.0 men's team, after a rigorous qualification and tournament schedule, had earned a spot at the coveted Nationals. I wouldn't have missed it for the world, nor would I have let our daughters miss it, heat and work and school be damned. A teammate asked, "Don't the girls have school?" I said, "This is important, too, that we be there for each other when something means something to the other. It means something to us, too."
I've spend a lot of time writing and talking about my current athletic surge. Thinking about how my training relates to other everyday athletes often consumes me. I also spend a lot of time thinking and writing about my daughters' athletic lives, because I think it's important they know that being athletic is a valuable balance and worthwhile endeavor. What I fail to mention often enough is that my husband is also an athlete. In fact – until either daughter catches up with him – he's the most successful athlete in our house in terms of accomplishments.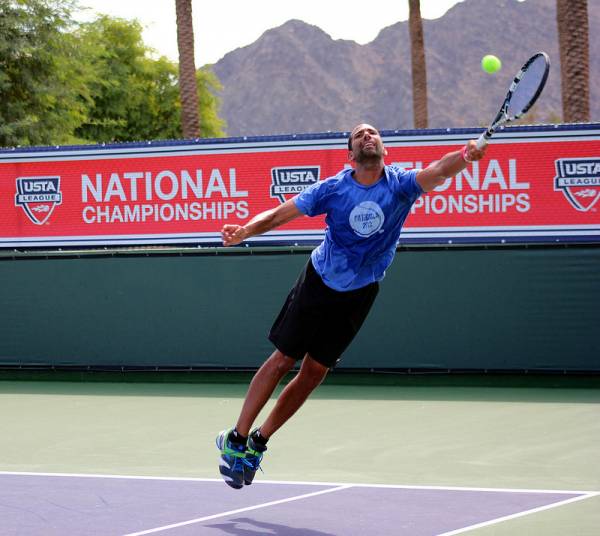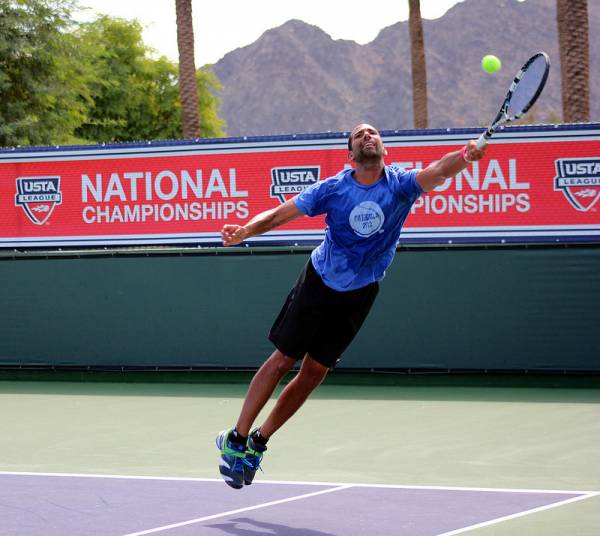 As a young tennis player, Julio was ranked on the east coast tour and he played collegiately. He also does CrossFit, but that is solely to cross train for tennis. Tennis is now his career, too, as a coach for a girls' high school team and he teaches many private lessons. As a coach, he's amazing enough to make a solid living, but as a player he's still equally amazing. Just last year, as underdogs, he and fellow CrossFit LA member, Clint Lee, won the LiveBall Tournament during the UCLA Farmer's Classic against ex-professional tennis players and top-notch collegiate Division I players.
And this year, here he was again at Nationals for the fourth time in his adult playing career. It's a huge accomplishment. I couldn't wait to cheer him on again. I've been to all but one of his National Championships cheering him from courtside. In 2006, during Nationals in Kona, Hawaii, I even survived the biggest earthquake of my life – and I'm from California – to support him.
Athletic endeavors are important in our house. Putting yourself on the competitive stage takes a lot of guts, which is why supporting each other during these times is equally important. Just the willingness to put yourself on the line deserves a cheering section. The outcome really doesn't matter. The fact that Julio trained hard enough to be put to the test by other outstanding peers deserved my full attention. This is where inspiration thrives for me, for our daughters, for his students, and his friends.
Watching our daughters watch Julio during the heat of battle was important. They saw him stay loose and keep it fun under pressure, but when they witnessed how hard he took a particular loss they realized staying loose was just part of the strategy, that it had nothing to do with not caring enough. He cared plenty. We gave him space to mourn the loss, and then he was back, loose and fun again, prepping for the next match. Having us there to ebb and flow with his ups and his downs I know was invaluable. If you can't share this kind of thing with the ones you love, competition and performance feels flat, devoid of life and love.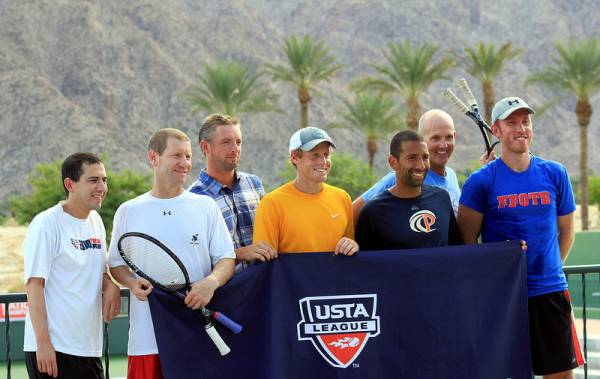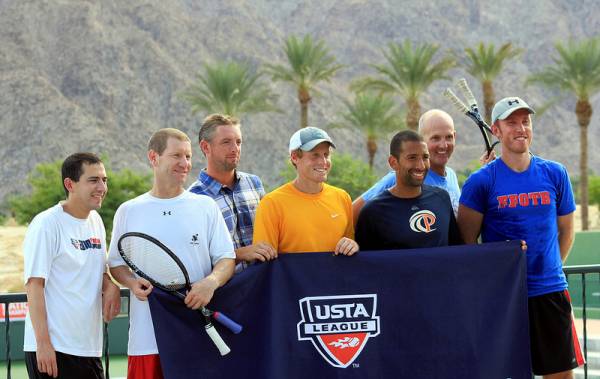 During every CrossFit challenge I've been in, even when it's tiny and just includes our gym, Julio has been there to cheer me on. Often, he'd come straight from a lesson still wearing tennis gear to make it just in time. During the 2012 CrossFit Open, he would rush in at the most important times, and it meant the world to me. I know how it feels on the smallest of stages to feel supported. I can only imagine that it feels the same on a larger scale.
The SoCal men's team did not win this weekend. The competition was amazing and they well deserved their wins. It was great tennis to watch. Julio played some of the best tennis I've ever seen him play. I couldn't have been more proud. Nothing really beats a team bond no matter the level, and certainly nothing can beat the unconditional support of someone in the stands cheering on your efforts no matter the outcome, heat and cicadas and earthquakes be damned. Nothing could have stopped me from cheering him on this weekend.