The ketogenic diet is on a roll and there's really no question why it has gained so much momentum both inside the athletic world and out. Dubbed the keto diet for short, this low carb, high fat diet supplies the body with a plethora of healthy fats which are used as energy for our body instead of carbohydrates. This way of eating provides a nutritionally dense vegetable and protein base with high fat energy for us to perform our best while maintaining a slim physique. A keto meal in its most simple form combines a protein, paired with a green vegetable (or other low carb veg) and fats. This series of ketonic diet will provide a more inspired approach to these combinations that you can mix and match for a unique ketogenic eating experience.
Cauliflower is the great chameleon of the cruciferous vegetable world. It has the ability to blend into many dishes without lending a ton of flavor. This makes it an ideal suitor for blending with other ingredients to result in a keto style toast. Cauliflower toasts are hand-holdable once cooled and can be made with any variety of topping from melted cheeses or pizza fixings to other savory options.
This toast starts with riced cauliflower which is combined with cheese, egg, flax, and seasonings to create a rounded flavor that balances with any topping. For an energy filled meal or snack, top with avocado slices, a protein like tuna or chicken, and a drizzle of healthy fats in the form of spicy mayo or almond sauce. Feel free to top these toasts with any other savory toppings as well.
Avocado Cauliflower Toasts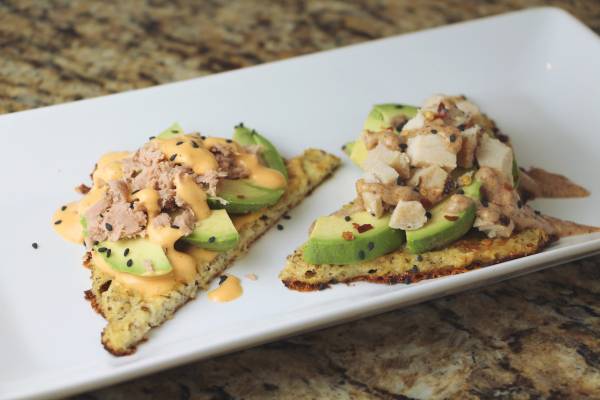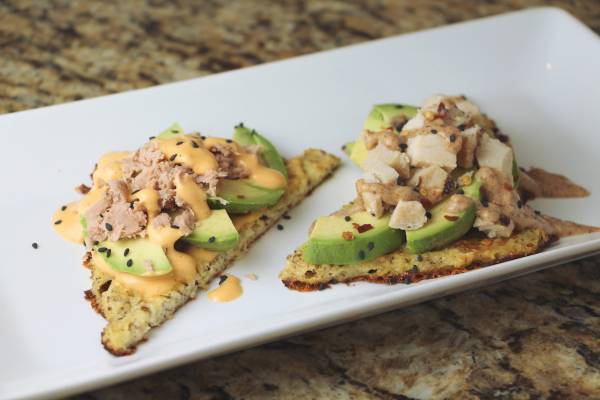 Calories 325, Protein 16g, Total Carbs 13g, Net Carbs 5g, Fat 24g
Prep time: 20 min
Cook time: 20-30 min
Serves: 4 slices, nutrition info is per slice with toppings
Ingredients:
1 head cauliflower, riced (about 3 cups)
1 egg
1 tablespoon flax meal (ground flaxseed)
½ cup shredded cheddar, Monterey jack or try smoked gouda
¼ teaspoon pink Himalayan or smoked salt
¼ teaspoon ground black pepper
¼ teaspoon garlic powder or onion powder
Topping for two toast slices, spicy tuna:
1 avocado, pitted, peeled and sliced into thin strips
2.5 oz tuna packed in water
2-4 tablespoons spicy mayo (or just stir in chili paste into plain mayo to desired taste)
¼ teaspoon black sesame seeds
Topping for two toasts, chicken with almond sauce:
1 avocado, pitted peeled and sliced into thin strips
½ cup cooked chicken, diced
2-4 tablespoons almond sauce (stir together 1-2 tablespoons almond butter, 1-2 tablespoons coconut milk to desired consistency and ½ teaspoon chili paste or to taste)
Preparation Instructions:
Rice the cauliflower by cutting it into florets first and then pulsing in a food processor until it's the size of rice grains. You may purchase it already riced instead if desired.
Cook riced cauliflower either in a steamer basket or via microwave about 7 minutes until soft.
Let cool until cool enough to handle and then wrap the cauliflower in cheese cloth.
Squeeze out as much water as you can. You want this to be as dry as possible so it resembles a crumbly dough afterwards. Working in smaller batches to squeeze it out may be easier for some.
Place the cauliflower in a bowl and mix in the rest of the bread ingredients.
Preheat oven to 450 degrees and line a baking sheet with parchment paper or lightly brush a baking sheet with olive oil.
Divide dough into 4 equal pieces and form them into squares with your hands on the prepared baking sheet.
Bake 15-17 minutes until browned.
Remove from oven and let cool 10 minutes before removing from the pan.
Gently life each toast from the pan and top with desired toppings. Serve immediately.
Notes: Bread will get soggy if you use wet toppings and let it sit. If you are not planning to eat it right away, store in an airtight container and apply topping right before eating.
Download the full keto recipe book.