The ketogenic diet is on a roll and there's really no question why it's gained so much momentum. Dubbed the keto diet for short, this low carb, high fat diet supplies the body with a plethora of healthy fats which are used as energy for our body instead of carbohydrates. This way of eating provides a nutritionally dense vegetable and protein base with high fat energy for us to perform our best while maintaining a slim physique. A keto meal in its most simple form combines a protein, paired with a green vegetable (or other low carb veg), and fats. This series of ketonic diet will provide a more inspired approach to these combinations that you can mix and match for a unique ketogenic eating experience.
Russian in its roots, stroganoff is an easily adaptable dish for the keto diet. The traditional beef and mushrooms are sautéed in Worcestershire and mustard for a deep umami taste. Using shitake mushrooms will intensify the woodsy flavor when combined with dill and paprika. Stir in silky sour cream to create a savory gravy that coats the tidbits of meat and provides a creamy dose of energy in the form of fats.
In place of the more traditional egg noodles, this savory sauce is served over shaved zucchini. Shaved zucchini requires no special tools, though if you prefer them spiralized, that works too. To create the long ribbons of zucchini noodles, simply use a vegetable peeler to peel off the skin and then continue peeling long strips. Zucchini ribbons are the perfect stand-in for egg noodles as they are similar in texture with a mild flavor that won't overpower the beef and mushroom mixture.
Beef Stroganoff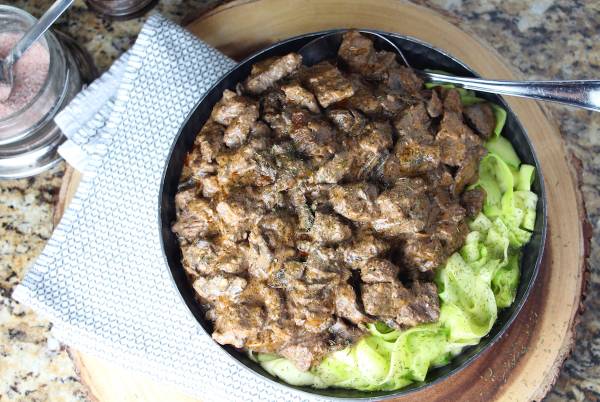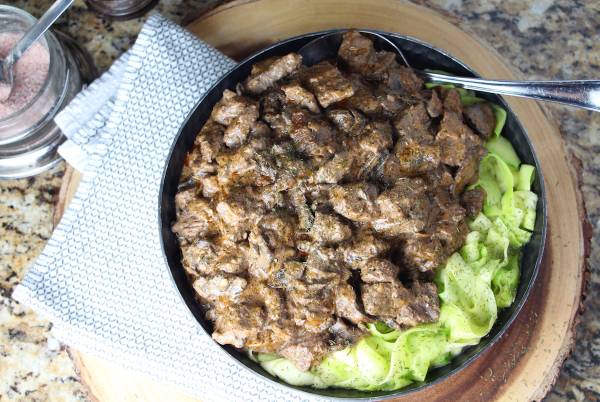 Calories 514, Protein 29g, Total Carbs 10g, Net Carbs 8g, Fat 41g
Prep time: 20 min
Cook time: 45 min
Serves: 4
Ingredients:
1 pounds beef, bison or venison steaks or roast, trimmed and cubed
2 tablespoons Worcestershire sauce or liquid aminos
2 tablespoons Dijon mustard
1/4-1/2 teaspoon ground black pepper
6 tablespoons butter or olive oil (divided)
1 shallot, diced
4 cloves garlic, chopped
1 pound cremini or shitake mushrooms, sliced or diced
2 cups beef stock
1 tablespoon dried dill weed
1 tablespoon Hungarian paprika (smoked paprika is also great!)
3/4 cup sour cream
6 zucchini, peeled and then shaved into long strips (discard the center core of seeds)
Sprinkle of salt
Preparation Instructions:
In a mixing bowl, coat the beef cubes with Worcestershire, Dijon, and pepper. Set aside.
In a large sauté pan or cast iron pan, melt 4 tablespoons of the butter or olive oil and add shallot and garlic.
Stir-fry a few minutes on medium high heat until shallot begins to soften.
Add mushrooms to the pan with the shallot and garlic.
Cook until mushrooms have wilted somewhat, about 5 minutes.
Add the seasoned beef to the pan and cook until meat is nearly cooked through.
Add the beef stock, dill weed and paprika to the pan and cook 15-20 minutes until the sauce is thick and clings like a gravy to the meat. Stir in the sour cream and keep warm while you cook the zucchini.
While the beef is cooking, peel the zucchini (discard the peel) and then using the same vegetable peeler, peel each zucchini into strips (avoid the seeds – discard the center core of seeds) and place onto a tea towel or a few paper towels. Sprinkle with a generous amount of salt and let sit 5 minutes (or longer until your beef is ready, then proceed with cooking the zucchini).
When ready to prepare the zucchini, squeeze the zucchini to remove as much water as possible.
In a separate frying pan, heat 2-3 tablespoons of olive oil and add zucchini strips. Cook zucchini just until it is warmed through and lightly wilted.
Using a tongs, plate the zucchini and top with the beef stroganoff.
Download the full keto recipe book.