The ketogenic diet is on a roll and there's really no question why it has gained so much momentum both inside the athletic world and out. Dubbed the keto diet for short, this low carb, high fat diet supplies the body with a plethora of healthy fats which are used as energy for our body instead of carbohydrates. This way of eating provides a nutritionally dense vegetable and protein base with high fat energy for us to perform our best while maintaining a slim physique. A keto meal in its most simple form combines a protein, paired with a green vegetable (or other low carb veg) and fats. This series of ketonic diet will provide a more inspired approach to these combinations that you can mix and match for a unique ketogenic eating experience.
Bison is a fantastic protein that I use quite often. The flavor is a lot like beef so it can be used in place in beef in any recipe. I also love using bison because it is almost always pastured or free range with limited confinement so it is grass fed most or all of its happy life. Occasionally you will find bison meat that is grain finished so check the packaging to be sure it's 100 percent grass-fed or better yet, buy direct from the farmer and you'll know exactly what you're getting.
An Indian style bison kofta in yogurt sauce is a wonderful complement to the slightly sweet bison meat. The fragrant spices of ginger, garlic, and coriander provide a light heat when paired with a couple of spicy peppers. A cool yogurt sauce provides additional protein and fats for a well-rounded tasting experience. These tasty meatballs are delicious served up with a side of homemade eggplant hummus and your choice of vegetable dippers.
Bison Kofta Meatballs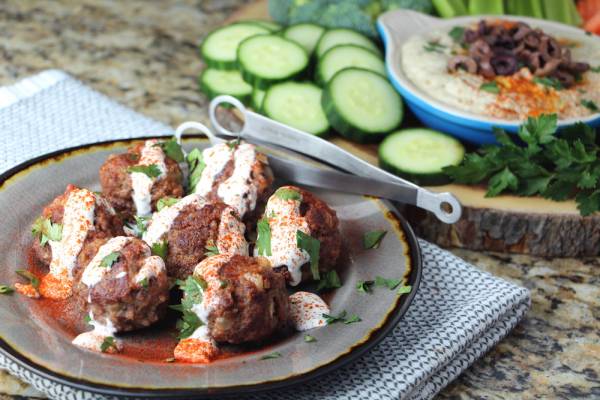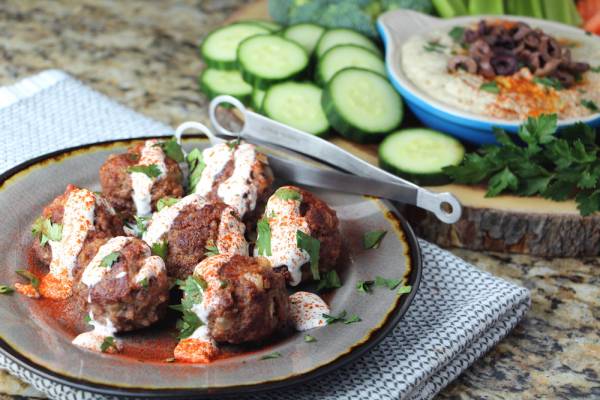 Calories 591, Protein 36g, Total Carbs 8g, Net Carbs 5g, Fat 57g
Prep time: 15 min
Cook time: 20-30 min
Serves: 4
Ingredients:
2 pounds ground grass-fed bison (or ground beef)
½ cup almond meal (almond flour)
2 jalepeño or serrano peppers, minced
2 cloves garlic, minced
½ onion, finely chopped
1-2 tablespoons minced ginger
1 tablespoon ground coriander
1 egg, lightly beaten
1 teaspoon pink Himalayan salt
Coconut oil for frying
Yogurt Sauce:
1 cup plain, unsweetened Greek yogurt
2-3 tablespoons whole milk or heavy cream to thin out the yogurt
¼ teaspoon pink Himalayan salt
¼ cup fresh chopped cilantro either mixed into the sauce or used as a garnish
Preparation Instructions:
In a bowl, mix all kofta ingredients (except the oil) until fully combined.
Form into small balls about 1.5" in diameter.
Heat a few tablespoons of coconut oil in a sauté pan on medium high heat until very hot.
Place half of the meatballs at a time into the pan and cook turning often until meatballs are browned on the outside and cooked through. Repeat with the other half.
While meatballs are cooking, stir together the yogurt sauce and set aside.
Serve meatballs hot with yogurt sauce.
This recipe can easily be halved for less servings or a smaller meal. These meatballs also freeze easily. Make into meatballs, place on a parchment lined baking sheet, and freeze. Once frozen, remove from baking sheet and place in a freezer proof container. Let thaw in a single layer before cooking for best results. You can also freeze these after cooking for an easy heat and eat meal.
Download the full keto recipe book.