The ketogenic diet is on a roll and there's really no question why it has gained so much momentum both inside the athletic world and out. Dubbed the keto diet for short, this low carb, high fat diet supplies the body with a plethora of healthy fats which are used as energy for our body instead of carbohydrates. This way of eating provides a nutritionally dense vegetable and protein base with high fat energy for us to perform our best while maintaining a slim physique. A keto meal in its most simple form combines a protein, paired with a green vegetable (or other low carb veg) and fats. This series of ketonic diet will provide a more inspired approach to these combinations that you can mix and match for a unique ketogenic eating experience.
Rich with omega 3s, salmon's healthy status among meats reigns supreme. Choose your salmon fresh caught that day from local fish monger if you have that option available. If you can't get it fresh, buy it frozen. Frozen wild caught salmon is superior to any farmed salmon as farmed salmon tends to carry a higher toxin load. Wild caught sockeye or Chinook king salmon are the highest in fats but any wild caught salmon will work well.
Cajun seasoning is an excellent pairing with the rich flavor of salmon steaks. A simple marinade in olive oil and lime brings a touch of acidity and helps the Cajun spices penetrate the meat. Rounding out this dish is a topping of cactus avocado salsa. Cactus is also known as nopales or nopalitos. The cactus paddles come from the prickly pear cactus. Grilled until it's soft, nopales has a slight vegetal flavor somewhat like a green bean. Nopalitos are a pickled or prepared version of the cactus and using these brings a unique tang to the salsa.
Cajun Salmon with Cactus Avocado Salsa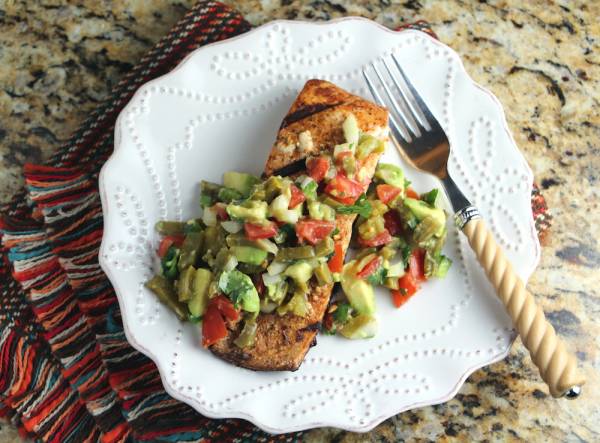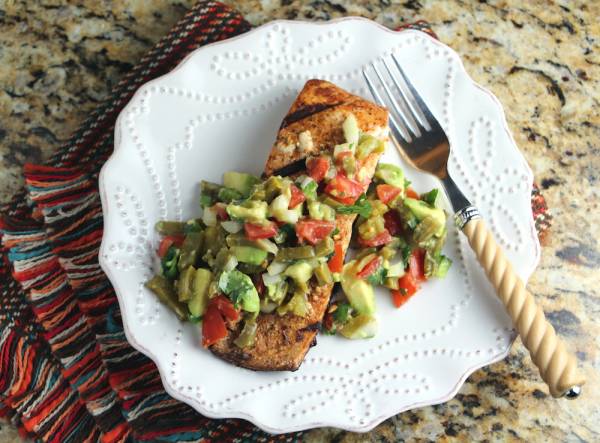 Calories 390, Protein 25g, Total Carbs 14g, Net Carbs 8g, Fat 29g
Prep time: 20 min
Cook time: 15 min
Serves: 2
Ingredients:
2 salmon steaks, skin on
Cajun seasoning blend
Pink himalayan or smoked salt to taste (omit if Cajun seasoning contains salt)
2 tablespoon olive oil
2 tablespoons lime juice
Cactus Avocado Salsa:
1 avocado, peeled pitted and diced
1 tomato, seeded and diced
1 jalapeño or serrano pepper, seeded and finely diced
½ cup nopales (cactus), diced (you can use either fresh grilled until soft about 5 minutes or use the pickled nopalitos in a jar, rinsed)
1 tablespoon onion, finely diced
2 tablespoons lime juice
Salt and pepper to taste
Preparation Instructions:
Sprinkle salmon with a generous amount of Cajun seasoning.
Place salmon in a baking dish and drizzle with the olive and lime juice. Let marinate 30 minutes.
While salmon is marinating, make the cactus avocado salsa by stirring together all the salsa ingredients and set aside.
When ready to cook, heat a grill to medium high heat or use a grill pan on the stovetop.
Oil the grill or grill pan and sear the meat side of the salmon about 4 minutes.
Flip over so the skin side is down and continue cooking about 10 minutes until it flakes easily. Exact cooking time with depend on thickness of the salmon.
Remove from grill and serve with cactus avocado salsa on top.
Download the full keto recipe book.