The ketogenic diet is on a roll and there's really no question why it's gained so much momentum. Dubbed the keto diet for short, this low carb, high fat diet supplies the body with a plethora of healthy fats which are used as energy for our body instead of carbohydrates. This way of eating provides a nutritionally dense vegetable and protein base with high fat energy for us to perform our best while maintaining a slim physique. A keto meal in its most simple form combines a protein, paired with a green vegetable (or other low carb veg) and fats. This series of ketonic diet will provide a more inspired approach to these combinations that you can mix and match for a unique ketogenic eating experience.
Most Mexican tapas, tacos, and fajitas are all served with tortillas. I had originally planned to create a keto friendly tortilla but that seemed messy and more complicated than it needed to be. In this case, simple is better. Inspired by cheese crisps which are keto appropriate "crackers" made from baked cheese, the same method can be used to bake and form cheese into a taco shell as well. This results in a hand-holdable tasty tortilla of cheese that can easily stand up to sturdy fillings.
Cheese crisp taco shells are the perfect vehicle to hold all the delicious Mexican flavors of carnitas, tacos, or fajitas without any fuss. Cheese crisps typically use a sharp cheese like cheddar or parmesan for a strong savory taste but in this case, using a mildly flavored cheese as Monterey jack, cojack, pepperjack, or queso quesadilla is important so the shell flavor does not overpower your filling.
Filling these cheese crisp taco shells with traditionally spiced carnitas is made easier by using a slowcooker. Carnitas made this way is a simple set-and-forget preparation allowing you to cook while you go about your workday and return home to the aromas that will transport you to a village on the Mexican Riviera. Serve these carnitas in cheese crisp taco shells for a supremely easy Cinco de Mayo celebration.
Carnitas with Cheese Crisp Taco Shells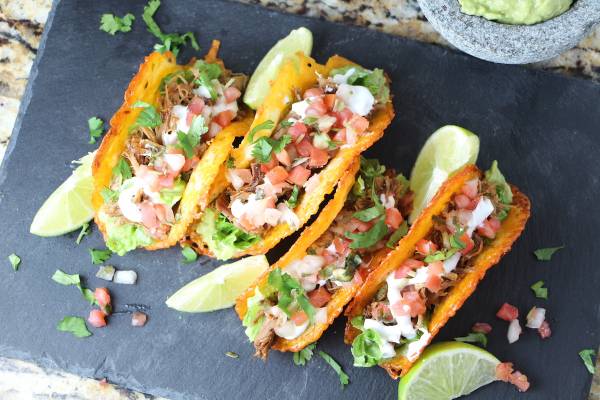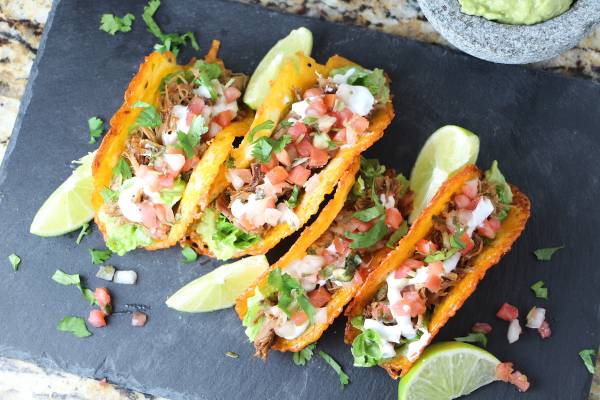 Calories 622, Protein 41g, Total Carbs 9g, Net Carbs 6g, Fat 47g
Prep time: 20 min
Cook time: 6-8 hours via slow cooker plus 8 min for taco shells
Serves: 4 (2 tacos each, with leftover carnitas for another meal)
Carnitas Ingredients:
1 pork roast (about 2 pounds boneless or about 3-4 pounds with bone)
1 tablespoon garlic powder
2 teaspoons pink Himalayan salt
2 teaspoons onion powder
2 teaspoons chili powder
2 teaspoons juniper berries
2 bay leaves
1 teaspoon oregano (Mexican preferred)
1 teaspoon black pepper
Cheese Crisp Taco Shells:
⅓ cup shredded cheese for each shell (Monterey jack, mild cheddar, pepper jack, queso quesadilla)
Stack in each taco shell:
Guacamole (1 tablespoon per taco)
Shredded romaine lettuce
Carnitas meat (about ¼ cup per taco)
Sour cream (small dollop per taco)
Chopped tomatoes or prepared pico de gallo/fresh salsa, use as a garnish
Chopped cilantro leaves, as garnish
Preparation Instructions:
Mix all carnitas seasonings together and rub onto the pork roast. You will most likely have some extra rub, keep it for seasoning as needed after cooking.
Place roast in slow cooker and let cook about 8 hours on low until it is fork tender and shreddable.
Remove roast from slow cooker and shred with fork or loosely chop. If roast needs more moisture after shredding, add a little bit of the liquid left in the slow cooker. Season with leftover spice rub to taste.
Prepare the taco shells by preheating the oven to 350 degrees.
On a parchment lined baking sheet, arrange shredded cheese in a circle with even thickness (not mounded in the middle) and place additional cheese circles 2 inches apart.
Bake about 7-8 minutes (check at 5 minutes) until edges are browned and middle is also looking crispy.
Remove from oven and let cool 3 minutes.
Scrape each cheese crisp off the pan and drape over a wooden dowel or wooden spoon handle suspended over a bowl or other pan. Let finish cooling and then fill with the prepared carnitas and taco toppings.
Note: You will have extra carnitas meat leftover. This can be frozen or refrigerated for future meals.
Download the full keto recipe book.