The ketogenic diet is on a roll and there's really no question why it's gained so much momentum both in and out of the athletic world. Dubbed the keto diet for short, this low carb, high fat diet supplies the body with a plethora of healthy fats which are used as energy for the body instead of carbohydrates. This way of eating provides a nutritionally dense vegetable and protein base with high fat energy for us to perform our best while maintaining a slim physique. A keto meal in its most simple form combines a protein, paired with a green vegetable (or other low carb veg), and fats. This series of ketonic diet will provide a more inspired approach to these combinations that you can mix and match for a unique ketogenic eating experience.
When searching for low-carb meals inspiration, I often look toward Middle Eastern or Asian cuisine as these often offer lower carb options with minor changes. These cuisines tend to use higher fat meals paired with vegetables and occasionally dairy while using minimal grain carbs making them perfect candidates for a keto recipe renovation. Chicken Makhani is an elegant Indian dish also known as butter chicken. I've created a shortcut version of makhani by using tomato sauce instead of fresh tomatoes. This significantly reduces the time it takes to make the dish so you can focus on tomorrow's food prep or getting your kids off to their evening activities.
The fat content in this dish is increased by using chicken thighs rather than breast meat. Whole milk Greek yogurt delivers a tasty tanginess that combines so well with the tomato and cream based butter sauce. The carb content has been reduced by decreasing the amount of tomato used and by pairing this with a side of spiced okra rather than serving with naan or rice.
Okra is a vegetable that is often intentionally overcooked to utilize its unique gelling properties. In this instance, I kept it tender crisp which allows for a delicious texture differentiation between the creamy chicken and the lightly crunchy vegetable. They both contain similar ingredients so they pair seamlessly for one cohesive meal.
Chicken Makhani and Spiced Okra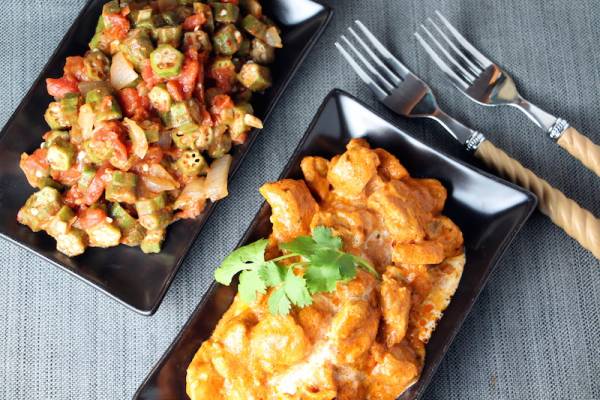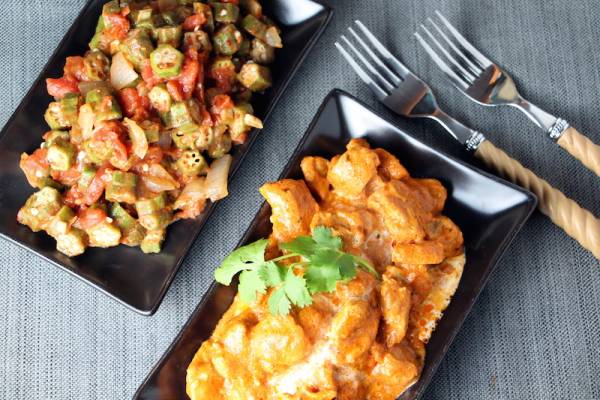 Calories 504, Protein 28g, Total Carbs 17g, Net Carbs 12g, Fat 38g
Prep time: 10 min, Cook time: 25-30 minutes
Serves: 4
Marinade Ingredients:
1 pound chicken thighs, cut into bite size pieces
½ cup plain unsweetened Greek whole milk yogurt
1 tablespoons lime juice
2 tablespoons cilantro leaves, finely chopped
2 garlic cloves, minced
1 teaspoon ground cumin
1 teaspoon dried red chili flakes
½ teaspoon garam masala
¼ teaspoon pink Himalayan salt
Sauce Ingredients:
¾ cup tomato sauce
2 tablespoons butter
¼ cup heavy cream
Spiced Okra Ingredients:
1 pound okra, sliced
2 tablespoons olive oil
½ medium onion, diced
1 clove garlic, minced
¾ cup diced tomatoes, fresh or canned
1 teaspoon ground coriander
½ teaspoon garam masala
Preparation Instructions:
Combine all marinade ingredients with the chicken and let marinate in the fridge one hour or up to overnight.
When ready to cook, remove chicken from marinade (keep the marinade) and place in a large pan heated with 2 tablespoons olive oil.
Cook chicken about 10 minutes and then add the reserved marinade and cook until chicken is cooked through, about 10-15 minutes.
While chicken is cooking, prepare the okra.
Sauté the onion and garlic in olive oil until onion begins to soften, about 5 minutes. Add all remaining ingredients and cook 12-15 minutes.
Let the okra cook while you finish the chicken.
Add the sauce ingredients to the chicken and continue cooking 5 minutes.
Serve hot with the okra on the side.
Download the full keto recipe book.