The ketogenic diet is on a roll and there's really no question why it has gained so much momentum both inside the athletic world and out. Dubbed the keto diet for short, this low carb, high fat diet supplies the body with a plethora of healthy fats which are used as energy for our body instead of carbohydrates. This way of eating provides a nutritionally dense vegetable and protein base with high fat energy for us to perform our best while maintaining a slim physique. A keto meal in its most simple form combines a protein, paired with a green vegetable (or other low carb veg) and fats. This series of ketonic diet will provide a more inspired approach to these combinations that you can mix and match for a unique ketogenic eating experience.
Hungarian goulash is quite different from the American style. American style goulash has some of the same flavors but has been bastardized with the addition of noodles, uses ground beef, and typically contains far less vegetables in the mix (usually just tomato and a little green pepper). The original Hungarian dish has many variations depending on the cook, or from whose grandmother you get the recipe from. The commonalities in this stew almost always include chunks of beef, onion, paprika, tomato, potato, green peppers, and caraway as a unique regional seasoning.
To make this a keto appropriate meal, I've lessened the amounts of some of the higher carb vegetables and swapped out the starchy potato for a more fiber rich turnip. The slight licorice flavor of turnips also happens to pair incredibly well with the traditional caraway and paprika flavors. This is a delicious and filling meal on its own but can also be served over spiralized zucchini, spaghetti squash, or with wilted greens of any kind.
Hungarian Goulash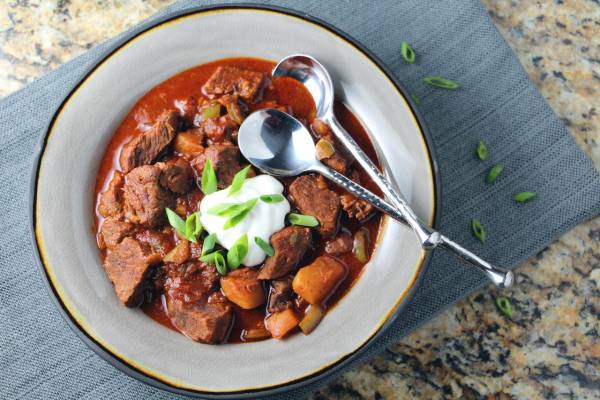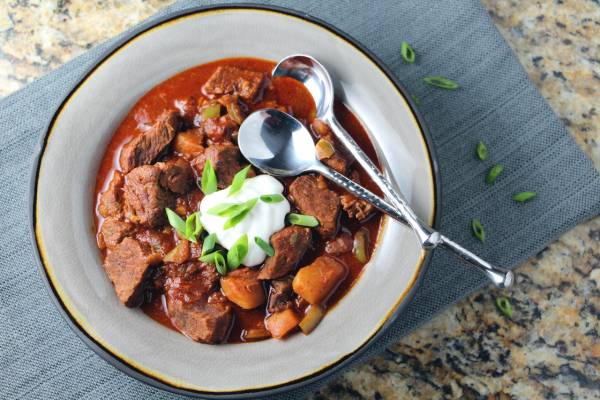 Calories 493, Protein 45g, Total Carbs 12g, Net Carbs 8g, Fat 30g
Prep time: 20 min
Cook time: 20-30 min
Serves: 4
Ingredients:
2 pounds sirloin steak (or similar steak), cubed and seasoned with salt and pepper
2 tablespoon olive oil
½ onion, diced
2 cloves garlic, chopped
1-2 turnips depending on size, peeled and diced (about 1 cup diced)
2 tablespoon paprika
1 tablespoon tomato paste
½ teaspoon caraway seeds
1 bay leaf
1 tablespoon apple cider vinegar
4 cups beef broth
1 green bell pepper, chopped
Salt and pepper to taste
Sour cream and chopped chives for garnish
Preparation Instructions:
In a Dutch oven, sauté onion and garlic with olive oil until onion begins to soften.
Add steak and cook until browned all over.
Add all other ingredients except the bell pepper and simmer over low heat 90 minutes.
Uncover and add the bell pepper.
Let simmer an additional 30 minutes partly covered until sauce is slightly thickened and beef is very tender.
Season with additional salt and pepper to taste and ladle into bowls for serving.
Top with a dollop of sour cream and chives.
Download the full keto recipe book.