The ketogenic diet is on a roll and there's really no question why it's gained so much momentum. Dubbed the keto diet for short, this low carb, high fat diet supplies the body with a plethora of healthy fats which are used as energy for our body instead of carbohydrates. This way of eating provides a nutritionally dense vegetable and protein base with high fat energy for us to perform our best while maintaining a slim physique. A keto meal in its most simple form combines a protein, paired with a green vegetable (or other low carb veg), and fats. This series of ketonic diet will provide a more inspired approach to these combinations that you can mix and match for a unique ketogenic eating experience.
Inspired by the pizza recipe in 20 ways to Prepare Poultry Series that was recently published, I've used the same concept for replacing carbs with protein in this dish. Typically, the protein is placed inside the enchilada but in this case, I used ground poultry as the outer "tortilla" to create a keto friendly, inside-out enchilada style dish.
Suiza is simply a Spanish term for Swiss, like Swiss cheese or Swiss style. In this case, it refers to smothering enchiladas in a smooth dreamy sauce made from melted cheeses and cream. I've added avocado to the sauce to increase the fat content. The addition of avocados also make this super creamy while increasing the nutritional profile of the dish. Rounding out the flavor in the sauce is a touch of tomatillo salsa. Choose a salsa that has no sugar added and no preservatives for an extra wonderful low carb meal.
Inside-Out Chicken Suiza Enchiladas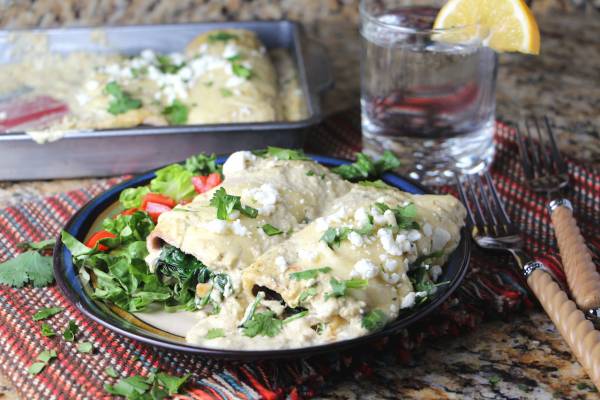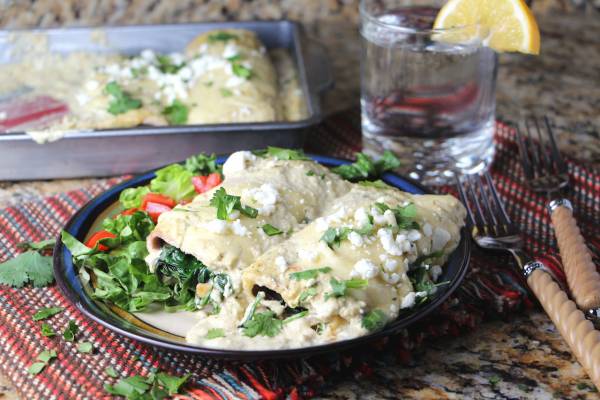 Calories 524, Protein 26g, Total Carbs 9g, Net Carbs 4g, Fat 41g
Prep time: 15 min
Cook time: 25-35 min
Serves: 4 (1 enchilada each)
Ingredients:
1 pound ground chicken or turkey
1 cup tomatillo salsa (salsa verde), homemade or all natural, no sugar added
1 avocados, mashed (or about ½ cup prepared guacamole)
¼ cup sour cream
½ cup whipping cream
3 tablespoons olive oil
½ onion, diced
1 clove garlic, minced
4 cups baby spinach
Pinch of salt to taste
1 cups queso Chihuahua or Monterey jack, shredded
Additional queso Chihuahua, Monterey jack, or queso fresco for topping as desired
Preparation Instructions:
Preheat oven to 350 degrees.
Place the ground chicken between two sheets of parchment paper or wax paper and smooth out using your hands until it's about ¼" thick. You can make this circular or rectangular, whichever you prefer.
Place the chicken (still between the parchment paper) onto a rimmed baking sheet and bake 10-15 minutes until cooked through.
Remove chicken from oven and let cool until cool enough to handle.
While chicken is cooling, combine the salsa, avocado, sour cream, and whipping cream in a blender until smooth. If sauce seems too thick, add whole milk to thin out a little if desired. This will vary depending on how thick your tomatillo salsa is.
Heat the olive oil in a sauté pan until hot.
Add the onion and garlic to the sauté pan and cook until slightly softened. Add the spinach and salt and cook until wilted.
Cut the cooked chicken with a pizza cutter into four equal sections.
Place an equal amount of onion spinach mixture into the middle of each chicken "tortilla" along with a sprinkle of cheese.
Roll each chicken tortilla up and place seam side down in a baking dish.
Top the enchiladas with the avocado cream sauce and sprinkle with additional cheese if desired.
Bake 15-20 minutes until the cheese on top is melted and serve hot.
Download the full keto recipe book.