The ketogenic diet is on a roll and there's really no question why it's gained so much momentum. Dubbed the keto diet for short, this low carb, high fat diet supplies the body with a plethora of healthy fats which are used as energy for our body instead of carbohydrates. This way of eating provides a nutritionally dense vegetable and protein base with high fat energy for us to perform our best while maintaining a slim physique. A keto meal in its most simple form combines a protein, paired with a green vegetable (or other low carb veg), and fats. This series of ketonic diet will provide a more inspired approach to these combinations that you can mix and match for a unique ketogenic eating experience.
Kohlrabi is the alien vegetable of the cruciferous veggie world. Don't let that scare you though. It has a strange look but has a very mild taste with many uses. Kohlrabi is a bulb vegetable that grows above ground and can easily be used as a noodle substitute as well as diced into stews, stir fry, or other meals for variety. Using spiralized or sliced squash of various kinds in place of noodles is fairly well known as a low carb substitute and kohlrabi can also be spiralized or sliced with a mandolin to create faux noodles as well. In this instance, I've used thin sliced kohlrabi to create a layered bake that is a bit like a creamy lasagna.
Uniquely flavored kohlrabi has a light licorice scent to it. Its mild essence is a perfect flavor complement to Italian style dishes. Thinly sliced and used as the noodle layer in a creamy style bake is a perfect low carb use for this unconventional vegetable. The outer skin is quite fibrous so you'll want to peel it well, slice off the ends and its leaf stems, and then thinly slice it to about an eighth inch thick for the best results. Once baked, this crazy looking vegetable has the consistency of a perfect lasagna noodle with just the right texture and bite.
Italian Sausage Kohlrabi Layer Bake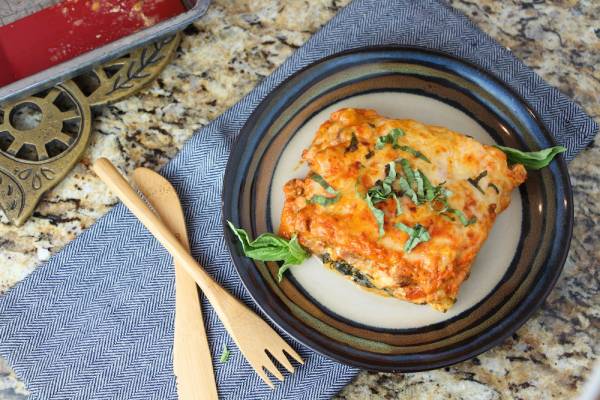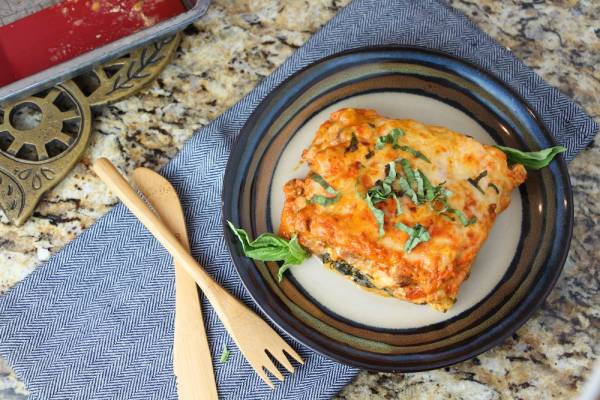 Calories 600, Protein 31g, Total Carbs 12g, Net Carbs 8g, Fat 47g
Prep time: 20 min
Cook time: 60 min plus 20 min resting time
Serves: 8
Ingredients:
4-5 kohlrabi bulbs, peeled and thinly sliced (⅛" thick works best)
1 pound all natural hot Italian sausage, no sugar added, browned and excess grease drained off
5 oz container of baby spinach, roughly chopped (about 4 cups)
2 cups marinara or arrabiata sauce, homemade or a jar of prepared, no sugar added (I used Rao's)
1 cup heavy cream
1 ½ cups whole milk ricotta
1 ½ cups shredded mozzarella cheese, divided
1 egg
12 slices provolone cheese
¼ cup sliced olives
Preparation Instructions:
Preheat oven to 400 degrees.
Lightly grease a 9×9 pan with olive oil.
In a bowl, mix together the marinara and heavy cream. Set aside.
In a separate bowl, mix together the ricotta, 1 cup of mozzarella, and the egg. Set aside.
In a large sauté pan, add a few tablespoons of olive oil and toss in the spinach. Cook until wilted and dark green.
On the bottom of the 9×9 pan, puzzle together a layer of kohlrabi slices in a single layer. It helps to cut some slices in half for more full coverage. See notes below for layering instruction.
Once layered in the pan, cover with foil and bake 50-60 minutes until kohlrabi is tender.
Remove from oven and let rest 15-20 minutes before serving.
Proceed with layering as follows:
4 slices of provolone
All of the wilted spinach
½ of the browned sausage
½ of the ricotta mixture
1 cup marinara cream sauce
Another layer of kohlrabi
4 provolone slices
All of the olives
The last half of the sausage
The last half of the ricotta mixture
1 cup marinara cream sauce
Another layer of kohlrabi
4 provolone slices
The last of the marinara cream sauce
Top with ½ cup shredded mozzarella
Notes: Make this recipe in half if desired and use a loaf pan instead.
Download the full keto recipe book.