As a new coach, I am well aware that my CrossFit Level 1 certification can only take me so far as a coach. It's like reading the Cliffs Notes version of Shakespeare's Hamlet – you'll remember the part about "To be or not to be," but you'll probably miss the underlying commentary on betrayal, lust, violence, and mental health.
As a new coach, I am well aware that my CrossFit Level 1 certification can only take me so far as a coach. It's like reading the Cliffs Notes version of Shakespeare's Hamlet – you'll remember the part about "To be or not to be," but you'll probably miss the underlying commentary on betrayal, lust, violence, and mental health.
My personal mission is to be the best coach I can be, and I know that seeking opportunities for continuing education plays a crucial role in that process. But for most of us in this industry, our passion is often bigger than our paycheck and with so many enticing seminars, how do you choose where to invest your time and money?
Fueled by my constant quest for knowledge, I recently attended the Outlaw Olympic Lifting Specialty Camp led by Spencer Arnold, winner of the 2012 USAW American Open in the 69kg weight class.
The camp consisted of nearly thirty CrossFitters learning every detail of the Olympic lifts from top to bottom. There were no bells and whistles, schwag, or certification, just raw knowledge disseminated by elite athletes and three days of heavy lifting to figure it out.
I have loosely followed programming on The Outlaw Way on-and-off for the past year, mostly because I was curious what all the fuss was about and truthfully, Rudy Nielsen's blog posts make me laugh.
When I heard they were hosting a camp just three hours from my home, I immediately wanted to attend, but I was discouraged by two things – my ability as a novice lifter and the cost.
(Note: the camp I attended is different from The Outlaw Para Bellum Training Camp Series, which is a more comprehensive CrossFit skills camp geared toward competitive athletes.)
Certifications, especially ones for CrossFit, are notoriously expensive, but at the end of the weekend at least you can write "CrossFit Mobility Instructor" or "CrossFit Kettlebell Instructor" next to your coach profile, although simply attending these classes by no means makes you an expert.
Plus, almost more important than the actual course are the bragging rights that come with the experience. You know, "When I was at my mobility cert, K-Star told me that I have a mature squat," or "I learned that from Coach B. at the Oly cert."
When most of us aren't privileged with an unlimited supply of disposable income, is spending $500 (plus travel, food, and accommodations) to attend a camp where you won't even come away with a certification or fancy t-shirt worth it?
For this camp? Yes. Here's why.
Heavy Lifting
From the reviews online, I knew that we'd get to practice with weight, but I didn't know how much time we'd actually spend with a barbell in our hands. By the end of the weekend my hands had fresh calluses and my thumbs were wrapped in tape.
The Friday evening lifting session was a chance for the "bros" to ruffle their feathers and, more importantly, a chance for the coaches to get a taste for everyone's technique. I teamed up with a pair of girls who were definitely stronger, but to my delight, not by leaps and bounds. Camp staff roamed the floor offering simple cues and feedback, but mostly they let us attack heavy weight.
On Saturday we spent more than eight hours breaking down the snatch into bits and pieces, which we practiced with PVC pipes before transitioning to position drills with the barbell.
After lunch we worked from blocks and eventually from the floor. Sunday was more of the same, this time with the jerk and then the clean. Lifting sessions were interspersed with lectures and video analysis.
Clientele and Attention from Coaches
I expected to see Elizabeth Akenwale-esque women flawlessly snatching my bodyweight. I expected the coaches to take one swift look at my lifting, tell me to work on my ankle mobility and to spend more time squatting heavy before moving on to the dudes slinging big weight. I couldn't have been more wrong.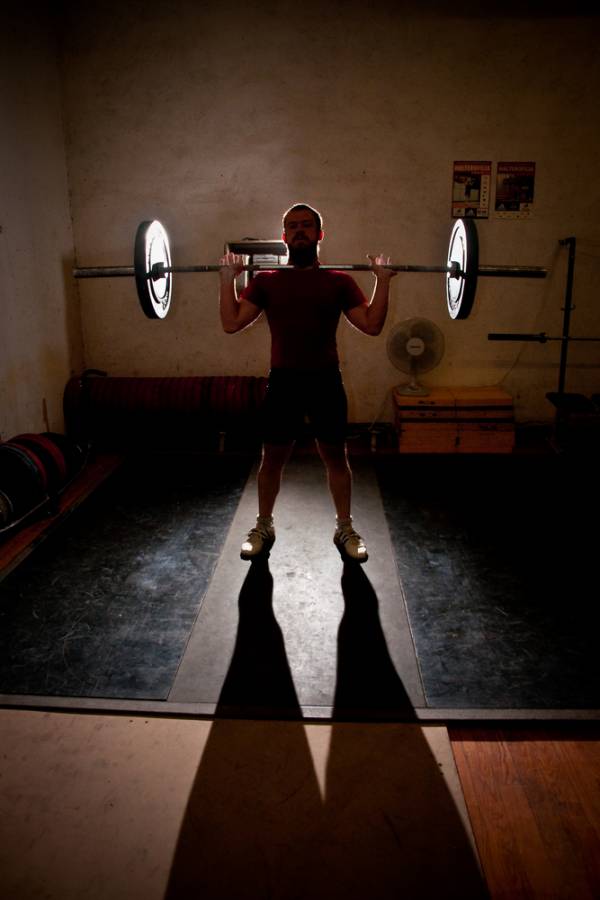 Since the goal of the weekend is to improve technique, the camp is appropriate for clients of all abilities and the coaches gave equal attention across the board.
I was impressed at the amount of targeted and repeated feedback I received throughout the weekend. Coaches took before-and-after videos of many of the lifters and they appeared genuinely excited when someone hit the power position for the first time and the weight flew up.
The coaches made me want to work hard because they sincerely cared about my progress.
Geeking Out
At the particular moment when our progress during a lifting session was beginning to slow, we'd break out for a quick lecture on topics like foot weight transfer or how to fix the early arm bend.
The lectures were technical but approachable and long enough to thoroughly address the topic without losing our interest.
We geeked out on mobility restrictions, strength-to-weight ratios, set-up positions for different body types, optimal foot track for starting and landing positions, rates of bar velocity, among other topics.
On Sunday morning we analyzed videos of some of the best lifters of all time. We learned to look for faults and how every action in a lift causes some sort of reaction. I easily took ten pages of notes.
Personal Records
For months before attending the camp I was catching my personal record (PR) clean in the rock bottom, but I was failing to get of the hole.
After three days of concentrated position work and instruction, I PRd my clean by ten pounds (sticking the jerk is right around the corner).
I moved the weight multiple times and I guarantee that I did not get any stronger over the weekend. In fact after three days of lifting, I was pretty wrecked.
Final Takeaways
I left with a completely new understanding of the lifts and an arsenal of drills and technique work for my coaching repertoire. Without a doubt, this camp is highly recommended and was a valuable investment in my coaching career.
Final thoughts: Bring a notebook. Ask questions. Get someone to film your lifts. Suck it up and don't complain when your hamstrings are screaming while you hold a PVC pipe in the hang position for two minutes. Be social. Go out to the group dinner on Saturday night even if you'd rather go to bed because when else are you going to have the chance to drink a beer with one of the top lifters in the country?
Photos courtesy of Shutterstock.