Photos provided by Miguel Tapia Images, CrossFit LA, and Danette "Dizzle" Rivera.
At the completion of the CrossFit Open qualifiers, my core CrossFit Los Angeles team came in twenty-seventh place out of the thirty places able to advance in Southern California. We were going to the SoCal Regionals. Our hodgepodge team – a mix that kills Los Angeles stereotypes with down-to-earth regularness – was going to be on stage with some of the greatest CrossFit athletes in the world, let alone the region.
I am part of this team, not as a competing athlete, but on the peripheral. I took their inclusiveness to heart and not just because they inspire me to be a better athlete but because I knew I could offer them something they needed even if that was as simple as showing up, believing, and crying over their triumphs and misses. I could be a base. I knew I was good at that.
There was no question I would be at Regionals this weekend. And I wouldn't be there to see the likes of Kristen Clever and Lindsey Valenzuela smash CF records, as incredible as those were. Seeing the world's greatest was merely a perk, but they always came second to the support I needed to lend to my team. I have always felt so supported by my core group, not just during the Open workouts, but every time I step foot in my gym, and it was my turn to cheer them on. Top athletes and winning teams will always attract supporters. It is our nature to be drawn to greatness. But when top athletes support the regular Joes, like me, it's certainly not an instinct or required or expected. But it did etch a deep, personal loyalty. It was time for me to reciprocate this to them tenfold. On the regional stage, my team would be the regular Joes. They were me at a higher level.
There are not a lot of things I love more than an underdog. Team CFLA epitomizes that. At last year's Regionals we pulled off a miracle, an amazing upset where we catapulted ourselves from twenty-ninth place to third to qualify for The Games. It was outrageous. And though we had that in the back of our minds this year – that anything is possible – the main focus was to do our absolute best and let the chips fall where they may. We couldn't control another team's own triumphs and misses. We could only give our all.
In that way, we encapsulated ourselves from the hype of the competition. Something sort of magical happened during Regionals that was very apparent to me witnessing our core compete. The bond of the team insulated us. It seemed impenetrable by anything outside of ourselves, which allowed us to do exactly what we were able to do at that given moment.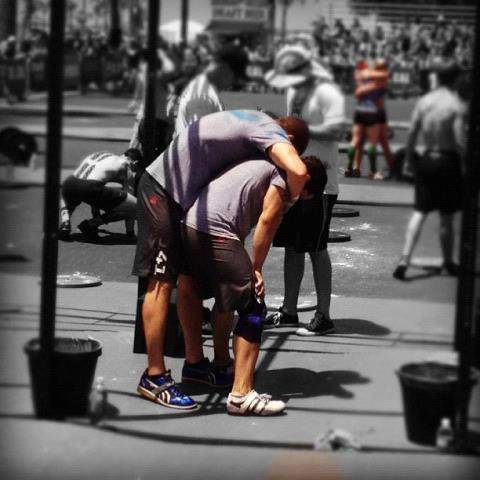 We protected ourselves from letting a dominating performance from another team make us feel any less deserving about what we did, because what we did was phenomenal.
There would be no upset this year – we placed fourteenth out of thirty – but there were personal records set, mental hurdles jumped, and at the end of the day, we were there for each other through real-life crisis and achievements. We celebrated every aspect of each other whether it was CrossFit related or not.
After the competition was over, we all huddled under the shade of our team tent. A calm had washed over us. The pressure was gone. We were each quietly rolling over fourteenth place in our minds, processing and coming to terms with it. Then we looked around at not the team we had created, but the family. The connection threading us was palpable and charged. Coaches and athletes spoke and we were left teary-eyed and grateful. During the chaotic months of frantic training, we had not only created stronger athletes, but an unbreakable bond. Fourteenth place meant nothing in comparison.
On the eve of Regionals, the owner of our gym, Andy Petranek, told the team a story about geese flying in a V formation, that flying this way adds at least 71% greater flying range than if a bird flew on its own. The geese at the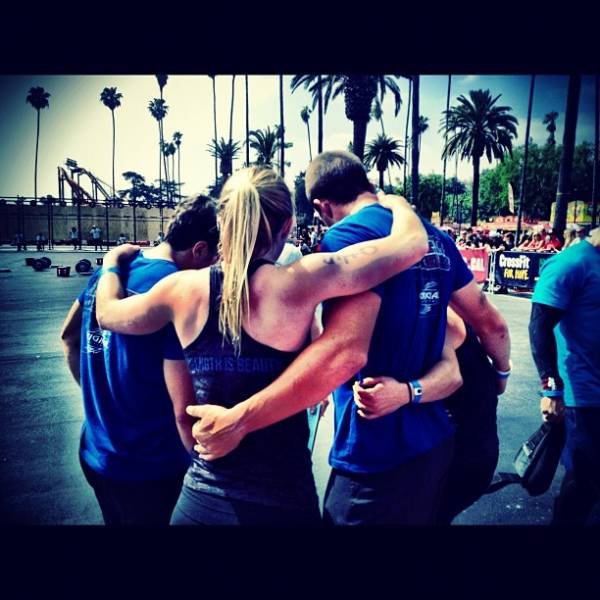 back honk from behind to encourage those up front to keep up their speed. Before that team meeting, I had felt a little silly regarding myself as a teammate, thinking it was pretty presumptuous and big-headed of me, but after hearing the story, I realized not everyone on a team is the star in the spotlight. My honking from behind is part of the formation.
Being a teammate is showing up, holding up, willing them well, and being there for the ups and the downs inside the athletic arena and out. These are all forms of suiting up. Whether we're in the core or part of the supporting cast, it's still a unit. And until I'm able to get tapped in to actually play the game – if that ever comes – I gladly perform my duties just as diligently as the peripheral teammate.