The thing about pioneers is that they have to try harder than everyone else. When you're one of the first at something, the spotlight is always on. It seems that proving yourself never stops. The reason why you keep going – no matter how difficult – becomes bigger than you, and the answer to "why" becomes a blurred combination of simply doing the thing you're trailblazing out of passion and trying to open doors for those waiting to get in behind you. Maybe you can make the path one iota easier for someone else.
All of this is no less true for Tiffany Brooks who is a professional baseball player. She became the first female baseball pitcher in the 21st century to sign a contract with a professional American men's baseball team when she signed with the Big Bend Cowboys of the Continental Baseball League on March 4, 2010. After successfully completing spring training in 2010 in Alpine, Texas, Brooks became the first female to make an American men's professional baseball opening day roster since Ila Borders in 2000. She is a 6'1" right-handed pitcher with a full arsenal of pitches.
At age four, Brooks' dad got her involved in t-ball. She says by age five she was already in love with the game. By eight, she was playing exclusively with boys as a pitcher and at first base. She played with a boys' travel club team until she was fifteen. When she entered high school though, things changed. She was no longer welcome on a boys' team, even with players she had played with growing up. In high school, she joined the girls' softball team. Though Brooks loves softball – "a quick and reactive" game as she calls it – she has always been most deeply passionate about baseball. "I love the pacing of baseball," Brooks told me. "I love the strategy. It's hard to explain it. I love and respect softball, but I just love baseball more. It's what I've always wanted and still want to play."
Brooks finally got her chance to play baseball again in 2007 after getting noticed playing professional softball in Europe. She was picked up in the Netherlands by a third-division amateur all-male baseball league. "In 2007, I was given a chance to play baseball again," Brooks said. "And I never looked back."
Since then, Brooks has gained more and more attention in the United States. She is the first and only female to compete in the California Winter League (2011), the Arizona Summer League (2011), the World Free Agent Spring Training event in Florida (2012), and one of two females to ever compete in the Arizona Winter League (2010). Currently, Brooks is a free agent hoping to find a manager "forward thinking enough" to recognize how to use her strengths to a team's advantage.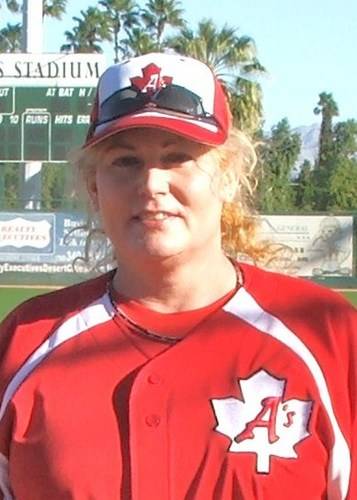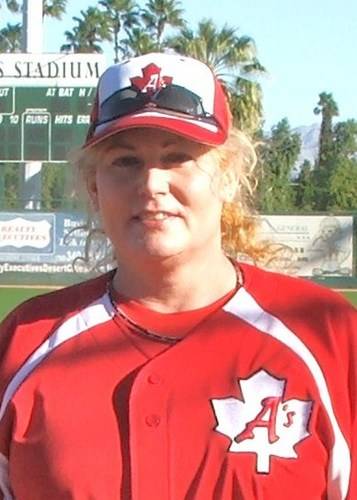 When I asked Brooks about the business of baseball and the sexism within it, she was careful with her words. It's that spotlight again, the one that pioneers attract. The scrutiny she's under is not for the faint of heart, but she also does not want to come across as someone who complains. She just wants to be a team player and get a fair shot. She does not have to tell me that it hasn't been easy no matter how good she is.
But when I asked Brooks about the actual game of baseball, her demeanor changed. The joy returned to her voice and she told me about a new, fun pitch she's working on, a raised finger fastball. "It moves like three feet!" she told me, as if the pitch is a new toy. "The movement is so nasty." Her voice was open and light. I asked about her other pitches, and she gladly told me about them. She said that she's had to become a smart pitcher out of necessity. At eighty-one miles per hour, her fastball is far from fast. Instead, she's had to develop a lot of different pitches that are accurate, have a whole lot of movement, and keep a batter guessing. She has seven different solid pitches at her disposal. "Pitching nowadays has gotten away from finesse. It's more about dominating the batter with just two or three different pitches. But I'm about changing speeds and moving the ball around. I'm just trying to get the batter off balance with a lot of variety."
Instead of pressing her to tell me about the sexism she's experienced in the league, I asked her if there have been players or managers who have surprised her with their acceptance. She told me she's had the best experiences with catchers. "I've played with a few catchers who are the epitome of professionalism and have been one hundred percent supportive. They could've cared less what I was. They just wanted to know what pitches I had to get a batter out. Those were the best experiences – working together to get the job at hand done."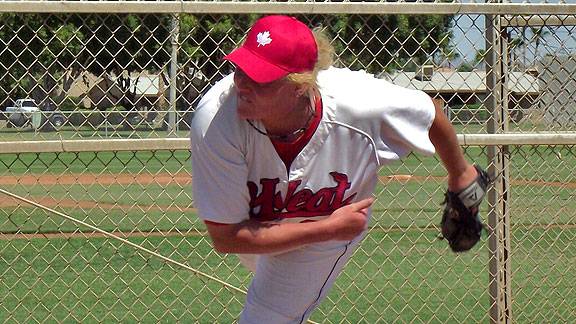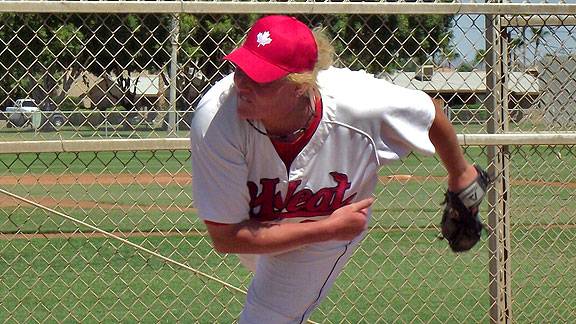 Another thing about being a pioneer is Brooks' self-appointed obligation to be a walking history book of women in baseball. This stems from her obvious passion for the game, but I get a sense that she feels she cannot let the history die. If she can't tell it all, then who will be able to? From Brooks, I learned about three women who played in the Negro Leagues in the 1950s with men. I learned about a couple young women who are currently playing college baseball. I learned about a scarce number of women who have also had short stints in the independent baseball leagues. Though I wrote many of the names down, I was more touched by Brooks' earnest appreciation of every detail, like she was the guardian of this knowledge and it was her duty to not let it be forgotten.
Finally, I asked Brooks what she wanted her legacy to be. She thought for a moment. "I just want to play baseball for the love of the game. No other reason could drive me this way. I wouldn't have been able to endure all the obstacles." She paused. "And because of this love, I've been able to mentor other girls along the way and hopefully give them hope to one day play. In the long run, if a few girls get just a few more opportunities because of me, it will all be worth it."
On May 5, Brooks attended the Freedom Pro Baseball League tryouts at Goodyear, Arizona. She said she had a great tryout. "I was one of only four pitchers (out of fifteen total) who got my hitters out one, two, three. No hits, no walks. So between the two tryouts, I faced six batters and got them all out," she said. "Hopefully that translates into a contract." We hope so, too.