We receive free products and receive commissions through our links. See
disclosures page
.
Bicycle computers are facing tough competition both from smartphones as well as quickly evolving smartwatches. We've taken a closer look at Polar's V650 to find out if there are still good reasons why buying a standalone bicycle computer has its advantages.
The Polar V650
For as long as I can remember, bicycle computers have been considered toys. Typically not much larger than a matchbox, these little devices provided more or less accurate information based on the movement of the front wheel. That scenario has changed considerably in recent years when high-tech bicycle computers were equipped with GPS chips as well as the ability to capture additional data such as the rider's heart rate. Suddenly, riders did not just have access to more features, and especially more accurate data sets, but we have witnessed the emergence of virtual coaches in the form of web services that visualized and somewhat explained the flood of data that was recorded.
The V650 has been one of the pioneers in the field of these virtual coaches that promises athletes to improve the way the ride, and ultimately ride farther and faster. While it isn't a super-fresh device anymore, it is still part of a crop of bicycle computers that are positioned at the high-end of the segment. The V650 is the maker's professional product, next to the mid-range M450. While the M450 offers a few fitness features the V650 does not include, the V650 comes with a color touch screen, and more memory to store ride data, as well as route guidance.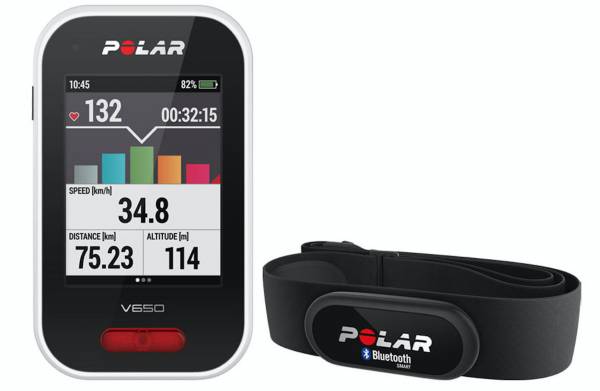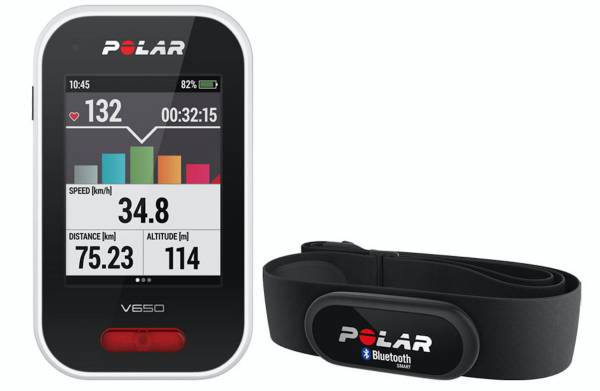 What We Like
Installation and Setup
The V650 comes with an adjustable mount that can be easily placed either on the handlebar or the stem of the bike. The mount itself can be installed in less than a minute using the included rubber band, while the V650 device itself can be fastened via a quarter-turn interface in a few seconds. As simple as the mount is, it is quite effective. It held the V650 safely in place throughout the test period which covered roughly 200 miles. Thankfully, it also did not leave any marks on the stem.
The only other setup item is to connect the device to the chest strap heart rate monitor via Bluetooth Smart. The V650 connected to the chest strap via the device menu immediately and without hiccup. Overall, wireless connectivity is limited to a handful devices such as a cadence sensor to measure pedaling rate, a pedal power meter, and a dedicated speed sensor, which I did not test.
Form Factor and Design
Let's get the obvious out of the way first. If you're looking for the smallest and lightest bicycle computer out there, the V650 isn't for you. It is considerably larger and heavier than competing devices from, for example, Garmin. However, on the upside it's also thinner and the extra weight is largely due to a high-capacity battery that provides enough juice to support up to 10 hours of continuous GPS-backed operation.
What impressed me is the polycarbonate case, which doesn't sound special, but it provides a solid and stable build and is pleasant to touch. The alkali-aluminosilicate sheet glass that Polar uses as cover for the display the case is surprisingly scratch resistant and, luckily, water resistant (IPX7) as well, which saved my data during downpours toward the end of the Chicago bicycling season.
A particularly nice touch of the case design is the integration of a small LED at the front. It isn't bright enough to serve as a front light, but it is good enough to be considered an emergency feature to help a rider to be seen more easily. It is one of those no-brainer features that should be a default feature for all bicycle computers. There are a few companies that include even brighter LEDs in smartphone mounts, which may be a good idea for Polar and other makers to pick up.
Using the V650 happens almost exclusively via touchscreen input. There are just two additional physical buttons: One on the left side, which serves as the power on/off button as well as a prominent red button below the screen to start and end a ride. A key benefit of the V650 is its color touchscreen, which turned out to be somewhat of a mixed bag and an indicator of the device simply needing a few more modern components. While it generally works just fine, it isn't as responsive as the screens you find in the current generation of high-end smartphones. In addition, the color screen isn't glare free and it could be larger to be able to compete with the screen layouts that are offered by smartphone apps for those riders who shy away from the investment of a bicycle computer and use a smartphone instead. Its biggest downside is that there are still scenarios in which it can be too sensitive— even raindrops can be powerful enough to switch screens and, if you don't pay attention, change settings and even end the recording of ride data.
So why do I still like the form factor and the design? It's purely subjective. The V650 is simply a gorgeous device that can be placed aerodynamically on a stem in a way that has almost a symbiotic feel to it. For this review, I used the V650 in combination with a 2015 Specialized Roubaix bicycle in a white/red/black color scheme that allowed the device to blend into the overall bicycle design and amplified the look and feel of the V650. While design is, of course, always a matter of taste, the V650 is still the prom queen among bicycle computers that, despite all of the devices downsides, is a considerable plus. This fact becomes even more obvious for those who are used to cumbersome smartphone mounts that may even include extra battery packs and tower above the handlebar.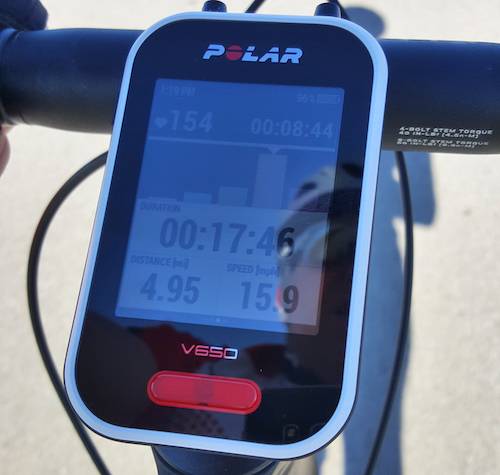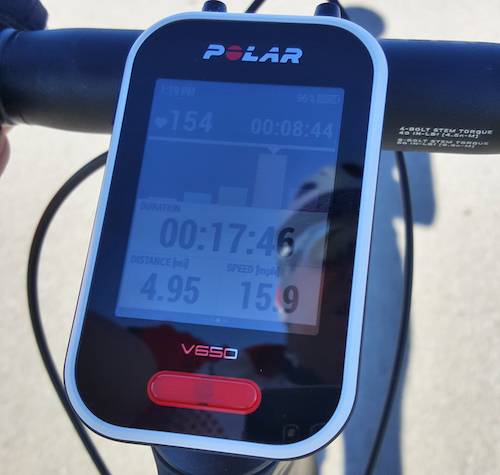 Polar Flow Integration
As it is the case with all other Polar devices, the Flow web service also works nicely with the V650. In fact, the foundational value of owning the V650 isn't so much in the hardware itself, but the ability to visualize and interpret the data it records. It is the one area where ever-improving smartphone apps can't follow yet, and where a high-end bicycle computer can offer benefits to bicyclists who are serious about their training and want to understand their performance beyond what GPS is able to provide.
The V650 and Flow work together seamlessly from the configuration of the display to the visualization of training data and the interpretation in the form of training, activity, and recovery reports. Compared to the M450, users can also follow their training targets and keep a training diary as well as their personal best performances, which is a feature that's is limited to Polar's higher-end devices. There is enough data to guide a user on an intended training path and toward a specific training goal. On the downside, it can be overwhelming to flip through all the charts that Flow offers and there is a growing need to evolve the virtual coach and provide the user with simpler and more actionable advice, rather than just pretty charts.
A quirk that Polar should be addressing rather sooner than later is the fact that Flow isn't able to interpret multiple recordings as just one activity. If a user records the same activity with more than just Polar device, such as the V650 and a separate smartwatch, Flow will simply double the training benefit and falsely record the actual data. A training session can be removed manually, but a modern web service should be smart enough to detect if there are multiple activities taking place at the same time and decide which one to keep and which to discard.
Flow also serves as the gateway to third party apps, such as Strava. When connected to Flow, the V650 uploads ride data to Strava automatically.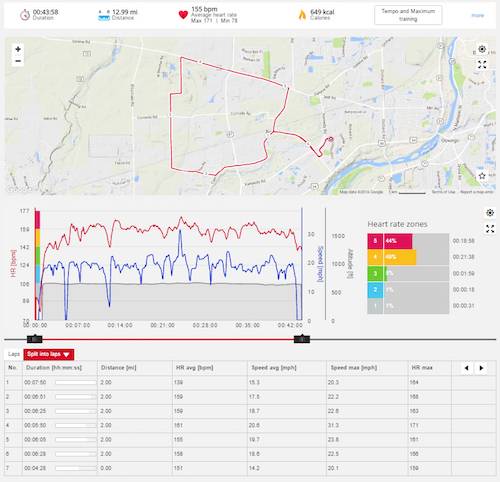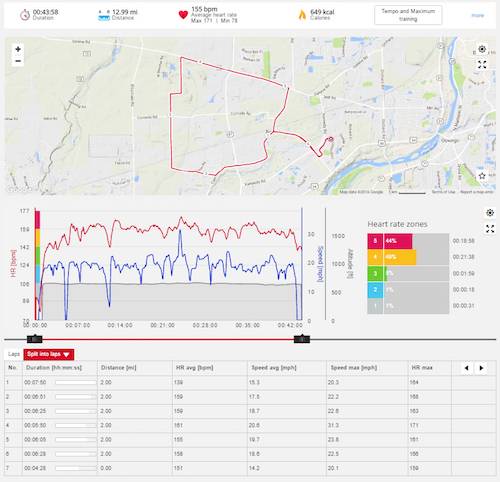 Heart Rate Sensor
Athletes typically have the choice between two types of heart rates: wrist-based monitoring that is available via a growing number of smartwatches, as well as the traditional chest strap-based heart rate sensor. Chest strap sensors are often favored due to the claim that they provide more accurate data, which I could not confirm in this case. The heart rate that was recorded via the chest strap was within 1% accuracy of the heart rate that was recorded by a Polar M600 smartwatch with wrist monitor during a test ride.
While wrist-based monitoring is definitely easier to use, the chest strap is the natural, more comfortable, and more aerodynamic solution for a bicycle computer.
We We Don't Like
Touchscreen UI
Aside from the overly sensitive touchscreen that I mentioned above, I was disappointed by the resolution and screen layout that the V650 provides. Granted, that 2.8 inches isn't much real estate for fancy graphics, but a dedicated premium bicycle computer needs to offer clever screen layouts that go beyond the configurability of a few boxes per screen that display numbers and a few bars to highlight heart rate ranges. The display of the heart rate is the only data set that takes advantage of the higher resolution of the V650 display.
There are countless smartphone apps that are incredibly flexible in setting up their screen layout without the need for an interaction of a web app. These apps leverage overlays and brainy animations to make certain and prioritized information much more accessible to the rider than the V650 does. It does not take much to see that future versions of the V650 need a larger 3-3.5 inch display and a serious upgrade in screen layout and graphics. For its price tag, the current state just isn't good enough anymore.
Difficult Wireless Connectivity
This one left me scratching my head. The V650s wireless capability includes Bluetooth Smart, but it is limited to a handful of third party devices and accessories. Strangely enough, it can't connect to Polar's own smartwaches, such as the M600 and it can't connect to a smartphone—which means that data transfers to the Flow web app happen via a wired connection. Obviously, this is a gap in the V650's feature list that should be addressed sooner rather than later.
Incomplete Map Information
The V650 is capable of using its GPS feature to show map data. The problem is that the map data is based on OpenStreetMap, which is a user generated map solution that draws maps when users connected to the service are recording map data.
As a result, there is no map data available for areas that haven't seen OpenStreetMap users yet, which was 100% the case in the area I tested the device in. It was nice to see the application draw new street data and provide an arrow to show me the direction and distance to my starting point, but as far as the idea of maps is concerned, it wasn't useful. I felt like an explorer when I simply wanted to have the convenience of a map on the display to follow my distance progress, or directions in unknown areas. A map solution isn't so much about exploring—it is about finding your way via available roads—which isn't something the V650 can deliver reliably today.
There is no sugarcoating—not only are there are competing bicycle computers that offer compelling map visualization, but given just how commonplace maps information has become, there is simply no reason for Polar to not offer a much more capable maps solution in a high-end bicycle computer.
The Bottom Line
Choosing a bicycle computer offers several options today. If we focus particularly on the enthusiast market, and price tags of $300 or more, these devices face multiple dilemmas that always come down to the question what benefits such a device can provide? For example, how does the device work with a smartwatch that the user may own already, or with a smartphone that can show much more and complete information?
A combination of technology is likely to provide much more information in a much more flexible way than any bicycle computer can that is currently available. The downside of this scenario is weight and aerodynamics. The more serious you get about improving your speed, the more important weight and aerodynamics become, and the better the case for a bicycle computer gets, despite its functional downsides.
Unfortunately, even if you've decided that there's value spending serious cash on a bicycle computer and possible upgrades, such as a power meter, you'll soon learn that there's no single device that can do it all and you'll be forced into a compromise within this product segment.
In the case of the V650, you'll get fantastic heart rate tracking that, together with the Flow app, allows you to fine tune your training and work toward a specific goal effectively. What you don't get, however, is general wireless connectivity and a great GPS/map solution. If you don't care about maps and your training in a familiar area all the time, this may not be such a bad deal. However, particularly for competition training, such as criterium prep, the setup, efficiency, and focus of the V650 are hard to beat.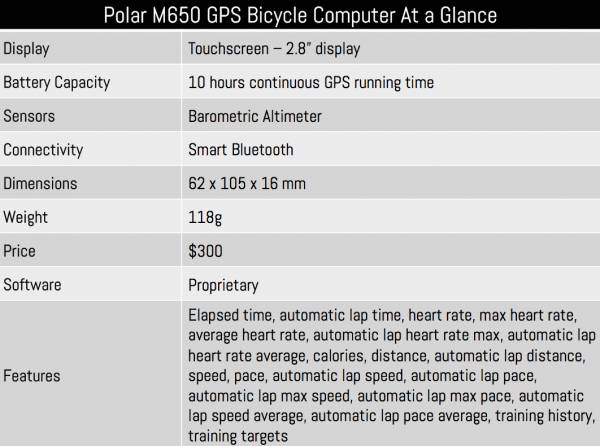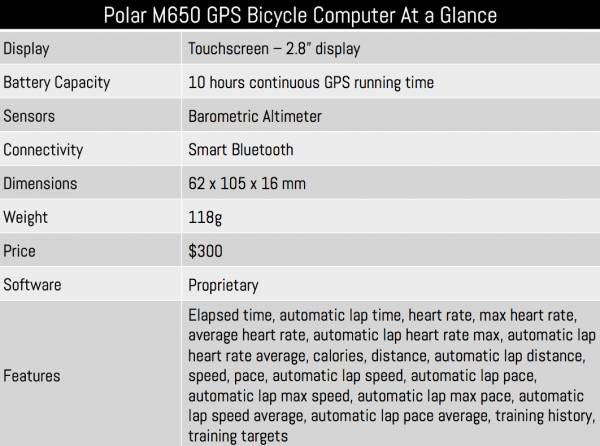 Making the Right Choice for Your Training
So, how do you choose? In most cases, your decision will depend on your preferences, what is important to you, and what is not. Carefully reading feature lists of the devices you're considering is an essential component of any purchase and will pay off especially in this case. As long as there are no comprehensive bicycle computers that outsmart smartwatches on one hand and approach the capability of apps on smartphones on the other, there won't be a clear cut decision to spend $300 on a standalone bicycle computer for anyone.
Bicycle computers must become more functional to represent compelling value. Polar got the form factor and the design right; however, the next generation needs a solid set of wireless connectivity options that support Bluetooth as well as ANT+, an updated group of core applications including map data, flexible app support, as well as an improved display and smarter user interfaces.
Considering a GPS watch? Check out this Polar reveiw: